Gen Z Discovers Modern Digital Cameras are Better Than iPhones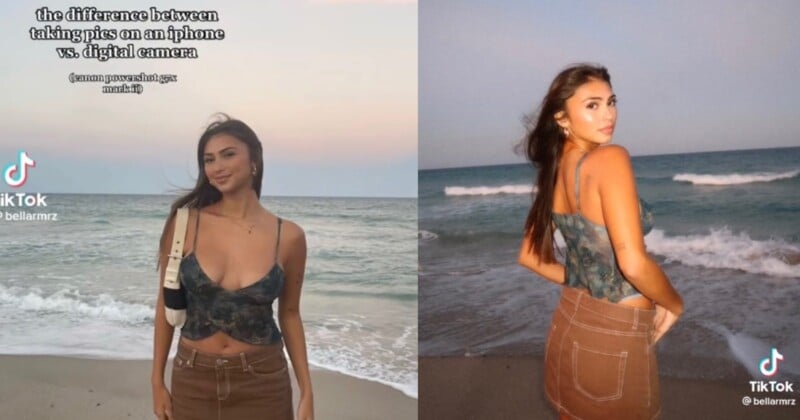 Generation Z users on TikTok are discovering that modern digital cameras are better than smartphones for taking photos.
In a new TikTok trend, which is set to a remix of George Michael's Careless Whispers, content creators are comparing portraits taken on their iPhones with the far superior photos that they took on a traditional digital camera.
The viral trend was started by influencer Lauren Wolfe in early March. In her original TikTok video, Wolfe compared the poorly lit photos she took at sunset on a beach on her iPhone to the stunning, unedited images that she took on a Canon Powershot G7 X.
Wolfe's video amassed over 4 million views with TikTok users declaring: "This fully convinced me to buy a digital camera."
In a highly-requested follow-up TikTok video, which racked up a further one million views, Wolfe goes on to explain to eager viewers exactly how to use a digital camera, the settings she applies on her Canon Powershot G7 X, and how to upload photos from a camera device to a computer.
'What did I spend $1,300 on an iPhone for?'
Wolfe's wildly popular clip seemingly prompted thousands of other TikTok users to experiment with digital cameras at sunset and juxtapose these images with photos taken on an iPhone.
In another video, content creator Laurah shows "the difference between taking photos on an iPhone versus a DSLR camera" and reveals how much better her sunset beach photos look on a Fujifilm XT-1.
The clip, which amassed over 600,000 views, stunned TikTok users — many of whom could not believe that "actual cameras" outperformed smartphones and several of whom wanted to know exactly what a DSLR is.
The TikTok trend spurred other content creators to test out the difference between the iPhone and digital cameras like the Canon EOS 6D and a Fujifilm X-T4, sometimes in indoor photoshoots.
And in each experiment, TikTok users concluded that the digital camera was always, unquestionably better than the smartphone — leaving one exasperated viewer complaining: "What did I spend $1,300 on an iPhone with 3 cameras for?"
'A Good Digital Camera Destroys Any Smartphone'
It appears that Wolfe's simple premise of juxtaposing the sunset photos taken on an iPhone to those taken on a modern digital camera, whether that be a DSLR, mirrorless, or a point-and-shoot camera, has convinced TikTok users of the supremacy of the latter when it comes to taking beautiful photos.
Visually literate Generation Z users discovered that digital cameras — which have enormous camera sensors compared to the comparably tiny sensors on a smartphone — can naturally produce better low-light shots at sunset than any iPhone could.
Furthermore, DSLR and mirrorless cameras offer a much better ISO sensitivity than smartphones allowing for more vivid and clear shots when it is dusk.
The TikTok trend also led users to pay attention to the higher-quality aesthetic of a digital camera compared to an iPhone. TikTok users criticized the artificially intelligent (AI) technology in a modern smartphone camera and how it excessively sharpens and clarifies an image making it look "fake" and "a little too crisp."
In another clip, which has 6.1 million views, model Amaya Crichton compared the sunset portraits she took on an iPhone with the same images taken on a Canon PowerShot G7 X Mark III.
While the two different sets of photos were both good quality, viewers felt that the iPhone stripped "the life and colors out" of Crichton's images and concluded that "a good digital or a DSLR destroys any camera phone."
For Generation Z users, a photo taken with a digital camera captures everything in a scene with precise detail and makes it look more "real."
Younger users are not only drawn to the more authentic and complex aesthetic offered by digital cameras but they are also enchanted by the ability to shoot in RAW format on a mirrorless or DSLR camera — which allows them to truly customize their photos as they want.
Digital Cameras May Not Be Dying
Since the rise of the iPhone in the last decade, it seemed like the traditional digital camera was on its way to extinction.
In recent years, the advances in smartphone photography have wiped out decades of camera industry growth. Consumers no longer saw the point in carrying an extra, bulky camera device and between 2010 and 2021, worldwide camera shipments dropped by 93%.
But Generation Z has an appreciation for visual images and an eagerness to stand out with their photography. If anything, this emerging TikTok trend has shown that younger users can clearly recognize and appreciate that the digital camera has a valuable edge over the iPhone.
As seen through the resurgence of point-and-shoot digital cameras of the early 2000s and film photography among Generation Z, social media pushes younger users to produce original content and find new ways to express their online identity. Using a modern digital camera can give Gen Z content creators an edge over smartphone users.
As long as modern digital cameras offer a different aesthetic from the norm for younger users, perhaps they may not become extinct anytime soon.
---
Image credits: Header photo sourced via TikTok/@bellamrz