The Canon EOS R5 C is Now Netflix Approved
Netflix has approved the Canon EOS R5 C for use in its productions, making it the first hybrid Canon camera to make the cut. It joins the Panasonic S1H as the only two approved cameras that are typically categorized as hybrid photo and video cameras.
Canon's EOS R5 C — which was brought to market last March — has been added to Netflix's list of approved cameras which allows filmmakers to use Canon hybrid full-frame mirrorless camera for Netflix productions. The addition of the EOS R5 C brings the number of Canon Cinema EOS camera models approved for use on Netflix productions to eight, joining the C500 Mark II, the C300 Mark II, the C70, the C300 Mark II, the C700 FF, and the C700.
Before Canon R5 C approval, the only other Netflix-approved camera that shares a similar body design and designation as a hybrid photo and video camera was Panasonic's S1H. While there are some "compact" cameras that have been approved, the hybrid camera design has typically not been.
It may come as a surprise to many, but — for example — none of Sony's Alpha series cameras are Netflix approved, including the highly video-capable Alpha 7S III. Not even Blackmagic's Pocket Cinema Cameras are approved — they aren't hybrid cameras but share a similar design — as Netflix has only given the green light to three Blackmagic cameras, all of which are URSA cameras.
Outside of the Canon C70 and the Panasonic BGh1 and BS1H, there are very few truly compact camera options available to Netflix filmmakers, so Canon's R5 C now joins a rather exclusive club.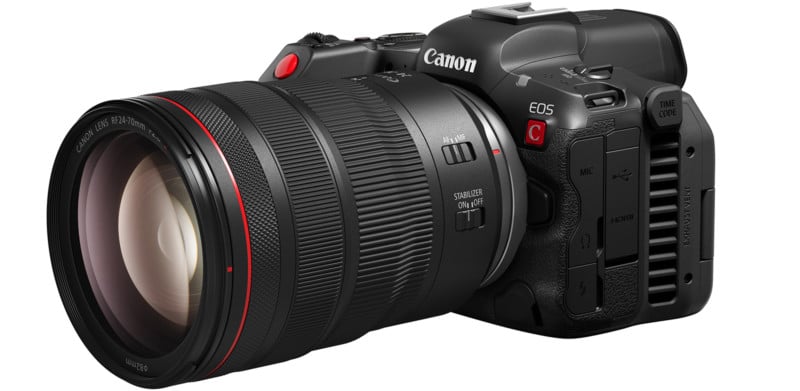 The addition of the R5 C as Netflix approved comes shortly after Canon released firmware update 1.0.3.1 earlier this week. The update only has one note, but it is significant: it improves the image quality of Canon Log 3 when shooting in XF-AVC or MP4 formats. In short, Canon says it elevates the overall image quality and camera operability for filmmakers.
What Makes a Camera 'Netflix Approved'?
Last summer, Netflix released a video that explains what goes into the process for cameras approved for use on its productions.
"The most common misconception is the only requirement we have for cameras on our approved list is 4K capture. Now, while capturing at a higher resolution is certainly important to image quality, we know it's not everything. That's why resolution is just one of the many attributes we look at when evaluating a camera system," the company's camera systems specialist Kris Prygrocki said.
""We do our best to remain as objective as possible by doing a multitude of tests and not just relying on one singular solution. We also make a point to stay in communication with the manufacturer to ensure that we are operating the camera system and testing it in the best way possible to achieve the greatest results."
Surprisingly, most of the factors that go into approving a camera aren't related to image quality.
"Does it have proper thermal management? Is it going to overheat on a professional film set? Are we going to have to deal with image correction or lost data all the time? How well supported is the recorded file format in post software? Is there proper color management?"
Netflix's full explanation can be found in PetaPixel's original coverage, and a detailed description of all Netflix-approved cameras can be found on the company's website.
---
Image credits: Canon