Sony ZV-E1 First Impressions: The (Almost) Perfect Video Creator Camera
The Sony ZV-E1 represents the (current) pinnacle of the company's efforts to radically pivot the camera division to stay ahead of changes in the photography and video markets. It is largely successful in that endeavor.
While Nikon and Canon spent years working hard to keep up with Sony's mirrorless still camera designs and have finally released a series of genuinely excellent hybrid cameras that give Sony a run for its money, Sony quietly changed who its customers are. Or at least, it changed who it wanted them to be.
Sony is also integrating AI into their products, with a dedicated AI processor on its most recent cameras. This processor allows for the new subject recognition features in still and video cameras, but with the ZV-E1, Sony is bringing this intelligence to bear in new ways. The ability of the ZV-E1 to automatically change the aperture based on how many subjects are in the camera is something I didn't know I wanted the camera to do until the ZV-E1 did it.
The full-frame ZV-E1 is a new class of camera, a dedicated creator device that's less of a hybrid, less of a cine camera, much less of a still photography camera, yet much more of a tool that YouTube and other modern creators want.
While I've been doing YouTube work on and off for a decade, I wasn't full-time creating videos until recently, so the company's previous video tools resonated with me much less than they do today.
Generally, for a review, I'd cover all of the features of a camera, but the feature list on the ZV-E1 is so extensive that I didn't even get to test everything during our two weeks with it. That makes this a first-impression review, and my first impression is that Sony has changed the playing field with the ZV-E1, and competitors will scramble to catch up.
I also concentrated on the video features of this camera during my time with it. While it's a competent stills camera primarily due to the updates in AI-based autofocus, very few people will buy a 12-megapixel camera for still use, especially when it doesn't have a viewfinder.
The camera is excellent for B-roll stills and YouTube thumbnails and exceptionally good at taking photos in low light, but I wouldn't recommend this as a true standalone still image camera.
Sony ZV-E1: Creating A New Customer Base
When Sony released ZV-1, I was working on the PR side of the business with Sony and was responsible for getting the camera in the hands of YouTubers and "influencers." I thought the ZV-1 was an interesting camera with very compelling features, but it wasn't something I'd personally need to use.
It was also irritating to those of us specializing in still photography that the ZV-1 was based around the RX series of portable cameras and seemingly marked the end of the RX line. A truly great, portable camera, the RX100 series was photo-first and was a camera that most photographers I knew kept in their pocket when traveling or doing errands.
In bad timing, Sony called this a "vlogger" camera right when vlog-style YouTube videos were on the decline.
Pretty quickly, though, I started using the ZV-1 for all of my studio video work due to the excellent 4K output, the "product showcase" feature that quickly changed focus from eye-detection to object-detection when an item was held between a person and the lens and many other features. The noise-canceling directional microphone was convenient when vlogging though the front-facing-only nature of the mic drove people crazy. (What happens when you're behind the camera and talking?)
The ZV-1 and the subsequent ZV-E10 felt like Sony repurposing older parts (RX100 and a6XXX, respectively) to save money. However, in retrospect, it looks more like they were repurposing older parts to test the creator market while also saving money.
Then Sony released a flurry of video-centric cameras, the Alpha 7S III, the Sony Alpha 1, FX 3, and FX30. Even the Sony Alpha 7R V has video features unavailable on Sony's previous still-centric cameras.
The most recent "creator" camera was a flop. The fixed-lens ZV-1F was a solution in need of a problem — and it presented the wrong solution. Still, it showed Sony was trying to figure out what the market needed while saving money by using previously existing parts.
With the $2,200 full-frame Sony ZV-E1, Sony brings its flagship product naming (the "1" denotes its most powerful model in a line) and almost all of the features of the ZV lineup. In some ways, it confuses the company's lineup. Should you buy the Alpha 7S III and its traditional body style or the FX3 and FX30, both based on the features of the Alpha 7S III, in various cinema-style bodies or should you buy the sort of in-between-shaped ZV-E1?
The answer for creators, especially YouTube creators (myself included now that I've left PR behind), is to buy the ZV-E1. It's not perfect, but it's the best solution I've seen for one-person content creation thanks to several new features Sony has packed into the tiny body. I spent two weeks shooting YouTube videos with the ZV-E1, and it will become my dedicated studio/field camera in that time.
As with anything with new technology, there are some cons to this camera, which I'll talk about. But my waffling over what camera to use so I can upgrade from my Alpha 7C is over, as the good outweighs the bad with the ZV-E1.
Sony ZV-E1:Size Reduction
The Sony ZV-E1 is tiny, slightly smaller than the a7C in some dimensions ( 121.0 millimeters x / 71.9 millimeters x 54.3 millimeters), and weighs only 483 grams.
Most of the camera's negative attributes are centered around the body's design, so it's a good place to start.
The body shares many features with the Alpha 7C, including some things that the Alpha 7C is missing. The camera doesn't have two control dials as the larger full-frame cameras do, relying instead on one dial and the rear D-pad style controller. There is no joystick for focus selection either.
This is the biggest issue with the camera. A thumb and back dial are indispensable, although the ZV-E1 is designed to use touch-focus first and control dial second. With the ability to adjust the aperture via the lens, having a second control dial is less critical. This also explains why Sony has been putting aperture rings on its more recent lenses, even the lesser-expensive options.
There's no EVF on this camera, which is generally acceptable for compact video-centric cameras, but that makes it a pain when shooting stills or when shooting either photos or videos in bright sunlight. Out of habit, I keep bringing the camera to my eye to focus, only to remember there's no EVF. The screen flips forward but is a traditional flip screen, not the excellent new tilty-flippy screen on the Alpha 7R V.
The ZV-E1 has a full-size battery and it is capable of being powered over USB-C. The USB-C port can also be used for live streaming and video conferencing. Both of those features are great.
The HDMI port is a Micro HDMI port, not the full HDMI found on the other full-frame cameras, which will be annoying to many, but is pretty typical in smaller cameras.
There is only one card slot, which will be a deal breaker for many users as card failure could ruin a shoot. In the studio, I've been using this with HDMI out to record both internally and externally, so it's not an issue, but for field use, that problem could rear its head.
Audio-wise, the microphone has seen a significant upgrade with the ability to set it for forward, rear, or omnidirectional emphasis. If the internal microphone isn't good enough, the ZV-E1 has the digital hot shoe that allows for direct connection of Sony mics without an audio cable, and there is a 3.5-inch input and a headphone jack.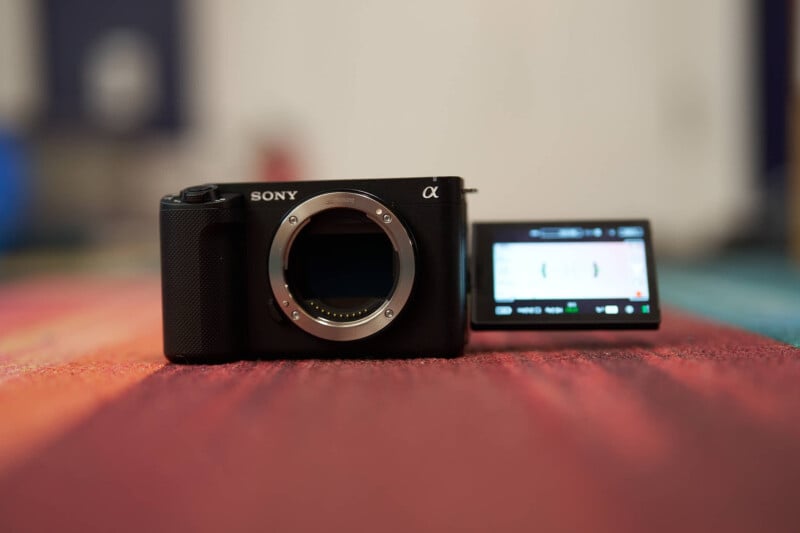 The body has a built-in tally light and the screen also displays a record icon and a red border around the frame to indicate recording.
Another minor issue is when cables are attached to the camera, they block the LCD screen if it is facing forward. This is common on all cameras with front-facing screens, but there are new touch interfaces on the camera that are blocked by the cables in this particular case. The ability to move the touch controls when using cables would be great, and I've passed that suggestion on to Sony engineers.
One of this camera's best features is its in-body image stabilization, which Sony says is AI-powered and is referred to as "next-gen." This image stabilization works with digital zooms, allowing for footage nearly as stable as that shot on a gimbal. The camera also writes gyroscope data to further stabilize the footage in Sony's Catalyst Browse software.
Feature Rich
There are a nearly ridiculous number of features in the ZV-E1, so many in fact that I didn't have time to test them all in my weeks with the camera, as mentioned. Typically we have about a month to review cameras, but this review took place in two weeks, and I only scratched the surface of everything it can do. The media spec sheet for this camera runs four pages long, which is about twice the average length for a Sony camera.
From a mechanical standpoint, the ZV-E1 has several features not found on other Sony cameras or on cameras that are much more expensive.
The 12-megapixel back-illuminated sensor (same as the Alpha 7S III) has an ISO range of up to 409,600 and performed very well in my low-light video tests. Unlike the ALpha 7S III, this camera has a dedicated AI processing unit, which gives it all kinds of video superpowers.
It also means that if you're considering the Alpha 7S III, you should buy this camera instead unless you need RAW output or 8K.
Sony bills this as the "world's smallest and lightest full-frame interchangeable lens camera with image sensor shift stabilization." That last part is important because the Sigma is smaller but has no in-body stabilization. The ZV-E1 captures 4K with without skipping lines or pixel binning. In addition, Sony says that in June 2023, a firmware update will bring 4K/120 and full HD 240p options.
The camera has many cine features, including a Cinematic Vlog setting, which allows for the one-touch assignment of the film "looks" and is handy for a creator that doesn't understand color grading.
For those who understand color grading S-Cinetone is one of those supported cine looks, and the camera can shoot S-Gamut3.Cine/S.Log 3, S-Gamut3/S-Log3 and (this one makes me very excited) allows for LUTs to be uploaded to the camera for in-camera color monitoring. This is a feature that I did not get a chance to test, but I am very excited to try it when the unit comes back.
In a first for Sony cameras, the ZV-E1 can now create timelapse images internally and will spit out a video file instead of a collection of images. If you like the stream of images, the self-timer also functions as an intervalometer, allowing you to set the number of frames to be shot after the timer goes off. The best of both worlds are on offer here.
The ZV-E1 has very good claimed recording times, with up to 90 minutes of approximate recording at XAVC 60p 50M 4:2:0 8-bit (versus 120 minutes on the Alpha 7S III) and 60 minutes at XAVC S 4K 60p 4:20:0 8-bit (versus 90 minutes on the Alpha 7S III). I shot over an hour of 4K/60 without overheating, running solely on battery power, with the display closed.
Sony ZV-E1: ZV-E1 Footage and Handheld Stabilization Example
Sony ZV-E1: A Useful Menu Update
Sony has released several menu and interface updates over the last few years, including an overhaul of the primary menu system and a new top-level menu that provides similar but deeper features than the function menu.
With the ZV-E1, the camera has added a new completely-touch capable interface for video shooting, superimposing all the essential functions (shutter speed, EC, product showcase, etc.) over the display. On-screen touch controls of all video functions are something Canon users have enjoyed, and it's good to see market pressure bring this to Sony's cameras as well.
Sony claims a new "Dynamic Active" image stabilization mode makes it 30% more effective than Active Mode. While I shot a friend's music video partially in Dynamic Active mode, and the results are impressive, there's little way to compare this directly and confirm the 30% accuracy improvement.
AI and Design Applied to Video
While the color, interface, and color changes are nice, what sets the ZV-E1 apart is the new AI-driven and creator-driven features. Many features are designed for single creators doing camera work and being on-screen talent.
Like the ZV-1, the ZV-E1 has a product showcase mode, allowing a creator to hold up an object to display it. The camera focuses on the object, temporarily dropping eye-detect focus. I'm not sure if this has gotten advances from the AI processor, but it works faster than that in the ZV-1.
The ZV-E1 now has a single background defocus button, which shifts the aperture on a lens and is designed for creators who don't understand aperture controls or don't want to change aperture settings mid-roll.
More interestingly, though, the new "multiple face recognition," which does get its power from the AI processor, detects when more than one subject is in the frame and adjusts the camera's aperture to get both faces in focus. For many creators, this is a significant feature as typical multi-person filming is filmed while stopped down, or both creators have to stand parallel to each other to have both faces in focus.
A feature extracted from Apple's playbook is a new Auto Framing setting that centers, repositions, and crops a frame to keep the subject prominently in the frame, even with no camera operator controlling it. If that weren't enough, the ZV-E1 could be set to enable this feature automatically or change between cropped tracking and wide angle every 15 or 30 seconds to simulate punch-in zooms.
This can be accomplished in post-production through cropping and intelligent zooming, but doing this in camera is immeasurably better. It's also possible to send uncropped footage from this framing out over HDMI and record the framing footage internally, but this is another instance where dual card slots would be more than helpful.
The "pose estimation" that the Alpha 7R V introduced for its improved human AF detection is now part of the AF of the ZV-E1, and the camera can now recognize humans and animals. The ZV-E1 can recognize humans by human pose estimation for enhanced recognition and tracking performance. It can also expand tracking to birds, animals, cars/trains, planes, and insects with 40% higher precision for an animal subject.
Sony added a screen reader to its cameras, a tool that assists visually impaired creators by reading menu settings aloud. The screen reader now supports ten languages and has multiple reading speeds, from very slow to fast.
Sony ZV-E1: Animal Video Autofocus Example
Sony ZV-E1: A (Finally) Functional App
Sony has long been slow to revamp it app using a modern mobile-first design (this is a charitable way of saying that Imaging Edge provides an awful experience). Still, the new Creators' app changes this.
The app finally works — mostly. No tools that communicate wirelessly with a piece of hardware are foolproof, but the interface and experience are much improved. Sadly, at the time of publication, older cameras still require Imaging Edge mobile to connect.
The desktop app is still the older experience, too, but I'm hoping whomever Sony hired to design the mobile app will also take a crack at the desktop version. It needs some love.
Sony ZV-E1: Coming Close to Perfection
Usually, it only takes a few days for a reviewer to get a complete impression of the capabilities of a camera. The rest of the time we spend with a camera is spent taking footage, doing imaging tests, and verifying results.
This is one of the few camera reviews where more time would have revealed more capabilities than the spec sheet alludes to.
Despite this, I had enough time to see the potential of this camera and I will be placing an order for one and replacing my current studio and in-field cameras.
I'm also hopeful that the competitors copy as many of these features as possible and use the ZV-E1 as a benchmark of creator-driven performance. Until then, the ZV-E1, in my opinion, is the best camera a YouTube or similar creator can buy, and it's upped the stakes in a market most companies didn't even think existed.