DJI's New Googles Integra and RC Motion 2 are Upgrades for the Avata
DJI is introducing two new ways to pilot the DJI Avata drone: the DJI Goggles Integra and DJI RC Motion 2.
The Goggles Integra feature micro-OLED screen displays, ultra-low-latency DJI O3+ video transmission, and what the company describes as an "integrated design." The new RC Motion 2 is a one-handed joystick controller that DJI says offers a more ergonomic grip and additional features that "enhance" flight control.
DJI Goggles Integra
The "integrated design" DJI boasts of is one that merges the headband and battery of the Goggles into one, which the company says frees pilots from loose connecting cables and allows them to take the goggles on and off more easily. DJI says that the built-in battery headband is light, balanced, and very comfortable while still offering two hours of battery life. DJI O3+ video transmission offers ultra-low 30-millisecond latency and stable video transmission. The Goggles Integra also feature a built-in GPS which allows pilots to fly without connecting to a smartphone.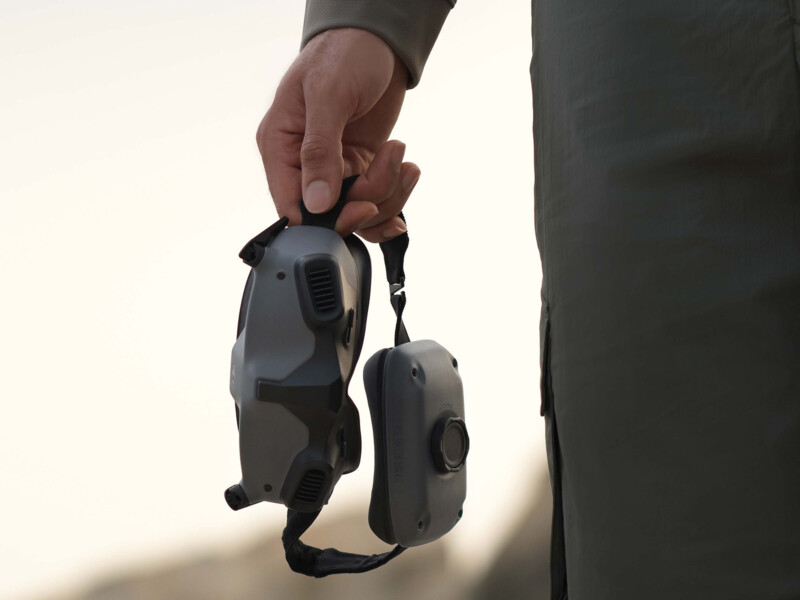 The goggles feature a set of two HD 1080p micro-OLED screens that DJI says can deliver "true to life colors" and thanks to OLED technology excellent contrast between light and dark thanks to the ability to display pure blacks. The screens can also get quite bright at 700 nits.
The screens have a 100 Hz refresh rate and TÜV Rheinland Low Blue Light Certification, which DJI says allows for a smoother and more comfortable viewing experience.
DJI RC Motion 2
The RC Motion 2 features motion-sensing technology mixed with an upgraded joystick for what DJI positions as an intuitive experience that allows all levels of pilots to easily navigate and maneuver the Avata. The joystick itself now includes an accelerator with a reverse function which DJI says supports multidirectional flight, including vertical, backward, and sideways. An Fn dial allows pilots to quickly adjust the camera's ISO, shutter, and other parameters without having to interact with the goggles.
"When combined with DJI Avata and DJI Goggles Integra, the user's hand movements dictate the aircraft's flight direction, delivering an immersive flight experience that feels like they are in the pilot seat," DJI says.
Pricing and Availability
The DJI Goggles Integra is available for $499 while the RC Motion 2 is available for $239. Both are available immediately.