The DJI Avata is a Compact FPV Drone Designed for Everyone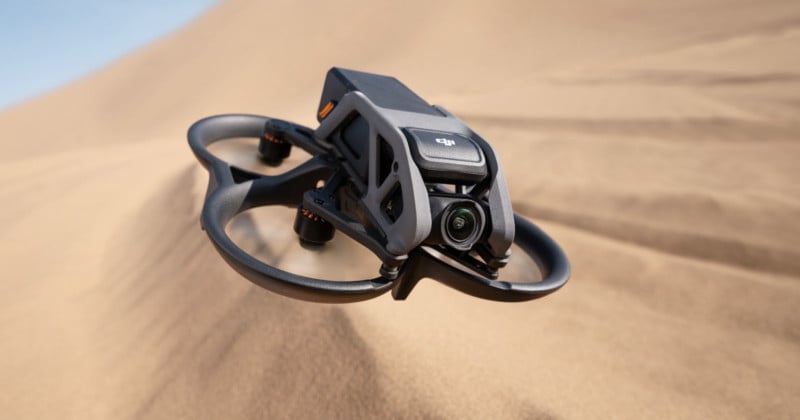 DJI has announced its latest drone: the Avata. Where the DJI FPV brought the first-person-view experience to DJI fans, the Avata takes that idea and democratizes it for the masses.
The DJI Avata is designed to bring first-person-view (FPV) flight to anyone by making the experience as simple and seamless as possible. DJI says the compact design is built for speed and agility and weighs only 410 grams despite the integrated propeller guards.
It features a 48-megapixel Type 1/1.7 sensor (9.5 x 7.6 x 5.7mm, 4:3 aspect ratio), the same size that is found in the Huawei P20 Pro, Canon G10, or Pentax Q7. With it, the Avata can deliver up to 4K 60p video or a wide variety of other resolutions and framerates like 2.7K at 60, 60, 100, or 120 frames per second. The lens in front of the sensor brings a 155-degree angle of view. The drone can shoot in Standard or in D-Cinelike color which offers the ability for filmmakers to more easily grade footage in post.
DJI rates the Avata for up to 18 minutes of flight per battery and the drone is equipped with several safety features. In addition to the propeller guards, Avata uses DJI's GEO 2.0 geofencing system to advise pilots of airspace restrictions and potential hazards, and to automatically prevent drones from flying near certain high-risk locations, such as airports.
The DJI Avata also features DJI's AirSense ADS-B receiver system to warn drone pilots when airplanes or helicopters are nearby and broadcasts DJI's AeroScope signal to help authorities monitor airborne drones in sensitive locations.
The drone is equipped with both an Infrared Sensing System and a two-camera Downward Vision System. DJI says these help the aircraft maintain its current position, hover more precisely, fly indoors or in other environments where satellite navigation is unavailable, and identify areas such as bodies of water that are not suitable for landing.
The Avata has three flight modes that allow pilots of multiple skill levels to enjoy flying the drone. First is Normal mode, where it operates similarly to other DJI drones and will hover in place with the use of satellite navigation and/or visual positioning systems (VPS) on the bottom of the drone. The second option is Manual mode, which is only available with the DJI PFV Remote Controller 2, and allows for a more "complete" FPV experience that relies entirely on the pilot.
The last mode, Sport, is a hybrid between the two. Sport mode offers some of the dynamic movement capabilities that come with Manual mode along with some of the key safety features of Normal mode. DJI says Sport mode is the middle step between the three modes and was developed to give pilots more room to explore their skills as they get accustomed to the drone.
DJI Goggles 2 and the Motion Controller
In addition to the Avata, DJI also announced the Goggles 2. The company calls them the next-generation video headset that offers a smaller, lighter, and more comfortable fit, with a crystal-clear FPV image comparable to those of other DJI drones. Goggles 2 features a clearer micro-OLED screen with adjustable diopters and an intuitive touch panel on the side that enables pilots to control its settings with one hand.
The DJI Avata and the Goggles 2 use DJI O3+ transmission that DJI says allows for precise control, ultra-low latency, and detailed video at 1080p/100fps with H.265 decoding. It offers the lowest transmission delay of approximately 30 milliseconds, the longest transmission distance of 10 kilometers, auto-switching dual frequencies, a high bitrate of 50 Mbps, and state-of-the-art anti-interference methods to ensure a reliable feed.
The Motion Controller is a new controller that allows a pilot to fly complex maneuvers based on the natural motions of one hand. DJI says it is extremely intuitive to the point that even beginners will be able to fly continuous, fluid motions quickly and easily.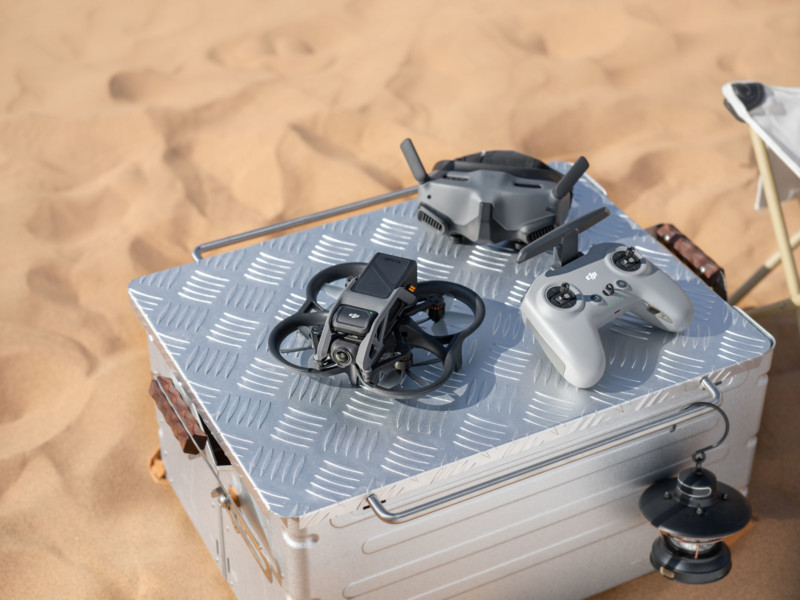 Pricing and Availability
The DJI Avata is available starting today for $629 without a remote controller, motion controller, or goggles. This lowest-priced option is designed for those who already have a compatible way to control the drone. For those starting from scratch, DJI has a few different combinations, including the $1,388 option that includes the Avata, DJI Goggles 2, and the DJI Motion Controller. Other options, including spare batteries, are also available.