The Vario-Elmar 100-400mm f/5-6.3 is Leica's Longest SL System Lens
Leica has announced the new Vario Elmar SL 100-400mm f/5-6.3 lens, which is now the longest lens in its SL-series lineup. It is also joined by a new 1.4x extender that extends its reach even further.
The lens is constructed of 22 elements arranged into 16 groups. Its aperture closes to a maximum of f/22 (electronically controlled through the camera) and it features an 82mm front filter thread. The lens measures about 198mm (about 7.8 inches) long when compressed and weighs 1,530 grams (about 3.37 pounds); in both cases, those measurements are without a lens hood attached.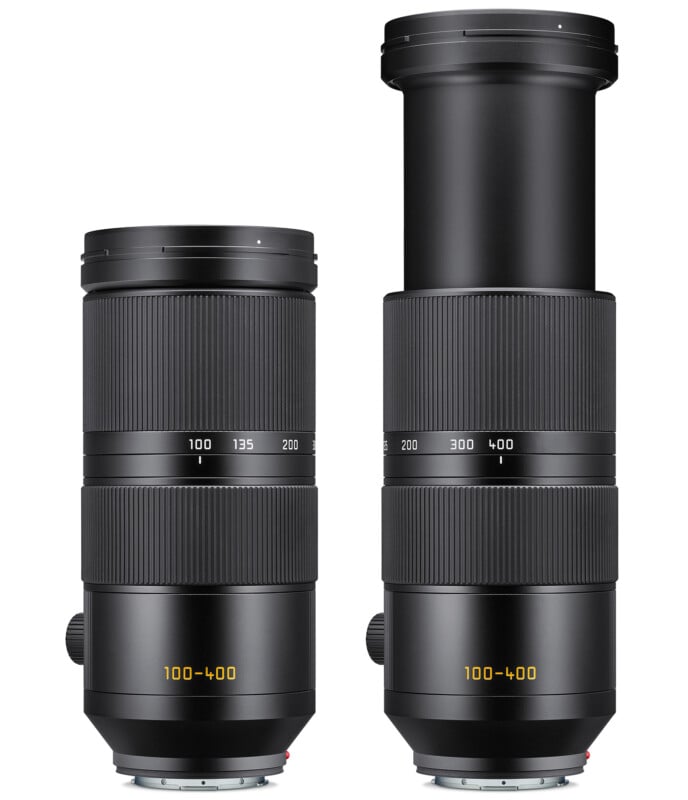 "The new Vario-Elmar-SL 100-400mm f/5-6.3 offers the widest and longest zoom range of the SL-System and combines high-end technology with all the advantages of a particularly compact and lightweight design," Leica boasts.
It wasn't super clear what the company meant by its use of "widest" in this context, but the company tells PetaPixel it is meant to express that the lens offers the longest focal length in the SL system, and offers the widest range (which is 4x, from 100-400mm).
"Its range of applications is extremely versatile," the company continues. "Above all, it shines in nature, wildlife, sports, and action photography. It is characterized by its high performance and high image quality over the entire zoom and aperture range. The optical image stabilizer ensures blur-free images and the autofocus focuses precisely on moving objects."
The 100-400mm f/5-6.3 includes an Arca-Swiss compatible, detachable tripod base that the company says can be inserted directly into a "suitable coupling system" without a quick-release plate. Leica adds that the clamp locks at every 90 degrees to allow for quick changes between landscape and portrait orientations.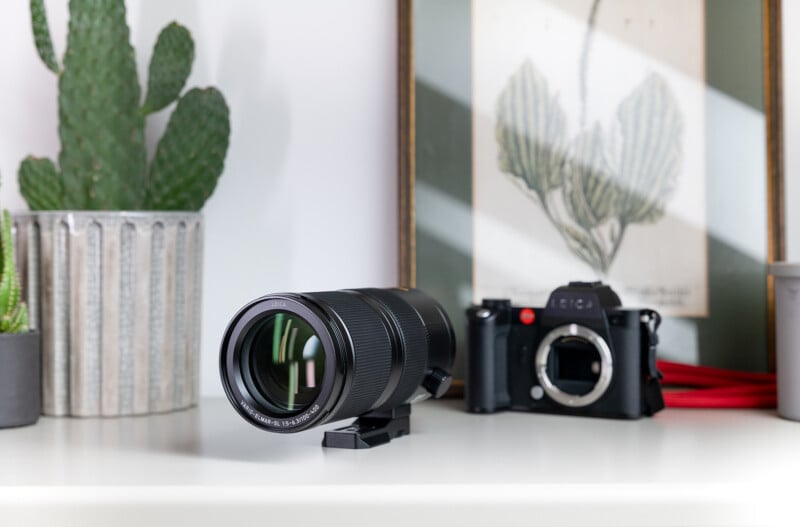 As mentioned, Leica also has announced a new Extender L 1.4x that extends the focal length of the Vario-Elmar-SL 100-400 f/5-6.3 even further to a range of 140-560mm. Leica has confirmed to PetaPixel that it only works on the new 100-400mm lens. The extender includes seven lenses arranged into four groups. It is about 65.2mm (about 2.7 inches) thick and weighs 182 grams (about 0.4 pounds).
The Leica Vario Elmar SL 100-400mm f/5-6.3 will retail for $2,195 while the Leica Extender L 1.4x is set to cost $875. Both the lens and extender will be available at all global Leica stores and dealers starting today, March 9.
---
Image credits: Leica
---
Editor's Note: We have removed a section referencing a lens that was incorrectly noted as for L-mount when it was in fact for Micro Four Thirds. We regret this error.