Google Can Now Translate Text in Photos from Your Browser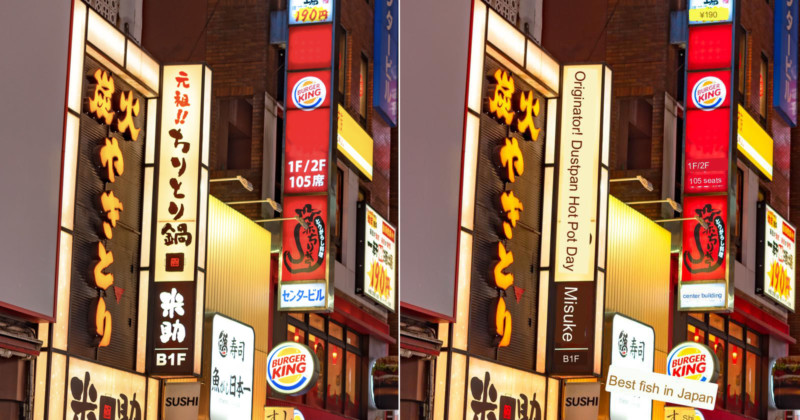 Google Translate is already pretty good at automatically translating an entire web page's text from one language into another, but a new update lets it do the same for text that lives inside of photos.
The capability of translating text in pictures was already available using Google's augmented reality system within its Translate smartphone app — which uses a smartphone's camera to "see" text on any surface and provide translations in real-time — but was missing from the company's browser-based translation tools.
But as Engadget reports, the ability to translate text seen in photos has been added to Google's Translate web interface. The tool is very straightforward and can translate the text — either using auto-language detection or it allows a user to specify the language — from any uploaded photo.
Below is an example photo with a lot of text in it, which Google's new system can now translate:
After the translation takes place, which only takes a few seconds, users are given the option to download the translation or copy the text. The first option downloads a photo that has all of the areas translated in the original resolution that was uploaded, though the file is compressed.
The latter option provides the entire amount of translated text and copies to a computer's clipboard that, when pasted, appears as a simple list. The issue with this particular method is that it isn't particularly clear what is being translated. In the example photo above, the first thing to show in the list is "¥190" followed by "Edo village," which seems to indicate the translation is just going from top to bottom, left to right. For most users, the view of the translated words overlaid on the original image are going to be the most useful.
At the time of publication, the photo translation feature wasn't available in Google's Translate Chrome extension, which still only shows "translate this page" as an option and hasn't previously had the ability to translate the text in images.
Google appears to be taking more steps to improve its translation tools. Engadget reported in early February that the company was making changes to its system that were powered by artificial intelligence and would help users find alternate, and possibly more accurate, translations to words that might have multiple definitions.
---
Image credits: Photos licensed via Depositphotos.