Fujifilm Instax Mini 12 Features New Design and Improved Functionality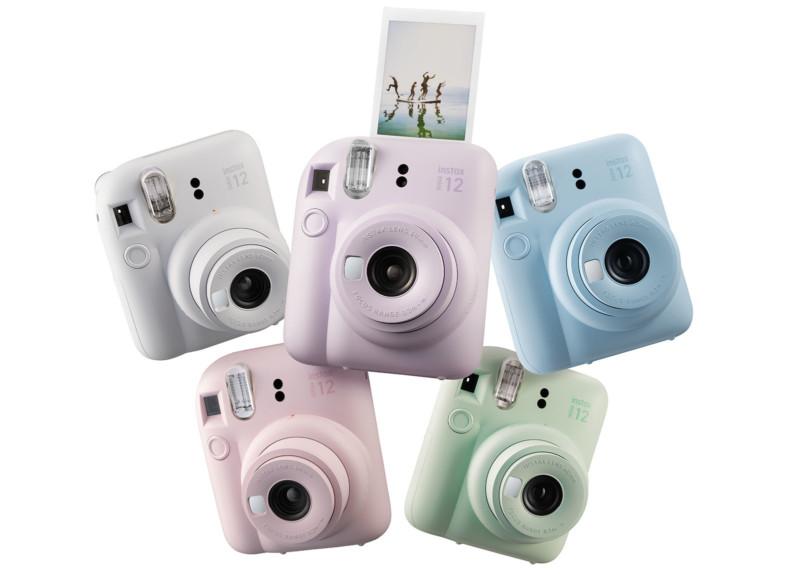 Fujifilm has announced the Instax Mini 12 instant camera. The new analog camera is the successor to 2020's Instax Mini 11 and includes an updated design, automatic flash control, parallax correction, and a multi-function twist lens.
The Instax Mini 12 sports the same two-element lens as its predecessor and uses Instax Mini instant film (sold separately). The camera has a 0.37x "real image" viewfinder that the company says features new parallax correction when using the built-in close-up mode. The close-up mode locks the focus range from 11.8 to 19.7 inches (0.3 to 0.5 meters). The parallax correction aligns the camera's viewfinder with the lens, minimizing object shift up close.
The new multi-function twist lens lets photographers quickly power the camera on/off and enable the popular close-up mode. Additional usability improvements include automatic flash control, improving image quality in especially dark or bright environments. The flash recycles in seven seconds or less; its range is 0.98 to 7.22 feet (0.3 to 2.2 meters).
The Instax Mini 11 added automatic exposure, which the Mini 12 carries over. The camera's shutter speed ranges from 1/2 to 1/250s and includes slow synchro for low-light shooting.
There are visual changes to the new camera, too. Fujifilm describes the Mini 12 as "airy, cloud-like, and almost 'inflated'" in appearance. It's an apt description. Compared to the Mini 11, the new instant camera is more rectangular but maintains the same chunky and soft design language.
"The Instax Mini 12 instant camera features a unique new design and a variety of new color options. It includes many of our consumer's favorite favorites from the prior Mini 11 model, along with some new advancements that are sure to enhance our users' photographic experience," Bing Liem, president of Fujifilm North America's Imaging Division says.
"We're always impressed with the incredible creativity of our consumers, and we can't wait to see what they create with the Mini 12."
The color options Liem refers to are a pastel assortment of blossom pink, mint green, clay white, lilac purple, and pastel blue. The Instax Mini 12 is powered by a pair of AA batteries, which promises approximately 100 total exposures, or 10 packs of Instax Mini film.
Instax Mini film is available in a wide range of styles, including color and black film with different border colors, such as white, gray, black, blue, and pink. There are also more stylish varieties like contact sheet, blue marble, confetti, candy pop, rainbow, and more. Instax Mini film packs come in packs of 10 and cost around $15 for a two-pack.
The Fujifilm Instax Mini 12 instant camera will be available in mid-March for $79.95.
Fujifilm Instax Up! App
Alongside the Instax Mini 12, Fujifilm has announced Instax Up!, a new smartphone app designed to make it easy to digitize instant film prints.
For photographers who want the convenience of a smartphone for sharing photos but the analog experience of Instax cameras, the Instax Up! app promises to deliver the best of both worlds. Users can scan, organize, share, and import photos using the app, ensuring that it's easy to enjoy and share Instax prints in a digital space.
"Solutions like our Instax Up! app keep our consumers connected, engaged, and informed," says Ashley Reeder Morgan, vice president, Consumer Marketing, Fujifilm North America Corporation. "Instax Up! will enable our users to organize, archive, and share their Instax photos with ease, helping preserve their special memories and inspiring them to create more."
---
Image credits: Fujifilm