Hyper-Realistic AI Face Filter Shocks TikTok Users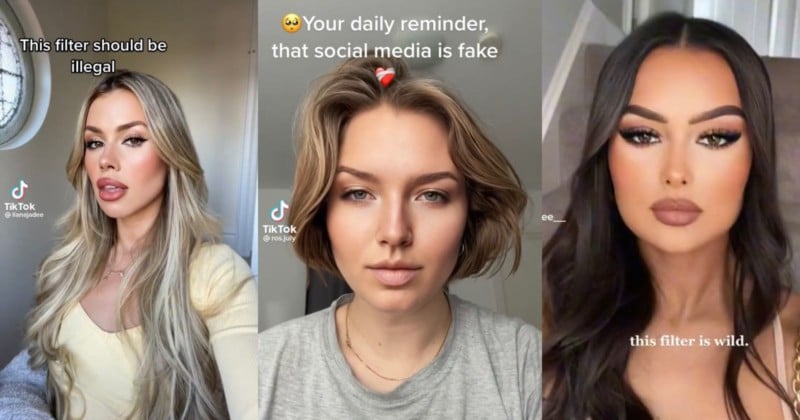 A new artificial intelligence (AI) powered face filter that reportedly never glitches has left TikTok users shocked and concerned about how dangerously realistic it is.
The TikTok beauty filter called "Bold Glamor" has gone viral on the social media platform in the last few weeks and has been used in over 5.9 million videos to date.
The AI-powered Bold Glamour filter realistically airbrushes a person's face, chisels their jawline and cheekbones, whitens their teeth, and darkens their eyes and eyebrows in real-time.
The filter uses the latest machine learning technology to map out a TikTok user's face and convincingly alter their appearance — so that it never malfunctions no matter how much the person moves or obscures their visage.
In videos, TikTok users pull a range of facial expressions and cover their faces with their hands in an attempt to evade the filter.
However, while most filters glitch when a person does this, the Bold Glamor filter, which was developed internally by TikTok, never appears to snag in comparison and is indistinguishable from reality.
The AI-programmed filter is so lifelike that it has left TikTok users unable to decipher between reality and their digitally enhanced faces in a video.
As AI advancements make it increasingly difficult to tell what is "real" in images online, social media users have questioned the psychological impact of the Bold Glamor filter on TikTok. Some individuals have even suggested that the filter should be banned.
"This filter needs to be banned," Twitch influencer Keify Bankhead says in a video. "Shocking. I've now set a standard for myself that is unrealistic and I can't meet."
In another video, which has amassed over 8.6 million views, content creator Rosaura Alvarez says: "This is the problem… You can't even tell it's a filter anymore."
In a further clip, Alvarez also shows how it is possible for a TikTok user to upload a video without disclosing that they are using the Bold Glamor filter.
A Powerful Filter
When Snapchat first popularized facial filters in 2014, with effects like "heart eyes" or "dog lens", it was largely for novelty purposes.
Since then, facial filters have evolved to be more precise and incorporate machine learning to effortlessly alter people's faces in real time.
Effecthouse creator, Luke Hurd explains how TikTok's Bold Glamor effect — saying it would have required a team of staff at TikTok, rather than an individual creator, to develop such an accurate filter.
Hurd says that the Bold Glamor filter rarely glitches because it uses AI image processing: "It looks pretty darn real and the reason for that is because of how it works"
"Now a traditional filter, it takes your two-dimensional screen and then it overlays a face mesh on top that tracks to your face and when you move your hand in between it like this, it freaks out because it's like 'oh I don't know where the face is'," Hurd explains.
"This [Bold Glamor filter] does not work that way, this actually takes the camera image itself and then processes it."
Beauty filters on social media can have a dangerous impact on users. In an internal document, Meta revealed that it is aware of the toxic and harmful effects its apps have on women.
The document reported that "thirty-two percent of teen girls said that when they felt bad about their bodies, Instagram made them feel worse" and "among teens who reported suicidal thoughts, 13% of British users and 6% of American users traced the issue to Instagram."
---
Image credits: Header photo sourced via TikTok/@lianajadee; TikTok/@ros.july; TikTok/@ellaroseee__.