Microsoft to Officially Support Running Windows 11 on Apple M1 and M2 Macs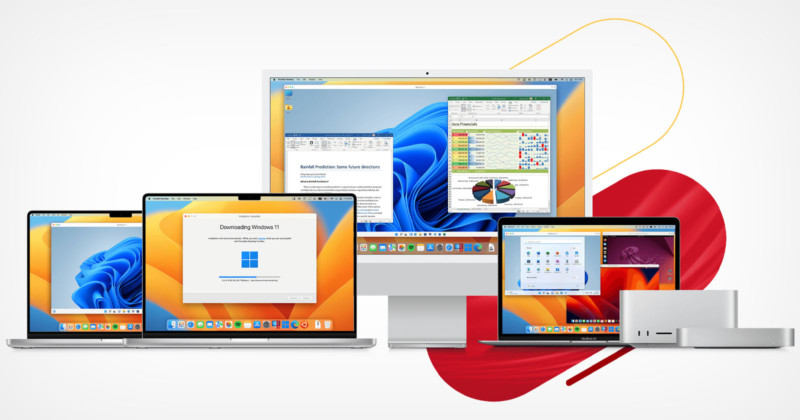 Thanks to a partnership with Parallels, Microsoft will officially support running Windows 11 on M1 and M2 Macs in a virtual environment.
As published in a new support article on its website that was spotted by The Verge, Microsoft is taking a step beyond what it has done in the past and will actually make it much easier for users to run Windows 11 in a virtual environment on Mac M1 and M2 computers.
The Verge explains that while it has been possible to do this in the past, up until now Microsoft has only licensed Windows versions of Arm directly to OEMs, which has made it hard to actually officially run it in a virtual environment on an M1 or M2-powered machine.
Via an official partnership between Microsoft and Parallels — described as an "authorized solution" — running Windows on a Mac is now significantly simpler.
While Parallels has supported Windows since the release of Desktop 18 last August, the official partnership and support of Microsoft now means that users can download and install Windows directly through the platform very easily.
"The latest version of Parallels Desktop for Mac is optimized for Apple silicon, providing users with greater freedom and flexibility. Parallels Desktop users can download, install, and configure Windows 11 in just one click, while the virtual TPM chip paired with the strong security capabilities designed into Apple silicon and Secure Boot provide a high level of security on Windows 11," Parallels explains.
Pricing for the Parallels solution depends on if a user is upgrading or if they're getting an entirely new license. All of the options can be found on Parallels' website.
There is another way to run Windows 11 on a Mac, and that's via the cloud. Users can securely stream a full, personalized Windows 11 experience to many devices — including Mac computers built with M-series processors — on a Cloud PC through Microsoft's Windows 365 service. An explanation of how to do this can be found on Microsoft's website.
There are limitations to running Windows on a Mac, however. The Arm version of Windows 11 won't be able to run everything and certain games and apps will not work — including those that rely on DirectX 12 or OpenGL3.3 or greater.
"32-bit Arm apps available from the Store in Windows are not supported by Mac computers with M1 and M2 chips," Microsoft adds. "32-bit Arm apps are in the process of being deprecated for all Arm versions of Windows. The preferred customer experience is to run 64-bit Arm apps, but customers can also use apps in x64 or x86 emulation on Mac M1 and M2 computers."
---
Image credits: Parallels