Storaxa is a Customizable Remote NAS and Home Cloud Storage System
Arrotrack Technology has announced a new fully customizable remote NAS cloud storage system called Storaxa.
The China-based company launched the device on Kickstarter just a few weeks ago with a small $5,000 goal and has already reached over $1.5 million in backing for the project. The proposed home cloud storage system will offer users RAID 0, 1, 5, 6, and 10 while paired with WiFi 6 and a 2.5 gigabytes per second (Gbps) connectivity in a fully open source system that Arrotrack says is powered by TrueNAS-SCALE and OpenWRT. According to the company, all of these open sourced tools will give users full control over how their data is stored and restored without having to rely on any additional third-party services or hardware.
The device is technically a combination of a Network Attached Storage (NAS) and WiFi Router that is capable of holding a huge amount of storage using a combination of five Serial Advanced Technology Attachment (SATA) and four M.2 2280 PCIe NVMe Solid State drives (SSD) for a maximum of 142TB of storage. Each Storaxa device will also include 16GB of DDR4-3200 RAM and will be powered by a 10-Watt Intel processor (a stretch goal would allow the company to switch ti a 15-watt AMD Ryzen 7 5825U).
Given the choice of open-source software as the backbone, the Storaxa system should support an impressive range of applications based on user preferences, but the default setup includes a Proxmox virtual environment (running on TrueNAS-Scale) for the serve and storage side of the device, and OpenWRT for router management.
The device even has four ethernet ports, support for SD, MicroSD, USB-C, and five USB-A connections as well as DisplayPort and HDMI display connectivity that works with Windows, MacOS, iOS, Android, and Linux devices.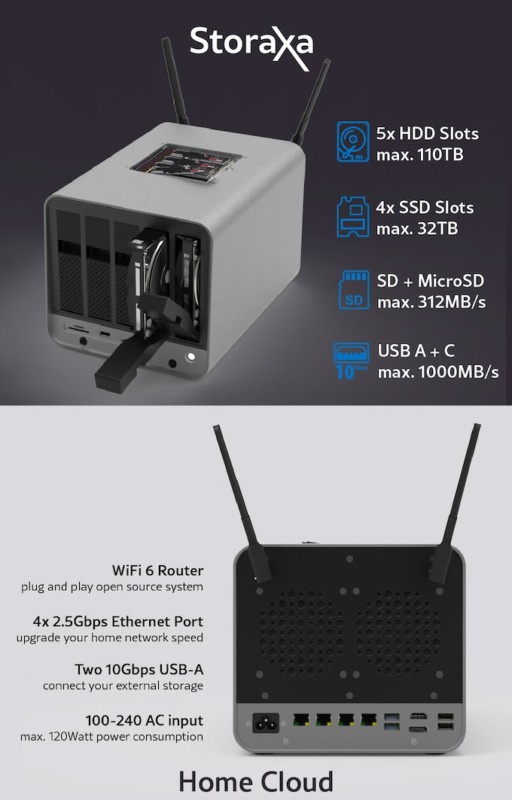 "Whether you are a gamer, photographer, or content creator… you will need reliable storage for all of your digital data" says team lead Marvin He.
"By data we mean your games, photos, RAW footage, personal collection of music and movies over the years; all these "data" are more than just data, they are lifelong memories which are simply irreplaceable and irrecoverable if handled carelessly."
As far as technical specs go, the Storaxa looks to bring a lot to the table considering its modest $399 retail price (which is even cheaper for those who choose to back the project) which should offer users an impressive combination solution that is almost half the price of any of its more recognizable brand competition such as Synology. The only real concern is what level of technical support users can expect after purchase given it is a much smaller and lesser known company.
Those interested in backing the project can do so starting at $239. The company expects to deliver finished units to backers by June.
---
Disclaimer: Make sure you do your own research into any crowdfunding project you're considering backing. While we aim to only share legitimate and trustworthy campaigns, there's always a real chance that you can lose your money when backing any crowdfunded project.