Clever Supply's New Leather Accented Sling is Lightweight and Comfortable
Clever Supply is making its first foray out of straps and into bags. The company says its new Camera Sling is designed for the modern photographer and is ruggedly built with materials that, like its other products, only get better with age.
Founded by wedding photography turned leatherworker Todd Balsley, Clever Supply started out as a small crowdfunding campaign and has grown into a company that specializes in producing straps that are designed to allow a photographer to actually enjoy carrying a camera.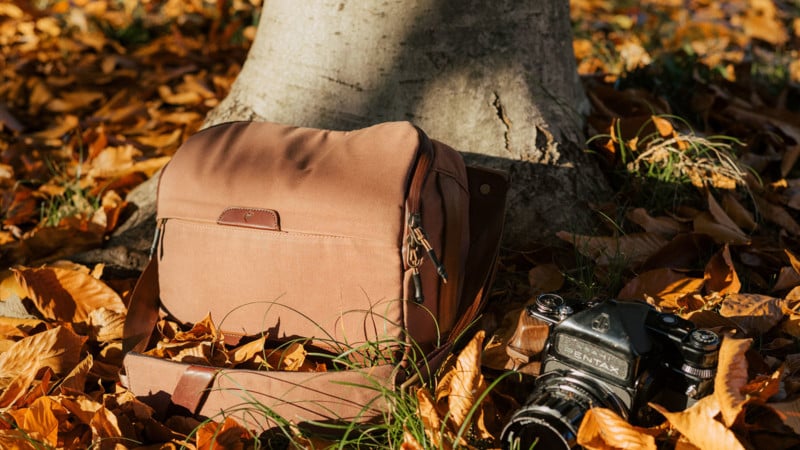 Balsley, who has spoken at length to PetaPixel about his transition from wedding photographer of six years to artisanal leatherworker, says that after years of designing and dreaming, he finally is ready to reveal Clever Supply's first camera bag.
"Blending innovative design with time-tested materials, the Camera Sling aims to inspire you to pick up your camera and document wherever life takes you," Balsley says. "Each bag is crafted using weather-resistant waxed canvas, leather, and weather-proof zippers."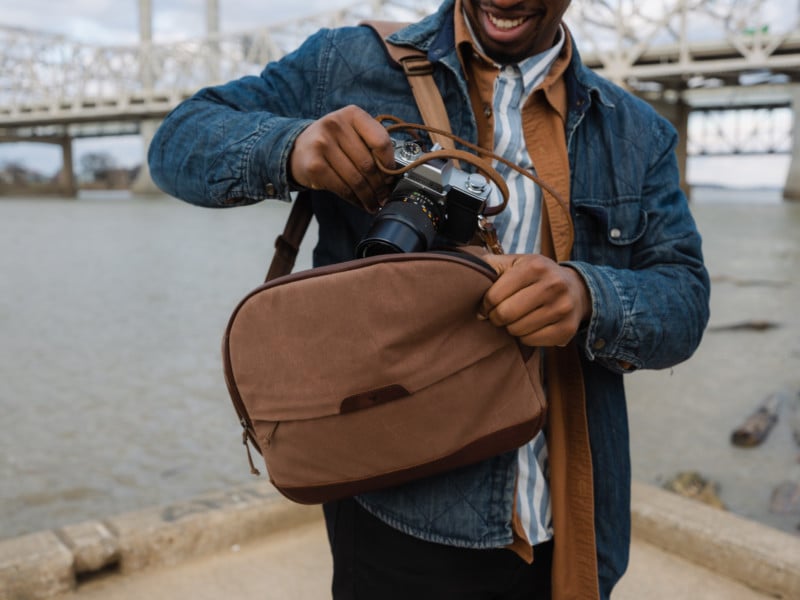 The bag is a small six liters in size, which he says is perfect for small to medium camera kits (especially 35mm film kits). The choice to go with a shoulder bag comes from, as he says, the goal to utilize a "workstation-like" feel. He argues that if the bag got any larger, it wouldn't be as comfortable to carry and would instead become cumbersome.
The bag is made of a mix of weather-resistant materials: waxed canvas, YKK coated zippers, and — as expected from Clever Supply — full-grain leather. The shoulder strap is easy to adjust from either side and it comes with two dividers for organizing gear. Inside, there are also included pockets for up to eight SD cards. Speaking of pockets, there are thre interior slots and one "hidden" exterior pocket for accessory storage along with one interior sleeve that can hold up to an 11-inch tablet.
Overall, the Clever Supply Camera Sling is simple by purpose, providing photographers exactly what is required for short photo excursions.
"Regardless of the product, our purpose is to serve the photographer," Balsley says of Clever Supply. "This bag is the next iteration of that desire and purpose."
The Clever Supply Camera Sling is available to back on Kickstarter starting at $199 and is available in either black or tan. Clever Supply expects to ship finished bags to backers starting in May to some tiers and to all others by July.
Hands-On
PetaPixel was provided an early sample of the Camera Sling and everything promised in Balsley's marketing for it is in line with reality.
When we were first told about the bag, we were concerned that a full-leather bag — which was what we were expecting given Clever Supply's current line of products — would be too heavy. With that said, we were very happy to see that the majority of the bag is lightweight canvas. While there is leather on the bag, it feels like it's mainly there for aesthetic purposes.
Most importantly, the Camera Sling is very comfortable even when full and is easy to adjust to any body size.
As mentioned in his pitch for Kickstarter, the Camera Sling isn't very big by design. That means that while it can easily hold basically any current mirrorless camera with a moderately-sized lens attached (outside of something like a Nikon Z9), it doesn't have a lot of room for much else. We were able to fit a Canon EOS R5 with a 24-70mm lens attached and one other small lens in there, but we think for most cases you'll likely want to stick to just one camera with an attached lens and keep the remaining space for something else like a flash or extra batteries.
Film photographers will probably love this bag since most 35mm film cameras and a lens will fit perfectly and leave a lot of space open for additional rolls of film.
The Clever Supply Camera Sling isn't going to perform optimally as a working photographer's only bag. It's too small for a wedding or commercial photographer, but is better suited to a day trip where photography is part of the plan, but perhaps not the only goal.
Basically, the idea that a photographer should enjoy using Clever Supply products fits the description of the Camera Sling, since it's very likely best suited to support casual, hobbyist photography than a working professional — and that's totally okay.
---
Image credits: Hands-on section photos by Jaron Schneider, all others by Clever Supply
Disclaimer: Make sure you do your own research into any crowdfunding project you're considering backing. While we aim to only share legitimate and trustworthy campaigns, there's always a real chance that you can lose your money when backing any crowdfunded project.