'Lunchbox' Replaces Photographers as the First AI Image Generator for Food
A company has launched the first artificially intelligent (AI) image generator for food photos.
AI food photo generator, called Lunchbox, is aimed at restaurants that need to quickly create images of food for their social media pages, websites, and menus.
Lunchbox, which is based on OpenAI's DALL-E generative AI, hopes to help restaurants avoid situations where they do not have updated food photos.
On Lunchbox's free and publicly-available AI text-to-image food generator, there are three categories that a restaurant can use to create a photo.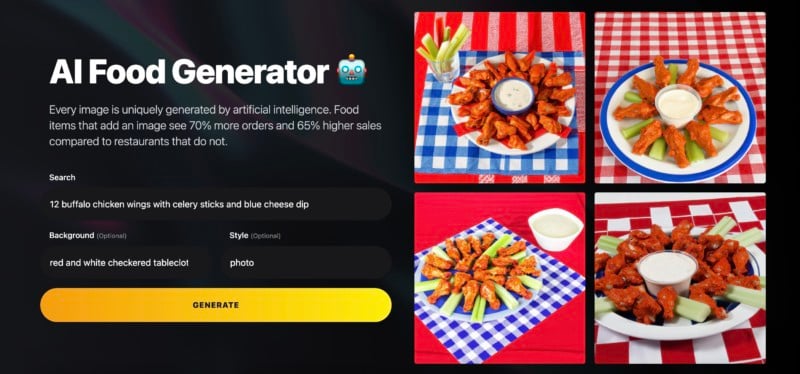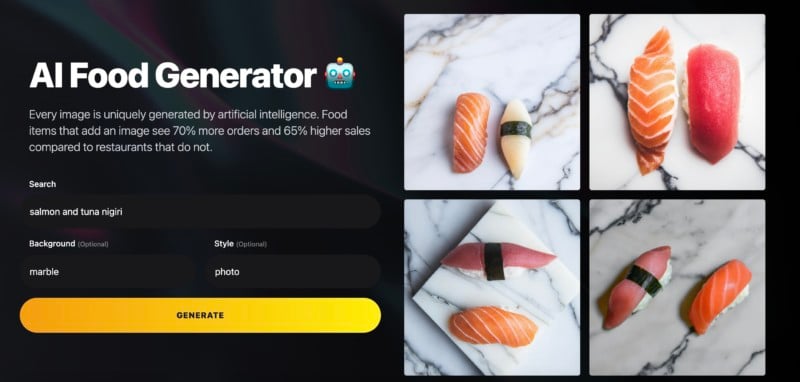 The user can input the food they want to be pictured in the "Search" field, for example, a cheeseburger and fries or a Caesar salad. The user can also request Lunchbox to create an image of a person eating a salad. This is the only compulsory category required to generate an image of food on Lunchbox.
Meanwhile, in the optional "background" field, the user can choose backdrops like "yellow," "wood," "a cafe in Los Angeles," or "a bar in Paris" for their food image.
The Lunchbox application also enables the user to select the style of their food photo if they wish, such as a "polaroid," "iPhone photo," or "film camera." Users can also generate their images as a "cartoon" or "painting" instead of a photo.
'No More Waiting for a Photographer'
In an interview with QSR, Lunchbox CEO Nabeel Alamgir says that food items that add an image see 70% more orders and 65% higher sales compared to restaurants that do not.
However, getting food photos taken by a professional photographer can be a lengthy and difficult process, particularly for menu specials or if a brand wants to test a product, the company infers.
"What I want is for it to be very easy for someone to say, 'hey, I have a sushi concept. My brand is pink. I want sushi on a pink background, and can I get it really quickly until my photos are taken.' We wanted to build that for everyone," Alamgir tells QSR.
Alamgir says that the response to the AI food photo generator from restaurant operators has been positive as it means they do not have to wait for a photographer.
"What our operators are saying is, 'wait, if I had something in the fridge, I can now promote it very quickly," the Lunchbox CEO says. "I don't have to go ahead and wait for a photographer to turn things around. I can test something out very live, very quickly.'"
The Future of Food Photography
In the future, more restaurants may look to AI technology to create food photos for their establishment. However, this may cause potential problems if the food in the images is nothing like the actual dishes served up in the restaurants, let alone real.
PetaPixel previously reported on a group of customers has filed a lawsuit against the fast-food chain Burger King alleging that the company's advertising photos make the food look bigger than what they were served up in reality.
McDonald's and Wendy's were also being sued by a New York man who claims that the food photos in its ads are misleading.
PetaPixel reached out to Lunchbox for comment, but the company did not respond ahead of publication.
---
Image credits: All images created via Lunchbox.