Adobe Wants 1,000 Photos of Bananas to Help Train its AI Image Generator
Adobe Stock has put a call out for 1,000 photos of bananas to help train its AI image generator — And the company is offering $60.
In what could be an insight into the future of stock photography, Adobe wants these images so it can improve its generative AI tools such as Adobe Firefly and Generative Fill.
Stock photographer Robert Kneschke shared Adobe's beta feature "Missions" which is open to a select group of contributors with the goal of "sourcing specific assets" for machine learning training.
As per the post shared by the German photographer last week on Facebook, Adobe wants 500 to 1,000 pictures of three subjects: Close-ups of mouths eating food, close-ups of hands handling food, and bananas in real-life situations.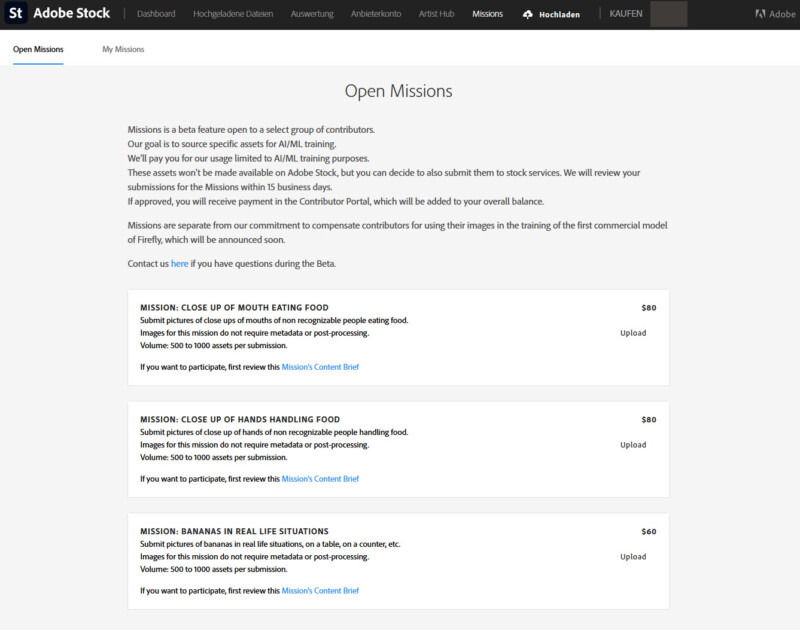 For the close-ups of mouths and hands, Adobe is offering $80 per set and for "bananas in real-life situations" the photo giant is offering $60. The images don't require metadata or any post-processing to be accepted.
"We'll pay you for our usage limited to AI/ML training purposes," writes Adobe. "These assets won't be made available on Adobe Stock, but you can decide to also submit them to stock services."
'The Future of Stock Photography'
Kneschke tells PetaPixel that he thinks this might be "the future of stock photography."
"AI software needs up-to-date training data, but it is a dark future," he explains.
"I briefly considered participating in order to test how much time it takes to fulfill their assignment.
"But then it sank in: When I subtract from $80 the exchange rate, the taxes, the money to buy the props, the time it takes to take 500 different images, to copy them to the computer, and to upload them, I figured it is possibly a loss-making venture.
"It might be different for people in developing countries, but for me, it would not be sustainable."
Research has shown that AI image generators trained on AI images produce terrible results meaning that the machines will still need to be trained with quality photographs if they are to keep progressing.
It is little surprise that Adobe is calling for photos of hands as AI image generators are notoriously bad at making pictures of human extremities.
Adobe were contacted for comment but did not respond as of publication.
---
Image credits: Header photo licensed via Depositphotos.