Raspberry Pi's New Camera Module 3 is its First to Feature Autofocus
Raspberry Pi has announced the new Camera Module 3 in multiple variants that are higher resolution, feature autofocus and HDR, and that have the ability to capture both visible light and infrared.
The original Camera Module was the first official Raspberry Pi accessory launched in 2013. The previously most recent version — an upgraded version of the Camera Module 2 — launched in 2016, sold two million units, and became the company's longest-living flagship product.
But now Camera Module 3 brings some important updates to the popular system including more resolution, more imaging options, and powered autofocus — a first for the system.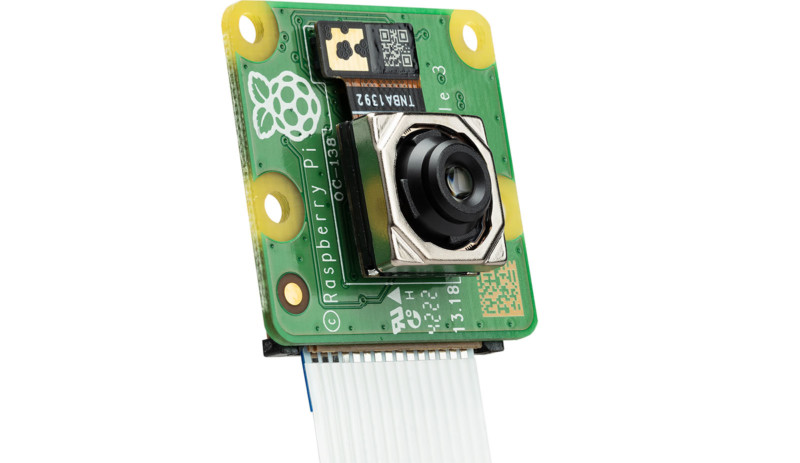 The new Raspberry Pi Camera Module 3 uses Sony's IMX708 sensor, which features a 4,608 by 2,592 (11.9 megapixel) array of 1.40μm pixels, an upgrade over the previous IMX219's 3,280 by 2,464 (8.1 megapixel) 1.12μm pixels array. The company says that the higher horizontal resolution allows it to render finer details and the 16:9 aspect ratio lets it capture HD video using the entire sensor area. Rasperry Pi also says that users can expect better low-light performance as well.
In addition to the better sensor, Raspberry Pi is offering the new Camera Module 3 with two field of view options: a standard 66-degree and a wider 102-degree.
Raspberry Pi's Camera Module 3 introduces powered autofocus support for the first time. The company says that the lens assembly is mounted on a voice-coil actuator, which allows it to move backward and forward relative to the sensor until a selected area of a scene is focused. The company provided the video above as an example of how it works.
Finally, the new Camera Module 3 can shoot high-dynamic range (HDR) images, which are able to better meter the shadows and highlights of an image. The cost is resolution — the resulting image is about a quarter the resolution of a non-HDR shot — but the option is there for those who want it.
The New Rasperry Pi Camera Module 3 is available starting today starting at $25.
In addition to the new Camera Module, Raspberry Pi is also launching a variant of its High Quality Camera — an accessory that supports interchangeable lenses — that has a native M12 mount to better support industrial applications. The new version costs $50 and eliminates the need for an adapter.
---
Image credits: Raspberry Pi