Flying Camera Hits Cricket Player During Live Game
A cricketer was knocked to the ground by a Spidercam during a live game in a nasty incident that could have seen him seriously injured.
South African fast bowler Anrich Nortje was hit by Fox Sport's Spidercam, dubbed the "Flying Fox," as he had his back turned to it.
Spidercams are cable-suspended cameras that can sweep in low over the athletes to provide a dramatic establishing shot.
While the technology has been in place at sports games for some time, the camera was too low and collected Nortje as he was walking to his field position.
Here's the @FoxCricket Flying Fox / Spider Cam doing its bit to help the Aussie cricketers build a healthy lead against South Africa… 😬🎥 Hope the player it collided with (Nortje?) is okay! #AUSvSA pic.twitter.com/9cIcPS2AAq

— Ari (@arimansfield) December 27, 2022
It happened on December 26, during day two of the men's test match between South Africa and Australia in Melbourne. Nortje complained of soreness to his left shoulder and elbow, but he continued bowling.
The Spidercam wasn't used for the remainder of the day. The Australian operators blamed the incident on human error. Nortje told the media that he "definitely" could have been badly hurt.
"I saw cables and then I moved my head, and then I saw the camera and I was a little bit too late. It was quite quick. I didn't know what really hit me, to be honest," he says.
"The one thing we've spoken about earlier is how low it is, and it probably shouldn't be — unless for interviews or something. I don't think it should be traveling at head height."
Who said cricket isn't a contact sport?

South African player Anrich Nortje hit by the aerial camera at the #BoxingDayTest

Meanwhile Warner has his century & Australia only two wickets down and 2 runs away from SA's first innings total (Warner on 115 & Smith on 39) pic.twitter.com/ZafPYIJPue

— The Sage (@SarkySage) December 27, 2022
The genteel sport of cricket is usually a non-contact affair. Nortje says that he's OK, just a knock to his shoulder and elbow.
"The elbow's a bit sore, but otherwise seems to be OK. I'll just monitor it, see how it goes with the doc," he adds.
Spidercam
The name Spidercam is a trademark. It operates with four motorized winches at each corner of the field. An operator controls the winding of the cables which allows the Spidercam to reach any position on the pitch.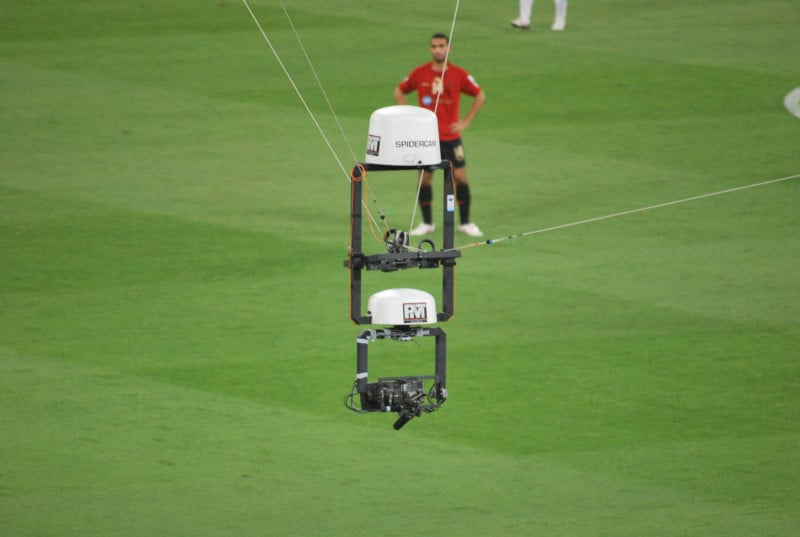 The Kevlar cables have fiber optic cables woven into them to send the camera's picture signal back to the control station.
International cricket test matches are five-day affairs. At the end of day three, Australia needs nine more South African wickets to win.