Creative Photo Series Imagines Dancers Performing Household Chores
A photographer's creative series called Dancers at Home explores their grace and skill, even as they perform mundane domestic tasks.
Eric Raeber tells PetaPixel that he was inspired by American dance photographer Lois Greenfield.
"My daughter took ballet classes, and I had the opportunity to work first with student ballet dancers, and later with professional dancers in the San Francisco region," he explains.
"As I was aiming for perfection and elegance in lighting and composition, I realized that dancers had a similar aim in their movements and poses. Dancers seemed like the perfect subject for my photography."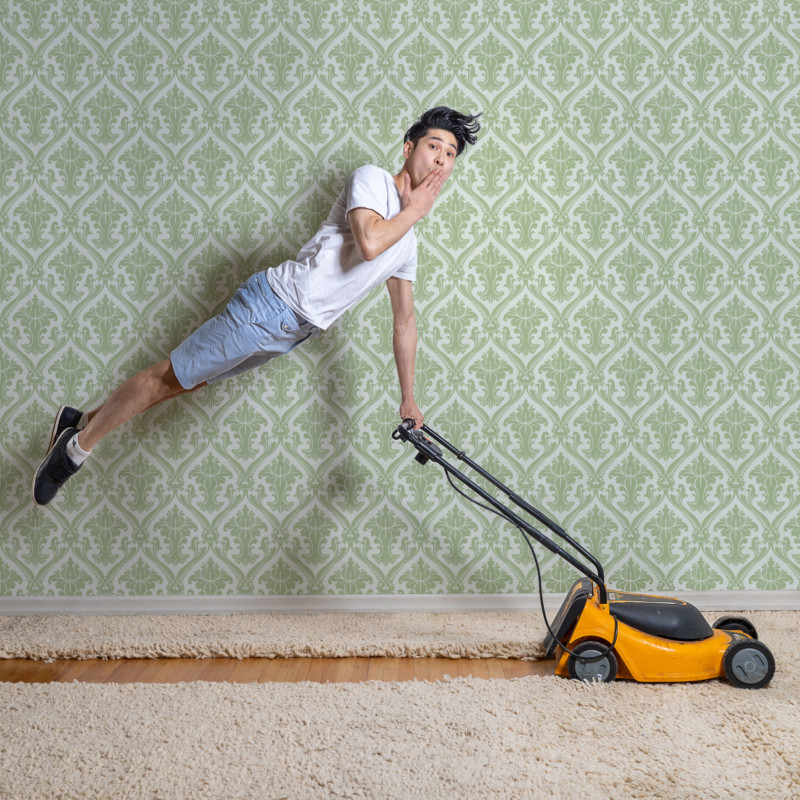 After viewing Greenfield's photos and seeing dancers up close, Raeber was intrigued by the art form.
"Over the years, as I realized the grace with which dancers move every muscle in their body when on stage, I wondered how much grace they could infuse into everyday activities," he says.
"So in 2019, I started a series of images in my living room. I asked dancers to perform everyday activities such as ironing my shirts, vacuuming my floor, or washing dishes.
"As I ran out of house chores to delegate, I had to improvise. I asked them to shuffle cards, play soccer, or mow the carpet… The outcome is a book I recently published on Amazon: Dancers at Home.".
Raeber, who is not a ballet dancer himself, captured the photos with a Sony Alpha 7R IV and pair of Einstein E640 strobe lights.
"I placed the dancer in front of a white paper backdrop, which I later replaced with various textures," he says.
"This was actually a very simple and repetitive setup: a strip box in the doorway from the kitchen and a beauty dish camera right to project a shadow with the desired amount of blur.
"The camera angle, the exposure, and the lighting setup remained mostly unchanged. This allowed me to give my full attention to the dancer as we iterated through ideas and poses for each concept."
Raeber shot hundreds of photos for the project and the limited apparatus pushed him to think outside of the box.
"From the get-go of this project, I could not have imagined how much variety I'd be able to come up with in the 150 images we created with this setup," he says.
"If you ever are in a creative rut, my best advice is to give yourself a set of constraints, and then push the boundaries."
Information on where to purchase Dancers at Home is available here.
More of Raeber's work can be found on his website, Instagram, and Facebook.
---
Image credits: All photos by Eric Raeber.