Photographer Lois Greenfield and Her Old-Fashioned Approach to 'Moving Stills'
Photographer Lois Greenfield has spent the past 35 years of her photographic career exploring the idea of movement and its expressive potential in photos. She has become well known for her elegant photos of flowing photos of dancers in motion.

"My inspiration has always been photography's ability to stop time and reveal what the naked eye cannot see," she
writes
. "What intrigues me is making images that confound and confuse the viewer, but that the viewer knows, or suspects, really happened."
One thing that sets Greenfield apart is the fact that she doesn't use tricks or manipulation — what you see in each photo is a single moment, frozen in time through Greenfield triggering her shutter.
She doesn't even use burst mode to capture a rapid sequence of photos. "I shoot in a very old-fashioned way," she says. "Rather than use the continuous action setting on the camera, which would allow me to capture many frames a second, I prefer to select and shoot only one moment out of a movement phrase. I then ask the dancers to regroup and do the movement again (and again, and again…)."
Here are a few photos with explanations of how they were made:
I was commissioned to create an image for the JVC Jazz Festival. My idea was to have a dancer fly in like an angel to make the music. This photo was taken during the casting session. To achieve this shot, the double bass was stabilized by an assistant, who released it when the dancer's hands were on the fret and stood poised to keep the instrument from falling as the dancer let go. Pacho came dressed for the part and, after a few Polaroids, I knew enough to put in a roll of film to capture this miraculous moment!
I have been fascinated with photographing mirrors since my early days as a photojournalist. The camera offers the viewer a single perspective, but a mirror in the photograph gathers 'off-screen space', nesting simultaneous yet different viewpoints within the picture's frame.
It's always a challenge to transpose the signature quality of a dance performed in the theater into my studio. On the stage, Wu-Kang was in a huge cage, dancing in a storm of shredded newspapers blown by thirty-six industrial electric fans. During the photo session in my studio, I wanted him to stay relatively still amidst the flurry. At one point, his face was totally obscured by the flying papers, and he seemed to embody a human tornado.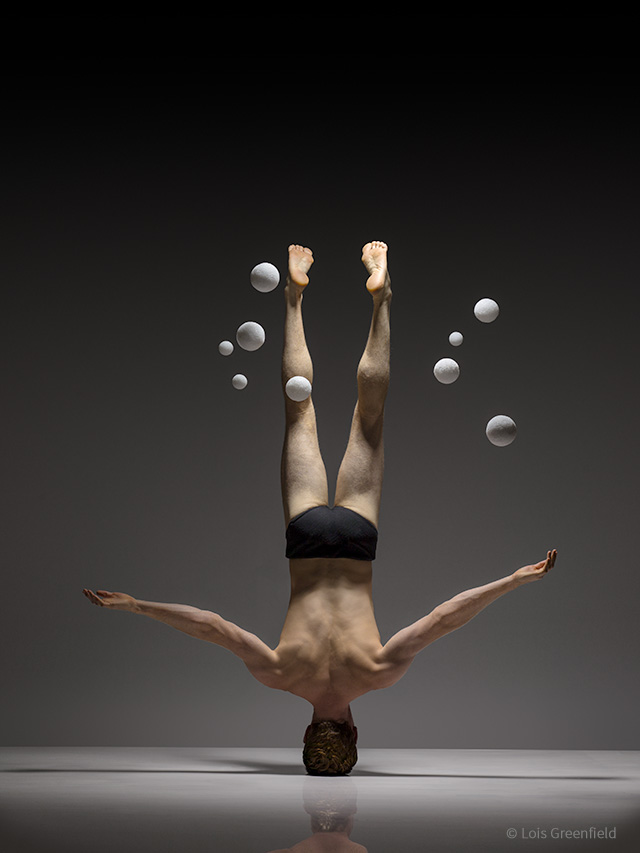 I met Paul in Australia in 2003 when I was co-creating a dance called 'HELD' with Garry Stewart of the Australian Dance Theatre. One of the signature moments of 'HELD' was a line of dancers balancing on their heads for a split second. I was onstage shooting these moments for real-time projection as part of the performance. Last year Paul wanted to reprise this moment in my studio and I couldn't resist tossing in some Styrofoam balls
Here are some more photographs from Greenfield's portfolio: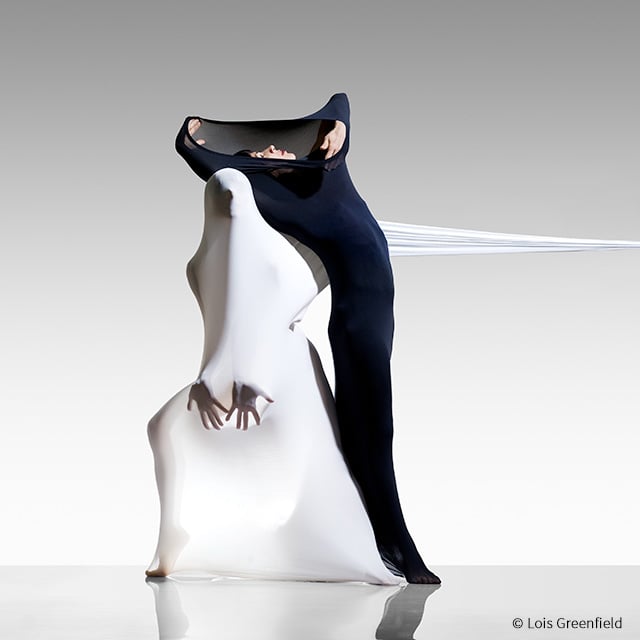 The photographs above, and many others, will appear in Greenfield's third photo book, titled "Lois Greenfield: Moving Still." It'll be released on November 17th, 2015, but you can pre-order it now for $33.
---
Image credits: Photographs by Lois Greenfield and used with permission