AI Photo Editor Imagen Raises $30 Million in Investment
ImagenAi, a desktop app that uses artificial intelligence (AI) to help professional photographers edit their photos in their own personalized style, has raised $30 million in investment.
Available as a cloud-based plugin for Adobe Lightroom Classic, Imagen learns a photographer's style based on around 3,000 samples of their previous work and creates their own personal AI profile.
Users can then apply this profile to their Lightroom Classic catalog and Imagen's AI technology will know exactly what to adjust in an image within less than 1/2 a second per photo.
Today we announced the raise of $30M. The capital will further our mission to change the photography industry as we bring AI-powered solutions to modernize post-production workflow to new markets.

Co-founder & Imagen CEO Yotam Gil spoke with @TechCrunch: https://t.co/G1qUJsseaQ pic.twitter.com/9rYUCWQ1W9

— Imagen (@AiImagen) December 19, 2022
On Monday, Imagen announced that it has raised a $30 million investment led by global growth investor Summit Partners.
The funding will be used to expand the start-up's software-as-a-service offering through mergers and acquisitions and product research and development.
According to TechCrunch, Imagen is currently profitable, with more than $10 million in annual recurring revenue coming in.
Imagen edits more than 150 million photos annually for "tens of thousands" of customers globally.
Imagen's co-founder and CEO Yotam Gill tells TechCrunch says that the company plans to launch a "culling" product that will select the best photos from a photo shoot and a local adjustments tool to identify specific parts in photos, such as subjects, to apply different editing adjustments.
What Imagen Does
Imagen was founded in July 2020 to improve the post-production workflow of professional photographers by intelligently automating image editing at scale.
Co-founder and former wedding photographer Yoav Chai says he realized that post-production was a time-consuming and repetitive process for most photographers.
And because each photographer has their own style, the process is not necessarily easy to automate with existing tools.
The personalized photo editing assistant is designed to learn individual photographers' styles using artificial intelligence (AI) to help make applying bulk edits to entire catalogs quick and easy.
The software is built to work seamlessly with Adobe Lightroom Classic and learns the way a specific photographer edits to create an independent style that will be automatically applied to any files uploaded through the application.
The company says the algorithm learns each user's editing style by reviewing several catalogs worth of edited images (5,000 or more images for the best results) to build this unique profile, and it keeps learning as a photographer continues to use the app by tweaking any edits sent back by the services and reuploading them for further training.
Once a user has trained the system in their preferred style, they can then apply it to their own images at the same time as still granting the ability to add options like cropping and straightening.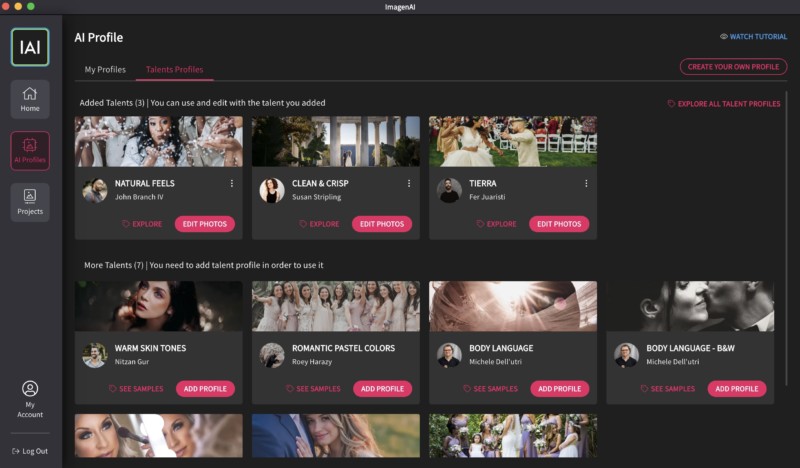 Depending on the connection speed for the upload, the system takes an average of about 20 minutes to edit 1,000 images, at which point it will send the edits back to be imported by the user.
Imagen also provides pre-trained profiles, called Talent AI Profiles, based on "industry-leading" photographers' unique editing styles.