Update to AI Photo Editor Imagen Improves UX and Workflow
Imagen, a personalized AI photo editing assistant, has announced a newly-refreshed desktop app. The company says the version released this week has been "completely rebuilt from the ground up."
Imagen has created a "brand new user experience," for its workflow, focusing on streamlining the editing process for photographers.
What Imagen Does
The personalized photo editing assistant is designed to learn individual photographers' styles using artificial intelligence (AI) to help make applying bulk edits to entire catalogs quick and easy.
The software is built to work seamlessly with Adobe Lightroom Classic and learns the way a specific photographer edits to create an independent style that will be automatically applied to any files uploaded through the application.
The company says the algorithm learns each user's editing style by reviewing several catalogs worth of edited images (5,000 or more images for the best results) to build this unique profile, and it keeps learning as a photographer continues to use the app by tweaking any edits sent back by the services and reuploading them for further training.
Once a user has trained the system in their preferred style, they can then apply it to their own images at the same time as still granting the ability to add options like cropping and straightening. Depending on the connection speed for the upload, the system takes an average of about 20 minutes to edit 1,000 images, at which point it will send the edits back to be imported by the user.
New Features
Imagen 5.0 has improved user experience at its forefront, with a new home screen that contains quick actions for immediate access to favorited AI profiles and recent projects.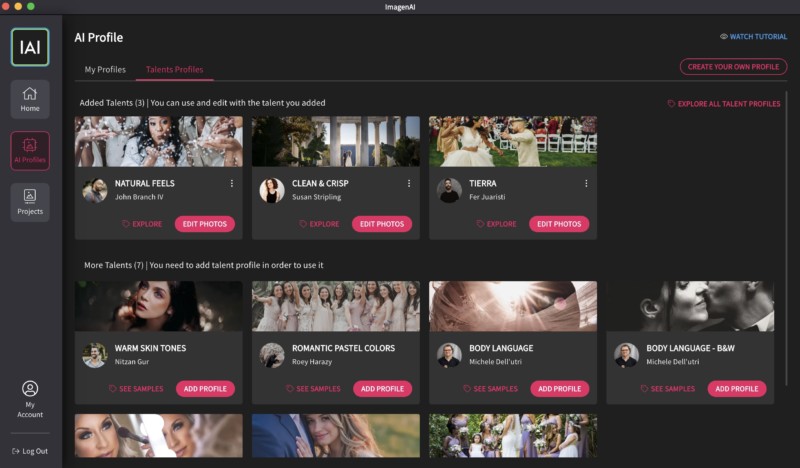 The team has also added a "My Account" page where users can easily view their details, current plan, and additional insights. Photos editors will also be able to see their active projects that are in progress, ready for download, or ready to be fine-tuned.
It also gives users the option to switch easily between business and personal AI profiles while also giving the option to retry any failed uploads if the computer cuts out for any reason.
"If for some reason your computer crashes and an upload fails, Imagen offers the ability to retry those failed uploads. This is possible in creating your AI profile and uploading a project for editing," explains the company in a YouTube video.
Imagen is available for $0.05 per photo, a minimum of $7 per month, but new users can try the platform for free with up to 1,000 AI edits.