Photographer Uses 10K Lego Pieces to Make a Super-Realistic Eiffel Tower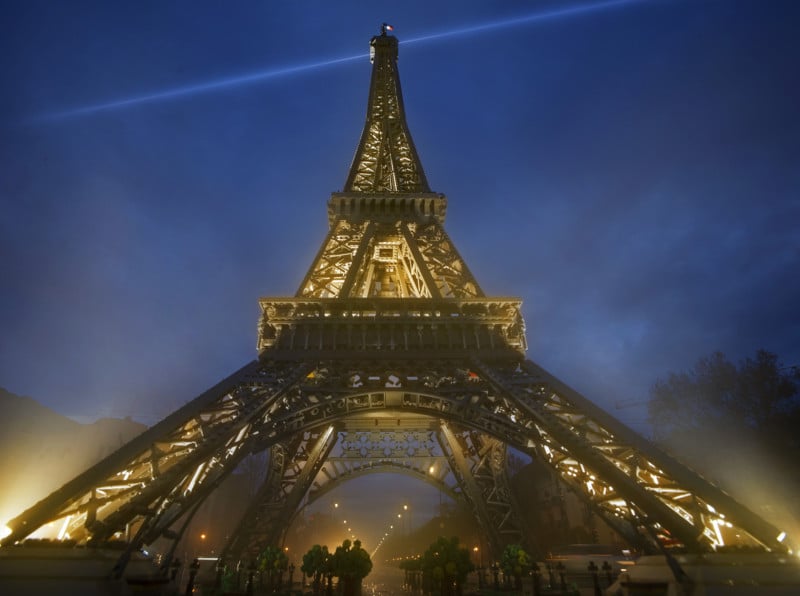 A photographer who spent 28 hours constructing the Eiffel Tower from 10,001 LEGO pieces used forced perspective to make it look like the real thing.
Benedek Lampert was 922 miles away from Paris in the Hungarian capital of Budapest, but his convincing photos make it look as if he was standing at the bottom of the iconic Eiffel Tower.
"Basically, as a toy photographer I'm making handcrafted sceneries around the figures or other objects to make it real and cinematic," he tells PetaPixel.
"But this tower is sooo huge, that it's impossible to build an environment that is big enough. So I have decided to bring it in the middle of Budapest and use the real city as the background."
Lampert set up the toy landmark in Budapest's Heroes Square Plaza. He posted the above video of him unboxing it and placing it on a table in the huge public space where Millennium Monument is.
Lampert livestreamed to his 20,000 Instagram followers as he set the scene up, attracting passersby curious about what the photographer was doing.
As nightfall descends, Lampert brings out the special effects; two gas canisters for a misty effect on the photo. The resulting images capture the streets of Budapest in the background making for a genuine-looking photo of the Eiffel Tower.
"The final result is one single shot. The spotlights on the very top of the tower are Photoshop manipulation. But everything else is real," adds Lampert.
"At first glance, I thought the photo was an original photo of the real Eiffel Tower that you were trying to recreate. Very impressive," writes one Redditor.
Many were astonished that Lampert safely transported the delicate LEGO structure.
"The most impressive part was that you were able to safely move this massive set outside for a photo shoot," writes one person.
Lampert used a Lawowa 14mm f/4 macro lens attached to as Nikon D750. DPReview notes that to light the tower, he used two Litra Torch LED lights and a Joby Light Cube.
More of Lampert's work can be found on his website, Instagram, TikTok, and YouTube.
---
Image credits: All photos by Benedek Lampert.