How a Fake Snow Leopard Photo Sparked a Debate on Ethics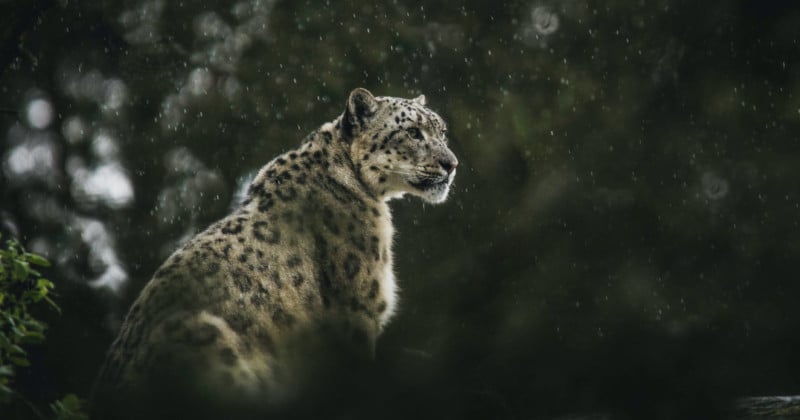 Capturing a snow leopard is considered by many to be the holy grail of wildlife photography. But when it comes to manipulating an image of the world's most elusive big cat, how far is too far?
This week, there was a huge blow-up after a photographer revealed to PetaPixel that her breathtaking photos of snow leopards in Nepal were actually heavily edited composites.
I am referring to Kittiya Pawlowski whose photos were exposed as fraudulent in a French magazine after they pointed out the inconsistencies. The publication called on experts to prove that Pawlowski had cut out different peaks in the Himalayas and pasted them into the backdrop for dramatic effect.
But what about the snow leopards?
Pawlowski is adamant that she did travel to Nepal and that she did capture the shy big cats near Gorak Shep. PetaPixel pressed her for the original, unedited images but she flatly refused.
Snow leopard photographer Vincent Munier writes: "Given their reclusiveness, it's obvious they would stay away from such busy places as Gorak Shep, one of the most visited parts of the Himalayas, with a constant stream of helicopters flying in and out of Everest basecamp."
A Question of Ethics
If we give Pawlowski the benefit of the doubt and believe that she did travel to Nepal and that she got lucky and photographed snow leopards, is it an issue that she then inflated the scene's grandeur?
"Some asked me to apologize… I owe no apology. Those who stole my images and misled people into thinking I was a journalist owe me an apology," Pawlowski protests.
You have to admire her fighting spirit, but she's wrong.
We know that moving around elements when you're a photojournalist is a complete no-no, it goes against an established code of ethics. And in fairness, there are no similar rules for wildlife photography.
However, I think the rules are unwritten.
When you see an incredible photo of a wild animal you assume that it was taken in its natural habitat — unless stated otherwise. The idea that the creature has been cut out in Photoshop and placed in a fictional mountain scene is total anathema to what wildlife photography is about.
"I've got nothing against this type of creation, but it has to be presented as such," adds snow leopard specialist Munier.
Or as one PetaPixel reader puts it: "I cannot wait to do a series of alligators standing on top of Everest."
'Incredible and Sad'
I have to admit my own responsibility in this sorry saga: When we first covered her series, I didn't ask Pawlowski whether the photos were composites.
However, her convincing account certainly led me and everyone else reading it to believe that her RAW files looked similar to the finished piece. It was a mistake made by media publications around the world.
Looking back, I should have known something was awry when her Instagram feed only had those snow leopard photos and her website was solely built around them.
It's a mistake that I will learn from. But to try and argue that she hasn't misled people is a complete obfuscation of the truth.
"This is serious and it's important to call it out, otherwise it'll get worse and worse," as Munier puts it to Alpine Mag.
"It works, she has written a good article and she's boastful. It's the quest for great photos. It's both incredible and sad."
And what if you don't give her the benefit of the doubt?
What if you think that she didn't capture any snow leopards? Alpine Mag points out that she even doctored her own profile photo. Why would you manipulate a photo of yourself in the Himalayas? Come to think of it, what evidence is there that 24-year-old American Kittiya Pawlowski is who she says she is?
As Bo Burnham says, "Welcome to the Internet."
---
Update 12/9: The source of the snow leopard photos has now been discovered. That story can be read here.
---
This story is part of PetaPixel's weekly newsletter Clipped Highlights.
---
What is Clipped Highlights?
Clipped Highlights is a free, curated, weekly newsletter that will be sent out every Wednesday morning and will focus on a few of the most important stories of the previous week and explain why they deserve your attention. This newsletter is different from our daily news brief in that it provides unique insights that can only be found in Clipped Highlights.
In addition to unique takes on the biggest stories in photography, art, and technology, Clipped Highlights will also serve to feature at least one photo series or art project that we think is worth your time to check out. So often in the technology and imaging space we focus on the how and not the what. We think that it's just as important, if not more so, to look at the art created by photographers around the world as it is to celebrate the new technologies that makes that artwork possible.
If this kind of content sounds like something you're interested in, we encourage you to subscribe to the free Clipped Highlights newsletter today. You can read this week's edition right here, no subscription necessary, to make sure it's something you want in your inbox.
We'll also make sure to share each edition of Clipped Highlights here on PetaPixel so if you aren't a fan of email, you won't be forced to miss out on the weekly newsletter.
---
Image credits: Header photo by Frida Lannerström.