Hive Social, a Twitter and Instagram Alternative, is Exploding in Popularity
Hive Social has exploded in popularity as the future of Instagram and Twitter is questioned. The three-year-old social media app hit one million users last week after a dramatic rise in sign-ups.
Although Hive has been around for several years, the app has seen a surge in new interest in the last month.
1,000,000 Besties and the number keeps climbing! 🫶🌈🔥Thank you to everyone who has followed us, joined, shared their Hive posts and profiles, invested in our WeFunder, and overall just given us such an incredible amount of support! 🥹🐝💛 pic.twitter.com/3IOliTf647

— Hive (@TheHIVE_Social) November 21, 2022
TechCrunch reports that Hive saw an uptick in users in the weeks leading up to Elon Musk's takeover of Twitter on October 27 and the days that followed.
On November 22, digital analytics platform Sensor Tower confirmed to CNN Business that Hive had seen approximately 871,000 worldwide installs — more than a third of which came in the previous week alone.
Email verifications are still down but Google and Apple sign in work!!! 🚨

+250,000 new users overnight!🥳🐝🔥🌈 pic.twitter.com/vr2ciyyAkJ

— Hive (@TheHIVE_Social) November 22, 2022
That same day, Hive revealed that it had gained 250,000 new users overnight, despite its email verification process not working. Hive also said it had passed one million users as the app soared to the top spot in the social networking category on the U.S. App Store last week.
What is Hive Social?
Hive has been described as a social media platform that is a hybrid between Twitter, Instagram, Tumblr, and even Myspace, with text, image, and video posts all supported.
On its website, Hive promises to bring back "what you used to love about social media in a new way" and says that the app focuses on "simplicity."
Outwardly, Hive Social looks and feels extremely similar to Twitter and Instagram due to its emphasis on text as well as visuals.
Hive users can follow other accounts as well as post messages or photos. They can also like, comment, and re-share posts from other users.
Like Twitter, there is a feed on Hive that lets users follow different topics and hashtags that enables users to discover similar content. Unlike Twitter, there is no character limit on posts.
Interestingly, Hive has an exclusively chronological feed and only shows users content in the order that they are posted. This is entirely different to the current algorithmic feeds that Twitter and Meta-owned apps push on its users, and harkens back to the early days of social media.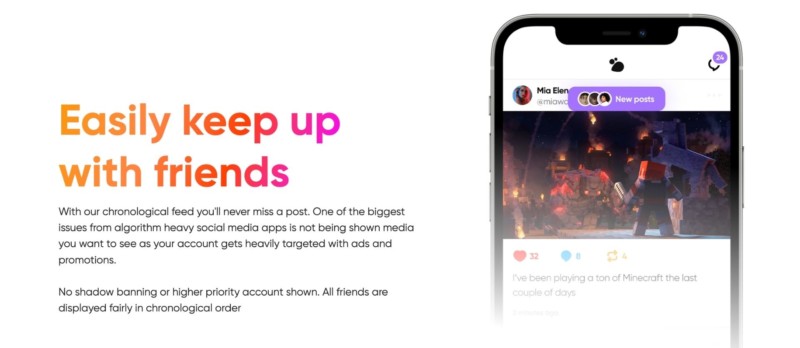 'The Closest Replica to Twitter'
Hive was started by 22-year-old college student Kassandra Pop in 2019 when she taught herself how to code. The platform is run by just two people, and the indie beginnings of the app have certainly drawn Generation Z users to Hive.
However, the sudden popularity of Hive Social is predominately linked to Musk's takeover of Twitter.
From the mass job cuts that threaten to undermine the platform's ability to moderate content to the reinstatement of previously banned accounts of users such as Donald Trump and Andrew Tate, Musk's acquisition of Twitter has been marred with controversy.
As a result of the backlash, MIT Technology Review reports that Twitter may have lost more than one million users since Musk took over the platform.
In the wake of Musk's takeover, users have been searching for a Twitter alternative and flocking to other apps like Hive, Mastadon, and Countersocial. However, Hive has been the only app to see a huge surge in users numbers and emerge as a potential "new Twitter" given major barriers to entry on other platforms — Mastodon, in particular, has proven challenging to use given its decentralized nature.
The fact that Hive is such a close replica of Twitter is undoubtedly a reason for its rapid growth and that striking resemblance has helped it fight off competition from Mastadon and Countersocial — the Instagram-like features it also integrates are no doubt also helpful on that end.
It's great to be cautious of new brands! You should know who/what you're supporting. Just a quick reminder to clear up any confusion:
🚫 Tr*mp and Tate are banned. White supremacists are also deleted, no warning.
🚫 Zero tolerance for bigotry and hate.
✨ Have fun posting!🌈

— Hive (@TheHIVE_Social) November 21, 2022
But Hive's explosion in popularity is also because it has positioned itself apart from Musk's Twitter. Hive has made its stance on content regulation clear and said that it does not tolerate "bigotry and hate." The app also confirmed that controversial users like Trump and Tate were banned from the platform.
A Throwback to 'Old' Social Media
Another reason for Hive's recent traction is its chronological timeline — a feature that the biggest social media apps have abandoned in recent years.
Apps like Instagram and Facebook now focus on serving up algorithm-determined content in app feeds instead, something which has left many users frustrated.
Meanwhile, Hive claims to have no algorithms deciding which posts users see. The app says it does not "shadow ban" accounts or prioritize certain other accounts, either. Hive additionally does not allow users to "boost" their posts.
Hive's chronological feed reminds users of a "simpler time" in social media and this technological nostalgia is extremely appealing to users.
There is even a throwback to the MySpace era on the app. Hive users can pick a song that will play when others visit their profile and pick a color theme for their account.
However, as expected when an app rockets in popularity, Hive has revealed several shortcomings with its platform. There have been reports of frequent app crashes and problems with identity verifications, to name a few. When it is working correctly, Hive often runs extremely slow, no doubt due to the surge in new users taxing the small company's servers.
Hive still has many flaws to overcome but it may be the most viable and meaningful alternative to Instagram and Twitter yet.
---
Image credits: Hive Social