How 'Real-Life Iron Man' and Pro Kite Surfer Teamed Up for One Epic Video
Richard Browning, who is also known as the "real-life Iron Man" teamed up with professional kite surfer Jeremie Tronet to produce a collaboration video that required months of careful planning and preparation.
The duo didn't try and do anything more than create a fun, exciting video that featured both the Tronet's kite-surfing capabilities and Browning's incredible jetpack suit.
The two wanted to work together to produce a single video that highlighted both their skills, but planning and logistics ended up being just as challenging as the actual shoot. While only Browning flies with his jetpack suit, Tronet spends a good amount of time in the air as well, which meant that they needed to be sure that they weren't in each other's way while also trying to be as close to each other as possible to make for the best shots.
"The last thing I wanted was to tangle him in my kite line and be responsible for sending him in the water," Tronet explains.
For his part, Browning had to learn where Tronet's lines would be and fly as close to him as possible without getting so close that he burned him with his jet pack.
Beyond those concerns, Tronet and Browning have specific needs in order to successfully pull off their parts. Tronet requires just the right wind and weather conditions, while Browning's flights are time-sensitive and based on fuel.
"We often had only one attempt to get the trick done while he was flying, so I had to make sure not to be the one to miss the trick and ruin the shot," Tronet explains.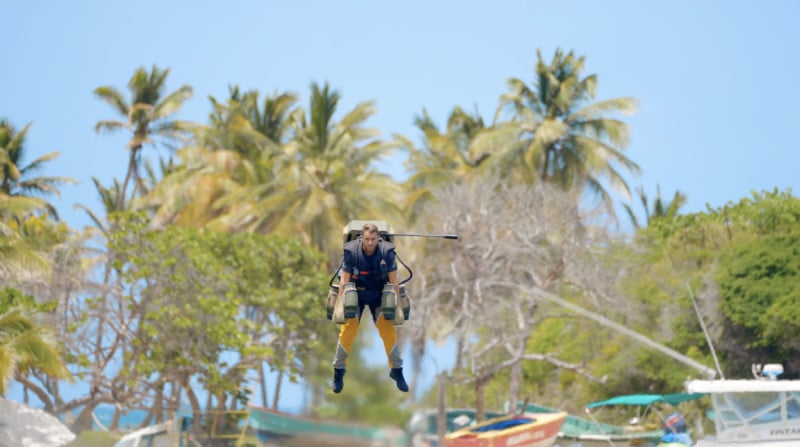 The two also had to deal with what they describe as a very demanding shoot schedule.
"It was often hot, sandy, tough terrain and moving from small boats to remote beaches," Browning recalls. "So I can honestly say four days in it was a significant physical and mental workout shooting over a dozen flights a day."
The two had several ideas for shots they wanted to get, and not all of them worked out. One idea was for Browning to tow Tronet along the water using the jet pack. It was a dangerous idea, but one the two thought they could pull off. During an attempt as Browning started to pull Tronet's line, the drag ended up pulling him too close to the water line before he had enough speed to pull Tronet, so they abandoned the attempt. While it didn't work in this case, the two say they want to try and make it work in the future.
After more than half a week of arduous shooting and planning, the two completed their plans. In addition to surface-level cameras, the two used a set of Insta360 cameras to capture the action from their vantage points for their social media channels, specifically the X3, a 360-degree action camera.
---
Image credits: Insta360