Canva Adds a Free and Unlimited AI Text-to-Image Generator
Canva, perhaps Adobe's greatest competition, has added a text-to-image generator powered by artificial intelligence (AI) to its app, giving its 100 million monthly active users access to the technology for free.
Canva, which is a free online visual communications and collaboration platform designed to make it easier for the average person to access and use design software tools, has fully launched the text-to-image option as an app inside its software which had previously been in beta for two months.
The popular creative software company joins Picsart — another major Adobe competitor — which also added a free and unlimited text-to-image generator to its app last week.
The company says that in the short time the app was in beta, Canva users created more than six million images using it, which it says shows overwhelming support for the technology.
"We're always thinking about ways to bring the best of technology to our community to empower them to design. We envisage a world where design and visual communication is collaborative, simple and enjoyable — where bringing your imagination to life can be done with just a few clicks and where anyone, anywhere, can communicate visually," the company says.
"Text to Image is just the beginning and we look forward to launching a suite of magic features over the coming months that will supercharge the Canva Visual Worksuite while making it easier than ever to bring your ideas to life."
While Canva is itself an app — it can be downloaded on the Apple App Store, for example — the experience is also app-based. Canva offers a large number of add-on apps that enhance the experience, and the new Text to Image is one such app.
Just like many other text-to-image generators, Canva's app allows users who are giving the AI a text prompt to also define a style — such as photo, drawing, 3D render, painting, pattern, or concept art — as well as add an effect to the equation.
Once an image has been created, users can "enhance the photo" with Canva's built-in photo editor, where they can adjust image settings like depth of field, Autofocus, or apply filters.
Canva says that it has invested heavily into assuring that the system is safe to use and is especially focused on making sure it can't be abused.
"We've invested heavily in safety measures that help the millions of people using our platform 'be a good human' and minimize the risk of our platform being used to produce unsafe content. For Text to Image this includes automated reviews of input prompts for terms that might generate unsafe imagery, and of output images for a range of categories including adult content, hate, and abuse," the company says.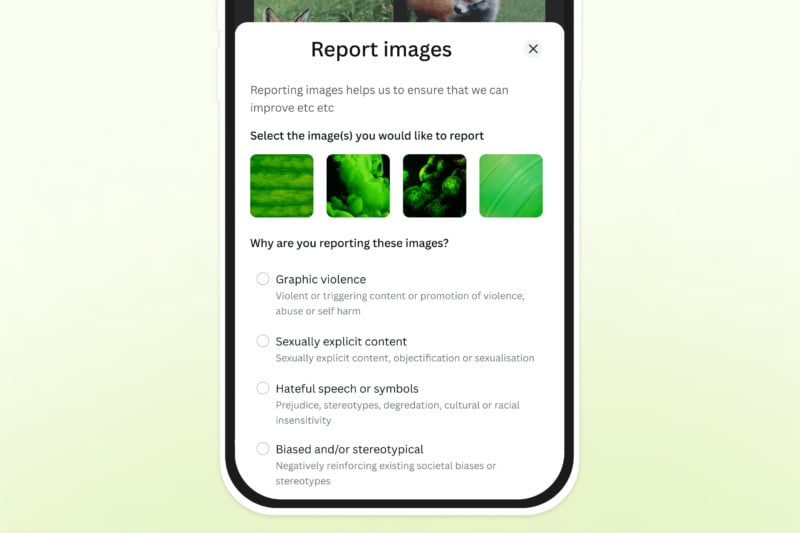 At launch, Canva does not make any copyright claim over images that are created with its Text to Image app and says that users own the images they create (subject to following the company's terms of use). The only stipulation is that users give Canva the right to host them on its platform and to use them for marketing its products.
---
Image credits: Canva