Wedding Photographer Recalls 'Worst Thing' That Can Happen on a Job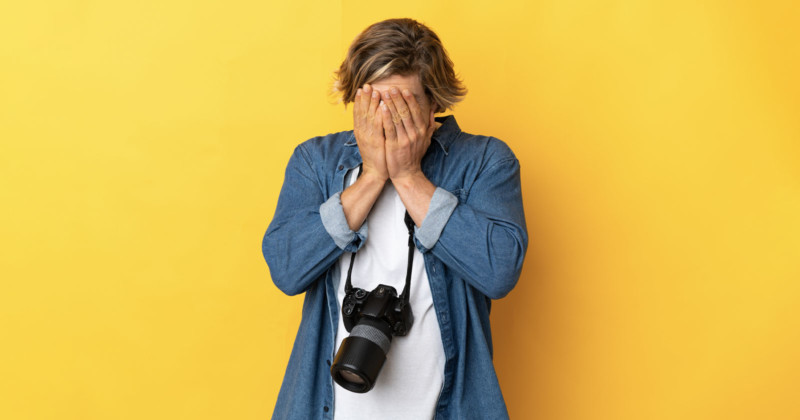 A wedding photographer took to social media to describe how the "worst thing that can happen to a photographer" on a job happened to him.
In a viral TikTok video, wedding photographer Justin Gummow shared how he broke into tears when he realized that the memory card containing a couple's wedding photos had completely corrupted.
The video, which Gummow posted on Monday, has racked up over 14 million views on TikTok. The photographer says the experience was "even worse for the bride and groom."
Every Photographer's Worst Nightmare
Gummow begins the video, by saying: "So, the worst thing that can happen to a photographer when shooting a wedding happened to me."
"I was transferring the photos and the card got corrupted and I lost all the photos," he explains.
"My card didn't just get copied over, it got cut and copied over, so the card was erased and that also sucks. So, I had all these pictures that looked just like this."
Sharing a photograph of a corrupted image file on his computer, Gummow explains: "Pretty much every single one of them looked like this."
"As you might expect, I panicked and I bought a bunch of programs to try and have the card restored," he continues. "I got the card restored, but all the pictures still looked like that."
"So resigned, I sat there and I cried for a minute and I said, 'this is the worst, this sucks, I have to call the bride and I have to let her know that all those memories from her day that she paid a professional photographer to take are gone and that sucked'."
Gummow then recounts his brave decision to call the bride to apologize for the unfortunate situation.
The photographer explains: "I called her and I did tell her and I said, 'hey, I'm trying my damnedest and I've spent hundreds of dollars already trying to fix these photos and get these photos back."
"I can give you a refund, I will take reshoot photos for you and your husband. Anywhere you want to go, we'll go and do portraits.'."
"'I am just so sorry that this happened in the first place. My equipment was faulty, not that I bought faulty equipment just sh*t happens sometimes and that's not an excuse and that's not okay and I'm 100 percent responsible for it,' so that's what I told her."
One Last Attempt
The wedding photographer later sent the images to a company that tried to recover the photos in a last-ditch attempt.
However, Gummow was left devastated when the company was also unable to retrieve the pictures and sent Gummow "a bunch of files that were the size of thumbnails and were useless."
But, in an unexpected turn of events, Gummow was able to find a way to recover some of the photos.
In the video, he recommends that other photographers try this method if they find themselves in a similar situation.
Gummow recalls: "I was looking at the back of my camera because of the card and I could see the pictures. And I said, the pictures didn't look that bad on there. There's some that are kind of messed up but the vast majority I can still see them."
He continues "So, I used the Wi-Fi on my camera to transfer the JPEG previews from my camera to my phone, and slowly I've been transferring all the photos that I can to my phone and I've saved a whole lot of them."
Gummow tells other photographers, "So if you're ever in this predicament and in this sh*tty situation, that might be a Hail Mary, that might be a last ticket."
"So far I've gotten pictures that looked like the one I showed you that now don't look like that so hopefully that helps somebody. This just sucks and I hope it doesn't happen to anybody else and I've learned a whole lot of lessons."
Gummow's video received over 17,000 comments. Several viewers praised the photographer's honesty and were relieved that he managed to rescue some photographs.
In a further video, Gummow says he was fortunate that the "understanding" and "kind" couple were forgiving throughout the ordeal. The wedding photographer also called out viewers who accused him of not being "professional" because he didn't have "dual cards."
In response, the photographer explains "I did have dual card slots, what I didn't have was the cards."
"I grabbed the wrong bag and the memory cards were in the bag next to the bag I grabbed," he adds. "I didn't realize until I got there and I was an hour and a half away from my house."
Gummow concludes "I just made a mistake because I'm a human being and it has to happen once and that just happened to be the day."
Sometimes things can go awry with wedding photography when the big day comes. PetaPixel previously reported on a bridesmaid who was demoted to an unpaid photographer at a friend's wedding.
Meanwhile, another wedding photographer went viral after she revealed how she had to cancel her service the night before a client's wedding.
---
Image credits: Header photo licensed via Depositphotos.