Sony Hit with Lawsuit Alleging its Lens Serial Numbers Fall Off
A class action lawsuit has been filed in the state of California that alleges the serial number stickers on Sony lenses too easily fall off and therefore prevent owners from getting free repairs or taking part in product recalls.
The lawsuit has been filed by plaintiff Joseph Musharbash who claims that the serial number for even Sony's high-end G Master lenses is affixed with a sticker that too easily falls off.
"Since the serial number is on a sticker affixed to the lens, it is at significant risk of coming off," his lawsuit states. He argues that the sticker is so low quality and in such a poor location that it can become detached within six months of intensive use.
"Cameras and lenses are handled intensively by their users. This causes dirt, moisture, and oils from the skin and environment to contact the outer parts of the lens, which is where the serial number sticker is located. Cameras and lenses must be able to withstand the constant oils and moisture from skin," it continues.
"Over time, serial number stickers on Sony lenses have a high tendency to fall off."
Musharbash's lawsuit claims that Sony's application of serial numbers is an outlier among leading lens manufacturers, and while others like Canon, Zeiss, Pentax, Nikon, and Fujifilm use engravings or etchings, those that do use a plate or sticker like Sony does situate them in a "sunken location" that is recessed from the body which prevents them from falling off.
Not only does the location and quality of the serial number sticker make it very likely that it can fall off, Musharbash claims, but it also makes the lenses more likely to be stolen since thieves know they can easily remove the serial numbers.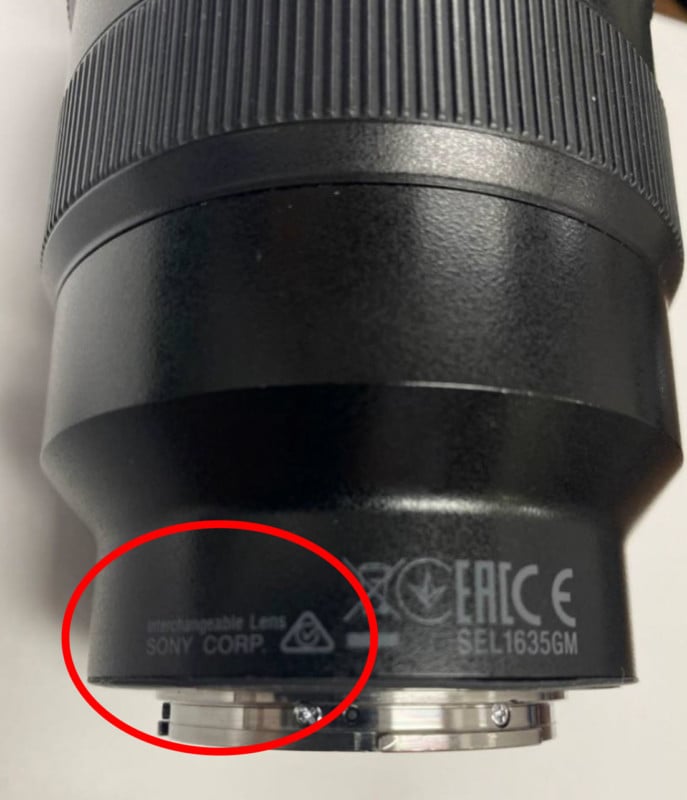 The lawsuit includes photos of Musharbash's personal 16-35mm f/2.8 G Master lens which he was unable to include in a voluntary recall in November of 2019 (which was issued by Sony because there was an issue that may cause the camera to not operate correctly when the lens is attached) because the serial number sticker fell off.
The class-action lawsuit claims that the issue violates California's Unfair Competition Law, False Advertising Law, and Consumer Legal Remedies Act, as well as breach of warranty and "unjust enrichment." The suit is seeking compensatory damages to be determined at trial in addition to punitive damages and all attorneys' fees.