Hands-On with the Canon EOS R6 Mark II: It's Basically a Mini R3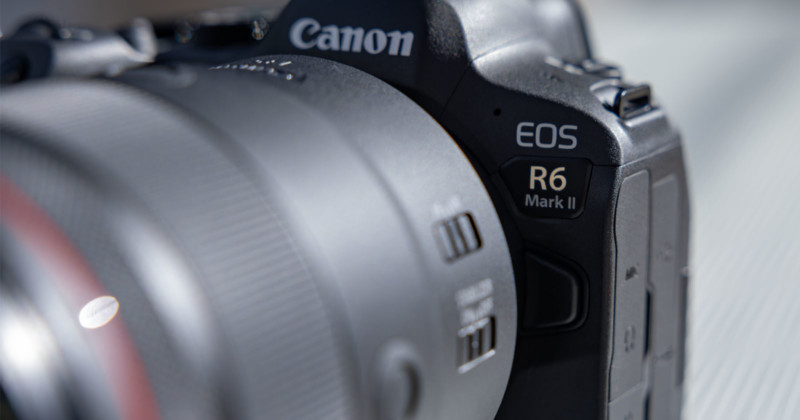 The EOS R6 Mark II surprised me. Historically, Canon's "6" series has been a stepping stone camera that, at least to me, lacked an identity of its own. That changes with the R6 II, which now punches way above its weight.
I didn't have a lot of expectations going into my time with the R6 II, mostly because Canon didn't really tell me anything about it up until the moments before putting it in my hands. The original R6 was nice, and a significant upgrade over the original EOS R, but it didn't turn heads quite like the R5 did.
Maybe others will disagree, but my impression of the R6 was that it served as a solid entry into a hybrid mirrorless market but was not a standout in any major way. Its autofocus was often unreliable, the buffer struggled with longer bursts, and its sensor wasn't any different than the one that was in the 1DX Mark III (which means it had its limits when it comes to dynamic range).
It had its strong points, but also its weaknesses. Overall, it was average. You didn't seek out the R6, you got it out of compromise.
I can say with confidence that the R6 II is not average. It does not feel like a compromise. Canon has successfully given the R6 series an identity. Even though the company claims it's a "Swiss Army knife" of a camera, I disagree. No, this is a focused camera. It is a sports, action, and events shooting monster thanks to a dramatically improved autofocus system thanks to a new AI chip, an improved buffer, as well as the ability to shoot up to 40 frames per second.
I was initially skeptical about the autofocus, but the longer I shot with it, the more confident I became just trusting the camera to get the shot. So confident, I'm willing to say this: the R6 II is a mini R3.
Note: The R6 II that PetaPixel had access to was not running final firmware. Please be aware that the images were created with this pre-production camera, and as a result, this is a hands-on first impression, not a review.
Canon Moved Stuff Around, Again
Canon seems to regularly second guess itself when it comes to the physical buttons on its cameras. We first had that awful touch bar on the EOS R, then the absolutely terrible interface for swapping between photos and videos on the R5, and now we have an entirely different system for that on the R6 II that moves the power button from the left side of the body to the right, replacing it with a dedicated photo/video switch.
There is nothing "wrong" with this new setup, I just wish Canon's designers would make up their minds. I've developed some serious muscle memory for the left side of my Canon thanks to years of using the R5, so I cannot tell you how many times I switched that photo/video toggle from still to video when what I really wanted to do was turn the darn thing off. I don't know why we got rid of the switch around the record button on the back of the camera like we had back in the DSLR days; there was nothing wrong with that.
I do want to add that on more than one occasion, I accidentally switched the trigger from still to video and as a result, missed a few shots as I tried to figure out why the camera wasn't firing. I appreciate that Canon tried to make toggling between photo and video easier than it is on the R5, but this might have been a swing too far in the other direction.
Aside from needing to unlearn what I had learned, the actual handling and layout of the camera is perfectly acceptable. Everything is easy to reach, and Canon's simple menu system (in an age when menus keep getting more complicated) makes operating the camera relatively easy. If you've used a Canon camera any time in the last decade, you'll easily get the hang of the R6.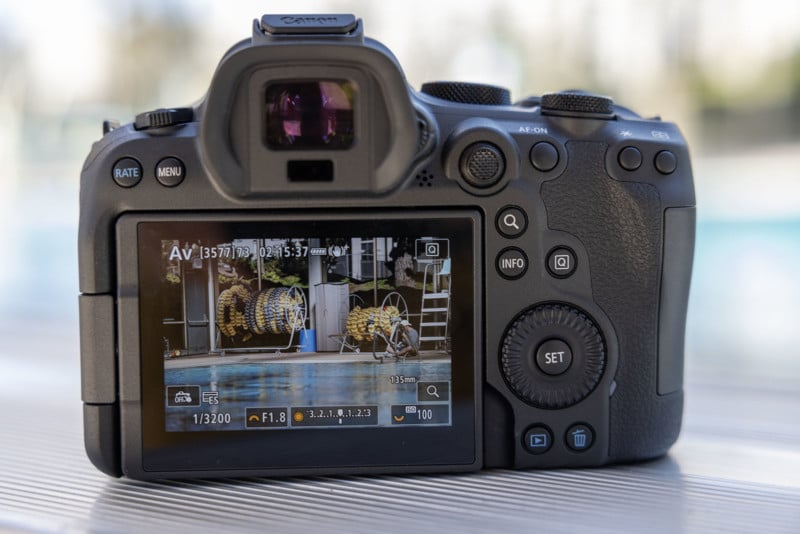 While Canon continues to iterate on some of the buttons on the top of the camera, the back remains largely unchanged from years of proven success. Canon is still using the tried-and-true vari-angle touchscreen, which I have no complaints about. The play, trash, info, magnify, and Quick menu buttons are also all where you expect them to be, as is the multi-function joystick.
Way More Powerful Than it Has Any Right to Be
The size and look of the R6 II is deceptive. It doesn't appear any different than other cameras in the Canon mirrorless line (with the exception of the extra-tall R3 of course), but that humble form hides a shockingly powerful interior. Canon outfitted the R6 II with a new sensor and a better processor along with a more intelligent autofocus system. Any one of these changes would have made for a superior camera than the original R6, but together? Now we have something special.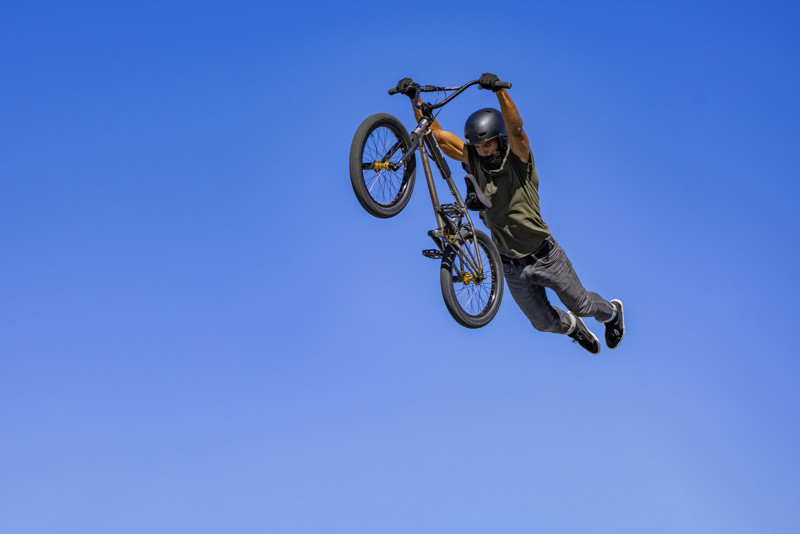 Autofocus You Can Trust
Canon made the autofocus a lot smarter. Not only can it recognize humans, but it can now see eyes from much farther away than I am used to and gives you the ability to swap between left or right eye quickly depending on your composition. It also can now recognize animals (like dogs, cats, birds, and horses) as well as an assortment of vehicles (like cars, motorcycles, airplanes, and trains).
In my time with the camera, perhaps the most surprising aspect of the experience was just how reliable this improved autofocus is. It was not giving me a 100% hit rate and there were lighting situations where it seemed to have more difficulties than in others, but on the whole I was able to really just let the autofocus do its thing and know that I was going to get a great shot.
For example, near the end of my last day with the R6 II, we were out by the beach photographing a pair of mountain bikers. I had an idea for a shot that would require me to get very close to the ground, but I wasn't about to get down on my chest in the dirt. Instead, I just held the R6 II low, just above the ground, and when the biker appeared in what I thought was my shot, I just hit the shutter.
Every single shot, captured at 40 frames per second, featured the biker's face, tack-sharp in focus.
Is this an unusual request of a camera these days? I don't think so, no, but I do think it's unusual for a mid-tier full-frame camera and even more so for a mid-tier Canon mirrorless camera. Canon is stepping up and running neck-and-neck with longstanding leaders in this space.
In this hands-on, I'm not going to compare the performance of the R6 II to something like a Sony Alpha 7 IV or the smarter, improved artificial intelligence-powered autofocus of the Alpha 7R V — we'll save that for a future story. What I will say is that in a vacuum, I can see a wide range of photographers totally happy with what the R6 can do. Wedding and event photographers will immediately be able to make use of the faster frames and smarter focusing system but it's sports shooters that may be the most impressed with this little camera. I dare say, it's good enough to act as a backup to the R3.
During one session, I attached the Canon RF 600mm f/4 with a 1.4x teleconverter to the R6 and photographed surfers from a cliff edge. Over the next 30 minutes or so, I was able to fully focus on composition while relying entirely on the autofocus of the camera as it fired off 40 frames per second.
During that time, I wasn't thinking about the camera at all, which perhaps is the best example of its success. It felt as good as shooting with any of the high-end sports cameras that I've used in recent years.
I will say there were seemingly random times when the camera totally lost focus on an unobstructed subject. Some of my colleagues also noticed that the autofocus would sometimes be unwilling to reacquire a subject after it briefly left a frame, instead it would try and grab the background. This was most prevalent when a user was holding the autofocus button down and moving the camera around. If the button was tapped it seemed to snap the camera back into proper function, though this was not always the case.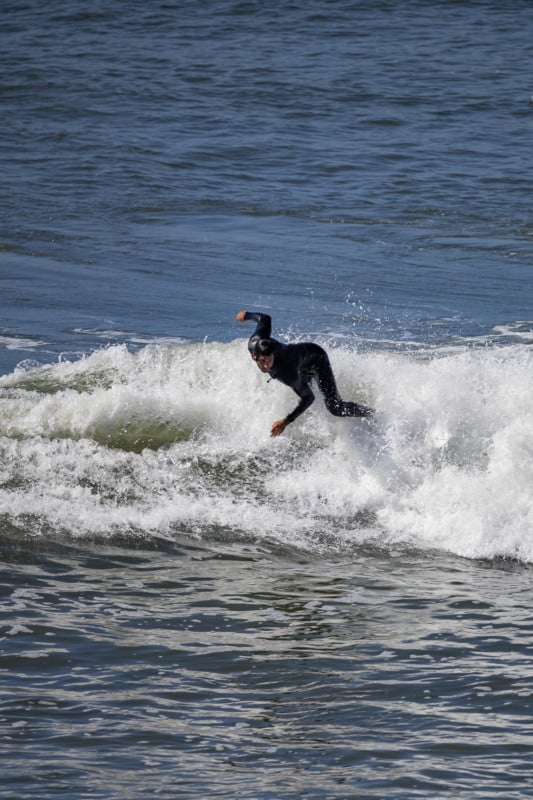 The times when this issue presented itself were inconsistent, and as a result, I'm willing to chalk that up to pre-production firmware for now.
How is 40 FPS Possible?
The R6 II is able to shoot up to 12 frames per second (FPS) with a mechanical shutter as well as up to 40 FPS with an electronic shutter (with a buffer size of just shy of 80 frames). It is able to hit this number despite the fact it is not a stacked sensor. While the R6 II does use a brand-new 24.2-megapixel Canon-developed sensor, Canon wouldn't say how it was able to reach these sensor readout speeds without them becoming unusable due to rolling shutter.
I'll be honest, the types of shots I was shooting didn't give rolling shutter a big chance to show up (and some of the others using the camera beside me did say it existed, although it is slightly less of a problem compared to the original R6), but I did shoot a wide range of sports. For these types of circumstances, the fact I was able to get the kinds of shots I was with this sensor is honestly really surprising — in a good way.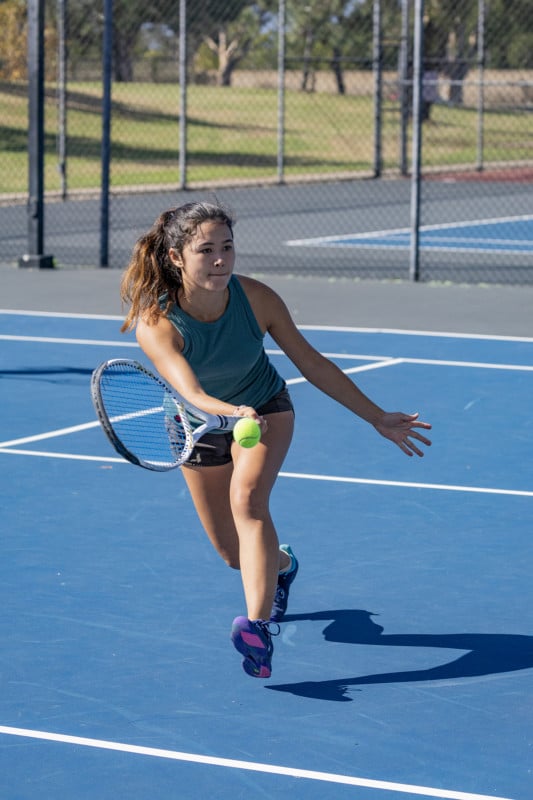 I was at first very skeptical of shooting with an electronic shutter on a non-stacked sensor, and didn't even turn it on until I was on the last shooting situation of the first day. But once I started using it, I never switched back, so good was the experience. Canon has managed to get data off that sensor fast enough to be perfectly usable a majority of the time in sports, and I think it'll easily be able to handle events and weddings, too. If not, 12 FPS mechanical is still pretty great.
SD Only
It's at this point I want to mention that I'm a bit disappointed the R6 II features two UHS-II SD card slots and not at least one CFexpress slot. I have to think that with the speed of CFexpress, the buffer could clear faster and we could get more than just shy of two seconds firing at full speed.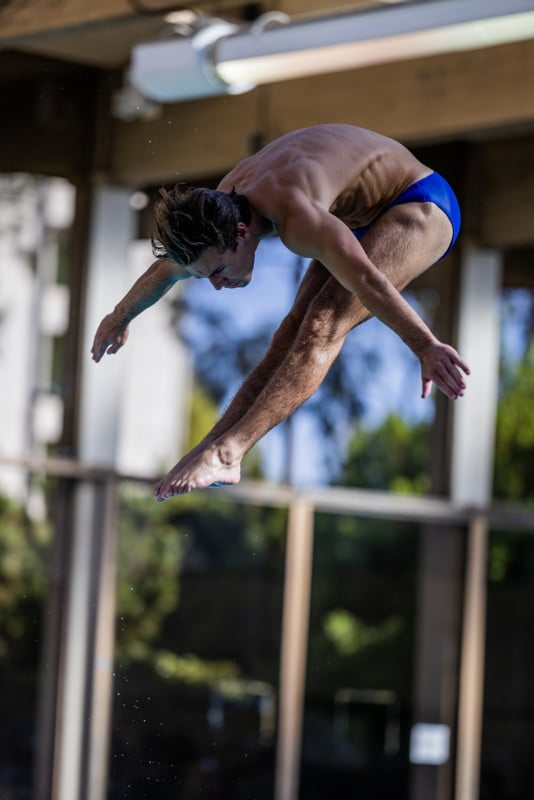 As it stands, I had to fire the R6 II in bursts or plan my sub-80 shots at 40 FPS carefully, lest I fill the buffer before the perfect moment presented itself.
I know SD cards are still the most common memory card format and that probably isn't going to change soon, but the R6 II does feel slightly held back by the older, slower SD.
More Tricks Up Its Sleeve
Canon added two notable new features to the R6 II that some photographers might find useful: HDR for moving subjects, and a RAW burst mode with pre-recording.
HDR for moving subjects sounds exactly like what it is. Typically, HDR requires a camera to capture at least three exposures in quick succession and then the camera combines those to create one final image with expanded dynamic range. But since it's taking three images, obviously any movement is going to cause problems, as illustrated below:
But Canon figured out a way to enable this feature for moving subjects. Canon declined to explain how this works, but it indeed does:
The feature works with autofocus, so you can capture some unique HDR images that were previously not possible. That said, I don't see a lot here to get excited about (both examples above are unedited JPEGs straight out of camera, since it doesn't produce a RAW file). The photo doesn't look any better to me than a well-processed RAW and it limits you to a single capture — you can't take a burst of these.
The second new feature worth noting is RAW burst mode with pre-recording. This feature is constantly recording a couple of seconds as the autofocus is held down and when you hit the shutter button, it records everything it saw from that point back for those few seconds. It's not a wholly unique concept in cameras, but it is new here.
I personally did not love using this feature, though I know some photographers who did. Shooting in this way requires that you think backward rather than forward, and for sports I much rather anticipate something than think about the final frame I want to catch. It just feels unintuitive to me personally. The other downside of this system is that Canon doesn't record all those files for you like normal, it instead packages them inside of a group of files and you have to go into the camera menu, find the frame you want, and then specifically pick it out to be exported as a RAW that can be edited later. If you don't do this, the files don't show when you import them into a computer.
That's too many steps. I rather just shoot normally.
Low Light and Dynamic Range
When shooting in bright, ideal lighting conditions, I was pretty happy with the dynamic range of the new R6 II sensor. I found it was quite easy to bring up shadows and tone down highlights in all of the photos I edited for this hands-on, which were processed in Adobe Photoshop.
Historically, Canon files have been a lot more generous in the shadows than in the highlights, but I found both were pretty generous here (though shadows are still easier to pull).
The R6 Mark II doesn't have a stacked sensor, and it also is not backside illuminated (BSI). As a result of that latter fact, low light performance leaves a bit more to be desired, as noise is pretty visible at ISO 6400 and gets pretty strong beyond that. I do wish the files were a bit cleaner at ISO 6400, given what I have come to expect from other cameras.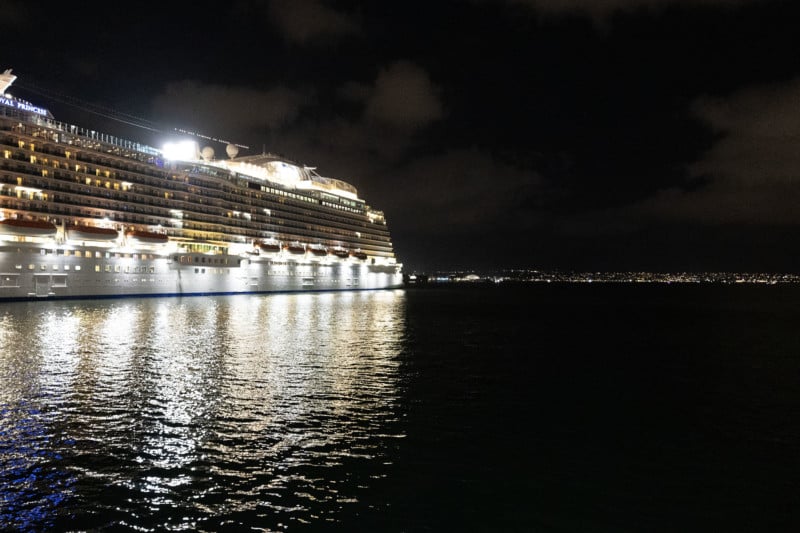 The amount of visible noise does not jump that much from ISO 6400 to ISO 12800 though, for what that's worth.
Video Performance
We focus our attention on the stills capturing capability of cameras here at PetaPixel, but many who are interested in picking up an R6 Mark II probably are doing so because of the video capture options it brings to the table. As we note in our announcement coverage, the R6 II brings full-width 4K at up to 60 frames per second that is oversampled from 6K and can record at up to 4:2:2 10-bit in Canon Log 3. With a compatible external recorder, that quality can jump to 6K RAW.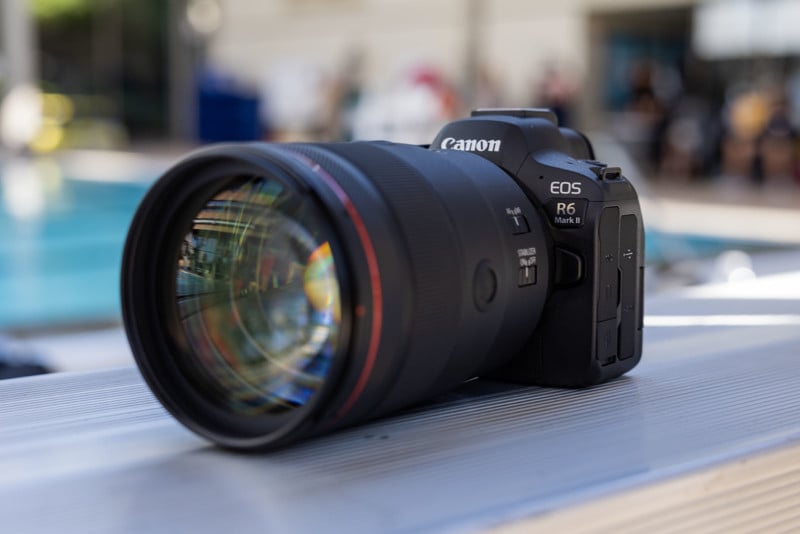 If you're interested in looking at what the R6 II can do as far as video is concerned, I highly recommend you check out video-focused opinions like those from Jordan Drake at DPReview, Manny Ortiz, or Dan Watson. All three spent a lot more time specifically looking at the camera from a filmmaking perspective and will provide you with some excellent opinions on the subject.
The R6 II Finally Gives the 6 Series an Identity
If there was one feeling that I left my time with the Canon EOS R6 II with, it was the sense that this camera finally has an identity, a real reason to own it. Before, the Canon 6 series of cameras just felt like a compromise that you made on price. You wanted the 5 series either as a main camera or a second one as a backup, but couldn't rationalize that cost so you picked up a 6 series instead.
That's all Canon's 6 series was: a compromise. But the R6 Mark II changes that.
Canon gave this camera some serious autofocus smarts that it borrowed from the R3 and doubled its maximum framerate compared to its predecessor, making it a strong performer for sports, action, and wildlife photography. Wedding photographers will probably prefer the R6 Mark II over the R5 now because of it, and the smaller 24-megapixel photos means faster editing and lower storage costs as well.
The Canon R6 Mark II finally makes the 6 series of cameras feel like it has a purpose. It no longer feels like a compromise camera, but one that has a dedicated place in a photographer's bag.
---
Image credits: Photos by Jaron Schneider. Note: All images were captured with a pre-production version of the camera.