Leica Brings Back the 1961 Summilux-M 35mm f/1.4, the 'King of Bokeh'
Leica is going all in on the revival of classics. In addition to restarting production of its M6 film rangefinder, the company is also bringing back the Summilux-M 35mm f/1.4 originally released in 1961.
The 150-year-old German camera company says that over its history that it has "consistently set photography standards and redefined the boundaries of what is technically possible" and that was particularly apparent in its M system cameras and lenses. One such lens where the company says this is embodied is in the Leica Summilux M 35 f/1.4, a "legend" from decades ago.
Leica says that in 1961, the Summilux-M 35mm f/1.4 was the world's fastest wide-angle lens despite the fact it was very small, light (7.05 ounces), and compact.
"The lens provided new creative opportunities with its unique image rendering, delivering an unmistakable aesthetic unique to its character," Leica says. "When photographing wide open, the lens delivers unmatched bokeh, an extraordinary pictorial look and intended flairs in backlit situations, earning the Summilux-M 35 f/1.4 the title 'True King of Bokeh'."
Leica says that this 2022 relaunched edition retains the original vintage design — and all of the benefits it held — and has the identical optical calculation of the one from 1961: seven elements arranged in five groups. The 10-bladed aperture diaphragm allows for a range of f/1.4 through f/16.
The stainless steel front ring, which Leica says is known as a "Steel Rim," the lockable focus ring, and the black attachable lens hood are also retained designs from the original. There is a difference with this new version, however, and that is in the second round lens hood with E46 thread to enable the use of filters and is also included with this edition.
The Summilux-M 35mm f/1.4 joins the three other Leica Classic Line lenses next to the Summaron-M 28 f/5.6, the Thambar-M 90 f/2.2 and the Noctilux-M 50 f/1.2 ASPH.
While the lens was originally designed for use with film cameras, the M mount is in use by both film and digital cameras, so photographers will have their choice of format with the Summilux-M 35 f/1.4.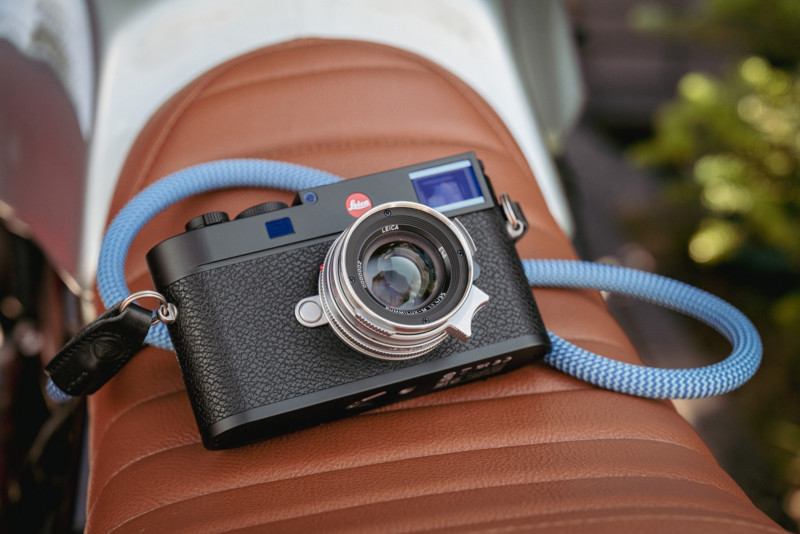 The Leica Summilux-M 35mm f/1.4 is priced at $3,895 and is available immediately at all Leica Stores in the United States and the Leica Online Store.