Tamron 50-400mm f/4.5-6.3 Di III Review: Not Your Average All-In-One
At first glance, the Tamron 50-400mm f/4.5-6.3 Di III VC VXD seems like Frankenstein's monster of lenses. Super-telephoto lenses that provide a relatively wide focal length are uncommon and generally awful. Making a lens with such a wide range of focal lengths is complicated, yet Tamron made one that performs well across the zoom range.
Usually, all-in-one zoom lenses sacrifice image quality at one end of the zoom range for better quality at the other. Often, neither the wide nor the telephoto length produce impressive images. The Tamron 50-400mm does not sacrifice image quality at any focal length, it outperforms most other lenses in a surprising category as well— it has incredible macro performance. It is one of the best macro lenses I've ever used, which make it all the more compelling.
Image quality is excellent all-around, the autofocus performs well, and the size and weight don't make it cumbersome. This lens has mostly pros and very few cons, and at $1,300, it's a lens that enthusiast photographers and videographers should seriously consider adding to their camera bag.
Build Quality and Features
The Tamron 50-400mm f/4.5-6.3 Di III VC VXD is an enthusiast-level lens. There is a lot of plastic in the 50-400mm design, which makes it a lot lighter than a more "professional" lens.
When at the shortest focal length, the Tamron 50-400mm measures just 7.2 inches (184.3mm) and is about 13 inches (330mm) when fully extended. Tamron states the weight at 40.7 ounces (1,155 grams) without the (non-included) tripod mount and 44.1 ounces (1,250 grams) with it. You'd think it would be an issue to sell the tripod mount as an accessory, but the lens is light enough to mount it to a camera on a tripod without any problems.
The lens takes a 67mm filter, a common size, making it easy and affordable to get neutral density and other filters.
There is a focus-hold button on the barrel, a switch to control the Vibration Compensation (VC – Tamron's term for image stabilization), three custom switch settings, a USB port (for communicating with Tamron's lens-control software), and a zoom lock switch.
This lock switch is my only real complaint about the lens, as it can only lock the focal length at the 50mm setting. That's fine for keeping the lens in its most compact form while walking around, but many super-tele shooters know that setting the zoom to a precise spot and leaving it there is critical to this type of photography.
Wildlife photographers often set the zoom to the correct length while waiting for an animal to arrive. If you set the focal length to anything but 50mm, you can't lock the lens, and if you walk around, the lens will eventually "creep," meaning it will change focal lengths as gravity pulls the extending barrel downward. A zoom lock is appreciated, but it would have been most helpful to lock anywhere in the range.
Macro Capabilities
Before looking at the super-tele performance, it's best to talk about the most surprising thing about this lens: the superpower that makes it more valuable than it appears at first glance. Tamron made the 50mm end of this lens capable of focusing as close as 9.8 inches (24cm) with a half-life-size macro capability. More powerful than a close-up lens, a half-life macro is truly impressive.
A macro that captures life-size (1x magnification) images means that something that a subject that is one inch across is recorded as an image one inch across the sensor. Each pixel corresponds to the same size in the subject. This results in an incredibly detailed image.
At half-life-size (.5x), a one-inch object would cover a half-an-inch of the sensor, which naturally isn't as high resolution as a full-life-size lens but is much more detailed than a "closeup" lens.
With today's high-resolution sensors, it's easy to crop into the image and still have enough pixels to make an incredibly detailed photo. I coupled this lens with the Sony Alpha 1, and the detail in a cropped photo is impressive.
This macro capability would be useless if it weren't for the superb macro autofocus with the Tamron 50-400. I used to photograph macro with the Canon 1x-5x super-macro lens, a fully-manual lens with a very short focus area. The macro images I got from this lens were the best I've seen in any lens, but the manual focus and small focus area meant I usually had to move my body back and forth to get something in focus. This made it nearly impossible to capture bugs in motion, and there needed to be no breeze to capture flowers.
Tamron's new lens addresses the pain of manual focusing macros lenses with modern-day autofocus and the autofocus is both fast and accurate. There are many other macro lenses with autofocus, but none in a lens as versatile as this, and many are fixed focal length lenses that are more than half the price of this lens. One such lens is the he Sony 90mm Macro — a superb lens with 1:1 magnification — is about $900
Capturing a bee the moment it lands on a plant and keeping up with it as it gathers for pollen is a game changer to anyone using a manual macro lens. This lens was able to focus on insects within the brief amount of time between when they landed on a flower and then took off again.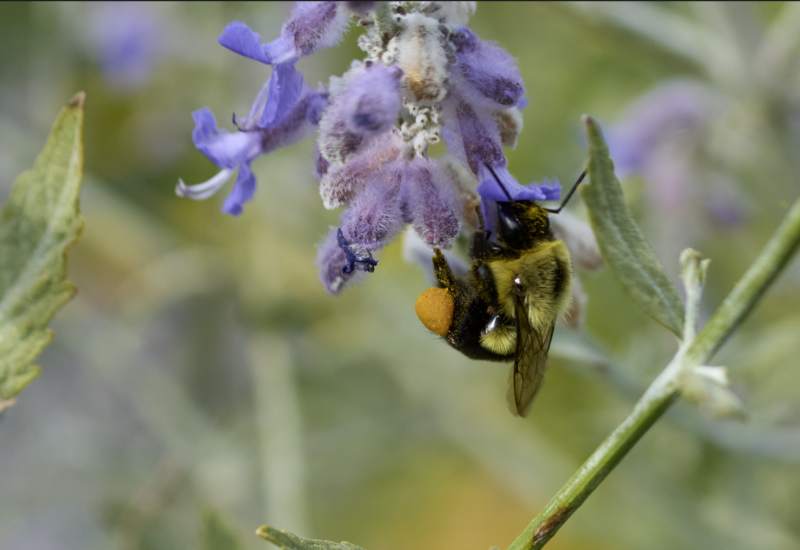 Since there's no "insect" AF on a camera, getting the eyes sharp was simply a matter of stopping down the aperture. However, at f/4.5, a whole bug is usually focused at the minimum focal length. With super-small insects, the lens would often lock onto the flower instead, but using the small focus point helps fix this and results in many more hits than misses.
Portrait Photography Performance
The 50mm isn't only good at macros; it also makes a very-capable portrait lens. 50mm is the primary focal length used by many portrait photographers, and the image quality at 50mm renders superb portraits.
The f/4.5 minimum aperture means that backgrounds will be more in focus than a 50mm f/2.8 or wider lens, but by simply increasing the distance between the subject and background a bit, the f/4.5 setting creates a nice, soft bokeh in the background.
Since the lens can zoom out from 50mm, shooters can also capture portraits at the 85mm focal length, another typical portrait photography focal length.
Since the 50mm portrait focal length is also the focal length for macro photography, this lens can keep focusing from a standard distance the whole way until you get about nine inches away, resulting in images like this.
Telephoto Performance
With a maximum zoom of 400mm, most people are looking at the Tamron 50-400mm f/4.5-6.3 Di III VC VXD to be primarily a sports or wildlife lens and the macro capabilities. Fortunately, the long-reach performance is excellent as well. To be clear, images at 400mm aren't as sharp and detailed as photos would be on a high-end zoom or a fixed-focal-length 400mm lens, but it still provides great results.
For people and animals, the AF kept up with most subjects, though it had more difficulty with eye autofocus than a "pro" lens, which is to be expected. Impressively though, I could capture birds in flight with the eye or head locked on with little difficulty. It certainly had no problems tracking the whole body of a flying bird at f/6.3, and the relatively wide aperture allows for high shutter speeds even in low light.
The autofocus is improved over the Tamron 70-300mm f/4.5-6.3 Di III RXD, which I have used extensively. The VXD stands for voice-coil eXtreme Drive. This linear motor makes the Tamron 50-400mm f/4.5-6.3 Di III VC VXD a faster and quieter lens than the 70-300mm.
There was one instance where I could audibly hear the lens focus, but I couldn't get it to recur after removing and reattaching the lens. I don't think this is an issue; likely just a communication problem between the camera and lens, resolved by remounting it. I have to mention this not only as it happened during testing but also because it pointed out to me how silent this lens is otherwise.
The quiet operation makes this an excellent lens for videographers, which, combined with the wide range of focal lengths, makes this a single lens that can tackle most video tasks.
Image Quality
The lens produces very sharp images with little-to-no chromatic aberration and no visible distortion at the wide end. The color balance on this lens is relatively neutral, and I did minimal color correction or sharpening on the images I shot with this lens.
The one image-quality weakness is a tendency toward overly high contrast and washes out in bright sunlight. Many lenses suffer from this, but the Tamron 50-400mm seems particularly prone to it. There is also visible chromatic aberration under certain conditions. Below, a white egret in full sun is set against the green of a marsh, and there's clear chromatic aberration on the back of the bird.
This is a particularly tough scene for many lenses, and the chromatic aberration was completely absent from a shot of another egret under relatively similar lighting conditions at another shoot.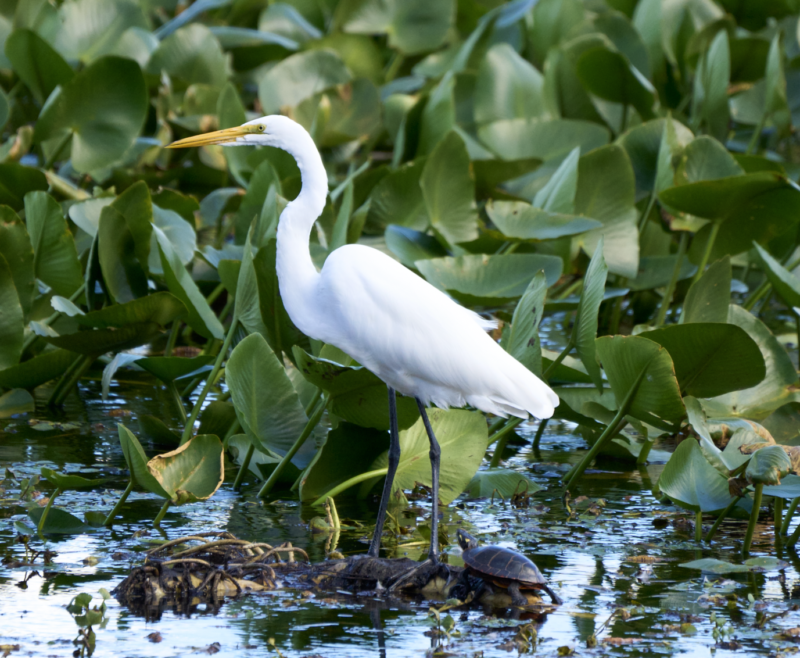 In a more controlled lighting situation, the images are well-balanced and have very good color accuracy. The high contrast of this lens in certain shooting conditions results in images where some colors go close to black or to white, but while shooting RAW I was able to recover much of the dynamic range, and a bit of saturation adjustment brought the images back into accurate color. Again, I had to do very little work in post to finalize my photos, and that is before lens profiles are available for this lens.
One of the Best Super Zoom Lenses on the Market
Thanks to its all-around versatility, the Tamron 50-400mm f/4.5-6.3 Di III VC VXD lens is one of the best lenses in its class, and realistically it's the only lens in this class.
Are There Alternatives?
While there are a number of lenses with a wide zoom range, most of them are more typical lenses like a 70-300mm or 100-400mm. Canon makes a 100-500mm lens for its RF mirrorless cameras but that lens is more designed strictly for the telephoto shooter and doesn't have any of the standard telephoto powers of this lens. It's also $2,900. Currently, Nikon doesn't have anything available to compete.
Sigma also doesn't have a lens as versatile as this one, though the company does make a variety of long-reach telephoto lenses, including an excellent 70mm macro that's about half the price of this lens.
Tamron makes several other zoom lenses that are referred to as all-in-one, which have wide focal length ranges including an 18-200mm, 18-300mm, and 18-400mm, though several of these lenses are for APS-C systems.
Should You Buy It?
Yes. It's hard to think of a better option for a photographer looking for an all-around, do-everything lens at this price. For a photographer looking for a lens with great performance in a variety of different shooting situations, I highly recommend this lens.
---
Disclaimer: David Schloss was formerly in charge of media relations for Sony's Alpha Public Relations agency. While this makes him more familiar with the system, his opinions are his own, are backed by PetaPixel's editorial team, and are not swayed either for or against the company. Previous to his time with Sony, Schloss racked up more 20 years of journalistic experience and he takes his integrity seriously.