Tilta Has Released a New Camera Cage for the Fujifilm X-H2 and X-H2S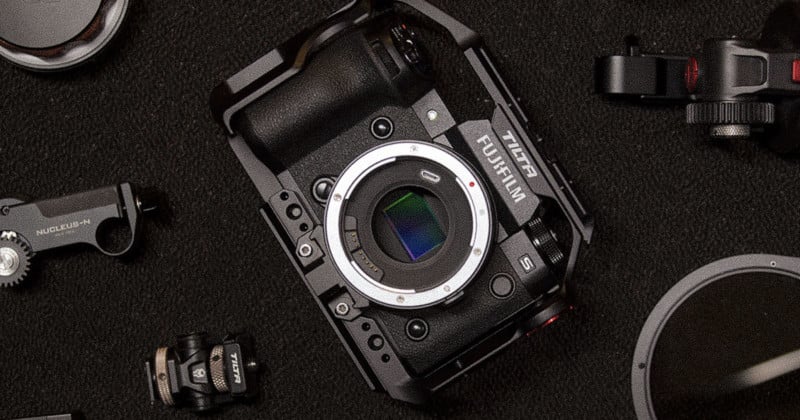 Fujifilm released the 8K-capable X-H2 just last month and Tilta has new owners who are looking to build onto the camera covered thanks to a new camera cage.
Tilta, which recently produced a camera cage with a built-in SSD for Sony cameras, is providing a more basic solution for Fujifilm users. Camera cages aren't typically seen as necessary for still photography, but videographers regularly use them because they make mounting the camera to stabilization points easier and more secure. Since video production can also require a large amount of additional accessories, cages also provide more mounting points for these situations, which improves the versatility of the camera.
Tilta's new Fujifilm X-XH2 and X-H2S cage — it is compatible with both cameras — includes a cold shoe mount, ARRI standard rosette, NATO rail, M3 port, and multiple 1/4-20 screw holes. Tilta says the cage offers full camera protection via built-in cushions. It also has a built-in Arca Swiss quick release which allows it to quickly and easily mount onto most gimbals. The cage doesn't block the camera's buttons or battery chamber which means it can stay on the camera all the time and won't inhibit full operation.
"The cage provides protective armor for your camera body and features mounting points such as 1/4"-20 threads, a Rosette Connection and a Cold Shoe Receiver," the company says. "The Top handle features several 1/4"-20 and 3/8"-16 threads as well as a single cold shoe receiver near the front of the handle. The Basic Kit includes a Manfrotto Quick Release plate for connecting to compatible Manfrotto Tripod Heads as well as a a VILTROX Lens Adapter Support Bracket that connects directly to the camera cage."
Tilta says that when paired with a rail extension, the cage and attachments won't interfere with the full operation of the vari-angle touchscreen and it can even flip out to the left of the camera and be fully articulated.
"The bottom of the cage connects to your camera body with a 1/4″-20 screw and utilizes an additional point of contact via a safety locating point that helps the camera from moving within the cage," the company adds.
The cage is made out of aluminum alloy and weighs a total of 200 grams. Tilta offers an array of accessories that work with the cage including wooden handles, advanced focusing handles, and various baseplates and add-ons.
Tilta's X-XH2 and XH2S camera cage is available directly from the manufacturer for $119, though it is often discounted further.