The WaterField Designs Cargo Camera Bag is a Compact Sling for the City
WaterField Designs, a San Francisco-based bag company, is typically known for designing business bags and tech pouches but has recently expanded into camera support with the new Cargo Camera Bag.
The company prides itself on its uncluttered design, high-end materials, and the fact that none of its products are mass-produced. Waterfield Designs says it has been manufacturing bags in its facility in the United States in small batches so that it can guarantee quality products.
The Cargo Camera Bag is a full-grain leather bag that is paired with either nylon or waxed canvas and is made to support both mirrorless and DSLR cameras. The company says the bag was made to address a photographer's top priorities: gear protection, efficient access, and all-day comfort.
"Meticulous handcrafted sewing and premium materials combine to create a durable, high-functioning, and resolutely fashionable camera bag worthy of the artists who carry it," the company says.
The bag's exterior shell and camera/lens insert are padded with what WaterField calls a high-density foam, which it says will keep camera gear protected. The main compartment's diagonal zipper creates an extra-wide opening that allows access to cameras and lenses quickly without using a flap and angled strap attachments and large D-rings keep the bag stable against the body and allow a wide range of movement. The removable camera and lens insert has built-in dividers that don't use Velcro but still fit a what the company describes as a "myriad" of camera and lens combinations.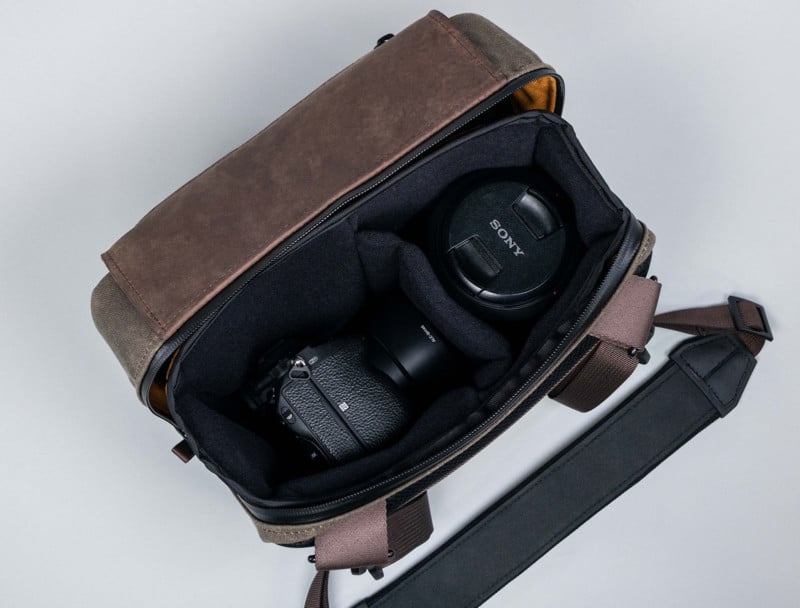 In addition to the camera and lens insert, the Cargo Camera Bag features five interior mesh pockets. A pleated, zipped pocket on the full-grain leather flap keeps items like SD cards and batteries handy, and an open pocket under the flap stows less-frequently needed items like a battery charger or extra flash.
WaterField characterizes its shoulder strap as ultra-comfortable and capable of reducing shoulder fatigue. It also has a moisture-wicking mesh backing that it says helps keep photographers dry and comfortable.
Obviously designed at least as much for its form as its function, the Cargo Camera Bag is likely best at home in the city where it can blend in with the other bags and briefcases seen on the streets and won't stand out as a blatant camera bag.
The bag is available in two sizes, compact and full, and either waxed canvas with chocolate brown full-grain leather or 1680 denier black ballistic nylon with full-grain black or chocolate brown leather. The compact bag will be available for $389 while the full bag costs $10 more at $399. The bag is available for pre-order and will ship on October 21.