Think Tank's New Sling Bags Were Designed by and for Photojournalists
Think Tank has announced a new set of bags called the PressPass Series that includes three sling bags, all of which were made to support photojournalists and were designed with input from pro shooters.
Each of the bags in the PressPass Series offers multiple carry options including the ability to wear them as a standard crossbody bag, shoulder bag, waist belt, or sling.
All of the bags have a wide opening that allows for quick and easy access to gear whether it is used as camera bag or a lens changing station. The padded insert of each of the bags in the series is also removable, allowing photographers to increase interior space and create a softer, more pliable bag.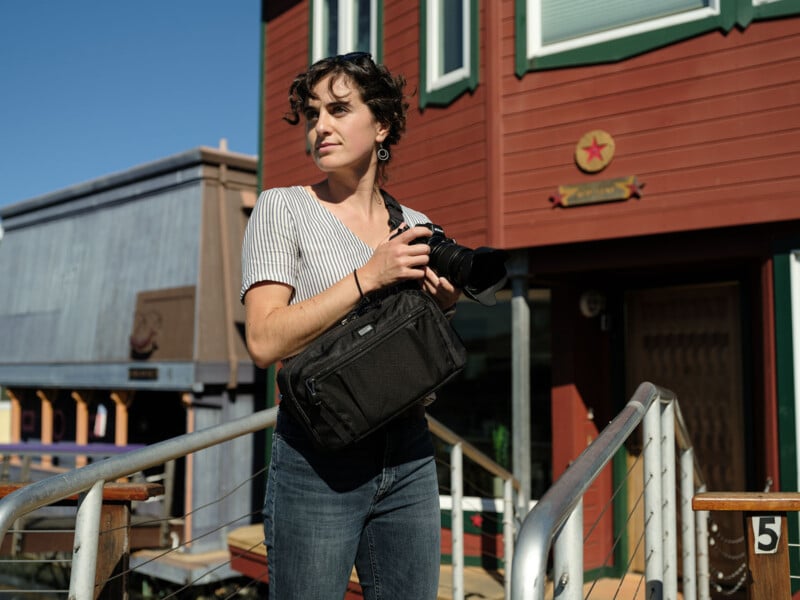 The PressPass 10 is the smallest of the group and Think Tank says it is ideally worn as a crossbody but can be used in other configurations if desired. The idea behind the PressPass 10 is to operate as a bag for changing lenses, but the company says smaller cameras can fit with a lens attached.
The PressPass 20 was made to be worn as a shoulder bag or belt pack and is large enough to hold most 70-200mm lenses vertically with a camera attached. It measures 13 inches long, by nine inches tall by 4.75 inches deep, and weighs one pound 11 ounces when empty. In addition to being able to hold a camera and long lens attached vertically, the bag would still have enough room to hold two to four more lenses in the other two compartments. If used strictly as a lens changing bag, it could hold between three and six total optics.
Finally, the PressPass Sling is the dedicated sling bag of the series and can be worn in a few different ways. When slung to the front, all gear inside is easily accessible. It is able to hold up to a 70-200mm lens attached horizontally or a standard-sized camera with up to a 24-70mm lens attached vertically along with two to four additional lenses, depending on size. Used soley as a lens changing station, it can hold between four and six lenses and up to a 150-600mm f/5.6-6.3 (unattached to a camera).
The PressPass series is available to order directly from Think Tank starting today. The PressPass 10 is priced at $129.75, the The PressPass 20 is available for $139.75, and the PressPass Sling can be purchased for $119.75.