Moment Unveils New Rugged Slings, A Step Into Bags for Larger Cameras
Moment started as a company that designed high-quality lenses for smartphones, but the startup is quickly becoming a general brand that outfits photographers and filmmakers with everything from straps to filters to bags. Now the company is stepping into the world of bags for full-size cameras with the launch of its new Rugged Camera Sling.

"We're introducing the Rugged Camera Sling we've always wanted," Moment says. "For sling lovers this has all the details they will appreciate. For non-sling lovers this bag adds comfort that other slings leave out."
The sling is made out of 100% recycled polyester sailcloth and features include water-resistant YKK zippers, heavy-duty webbing, shockproof padding, and a build quality that "your grandfather would be proud of."
"One of the unique features about this bag are the materials," Moment says. "It's called NorthPak and it's the world's first durable + waterproof pack fabric made from 100% recycled polyester fiber and film. It's made by North Sails, the world's leading sailmaker and producer of laminated sailcloth. So yeah, it's pretty rugged.
"As far as we know, this is the first time it's ever been used on a camera bag."
The shoulder strap on the sling is bi-directional, allowing it to be comfortably used by both right- and left-handed photographers.
Removable dividers inside the sling allow it to be used as one big storage compartment or as 3 smaller compartments.
On the top of the sling is a quick access opening that lets you easily access gear without having to fumble with the bag.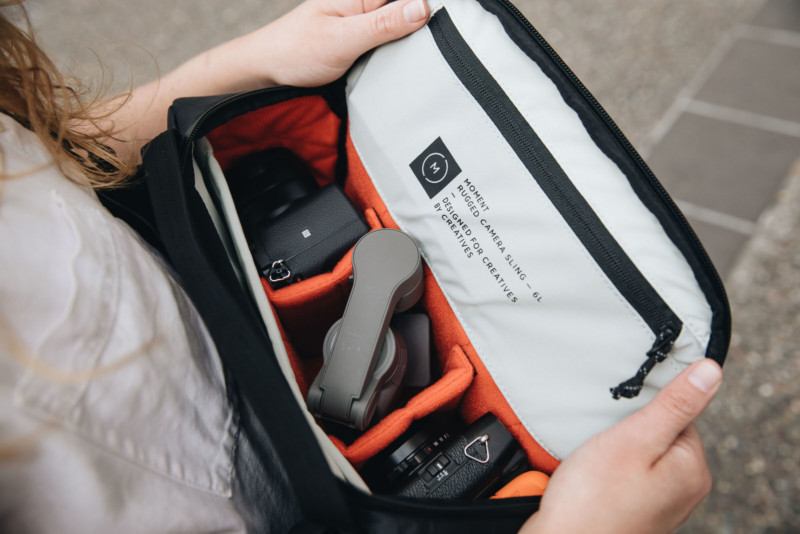 Here's a short 2.5-minute video that introduces the new sling:
The Moment Rugged Camera Sling will be available in 6L (for mirrorless and small drones) and 10L (for DSLRs and large drones) capacities with price tags of $99 and $149, respectively. These bags are clearly a new direct competitor to Peak Design's Everyday Sling, which also come in 6L and 10L capacities at exactly the same price points.
There's currently a $10 and $20 launch discount over in the Moment online store, respectively, and the slings are scheduled to start shipping on or around June 8th.