Can You Spot the Leopard in This Photo?
A photographer who captured an incredibly well-camouflaged leopard says that he could not see the big cat even when he was standing next to it.
Hemant Dabi took the photo back in 2019 but it has resurfaced after the Indian photographer told Lad Bible that he coudln't see the leopard even when standing feet away.
Reassuring many viewers of the photo who were unable to spot the leopard themselves, Dabi says that even in real life "it was hard to see him."
"When I took this photo at that time he was giving alarm call on seeing another leopard," Dabi tells Lad Bible.
"I have seen that place many times where he was and you won't believe I was only seven feet away from him and I still couldn't see him," he says. "He showed me when he waved his tail."
Fiendishly Difficult
The apparently unremarkable photo appears to show just a mound of dirt with a tree in front of it. While the fairly low-resolution file does not help things, it is still near impossible to spot the leopard's coat.
Many social media users left comments underneath the photo expressing their frustration that no matter how hard they look it is impossible to spot the beast.
"Someone please pm me the answer. I'm gonna go crazy if I stare at this dirt anymore," one exasperated user wrote.
"Took me too long. Leopard would've got me," said another. While a third added: "Took me about 5 minutes!! Well hidden… more of this please."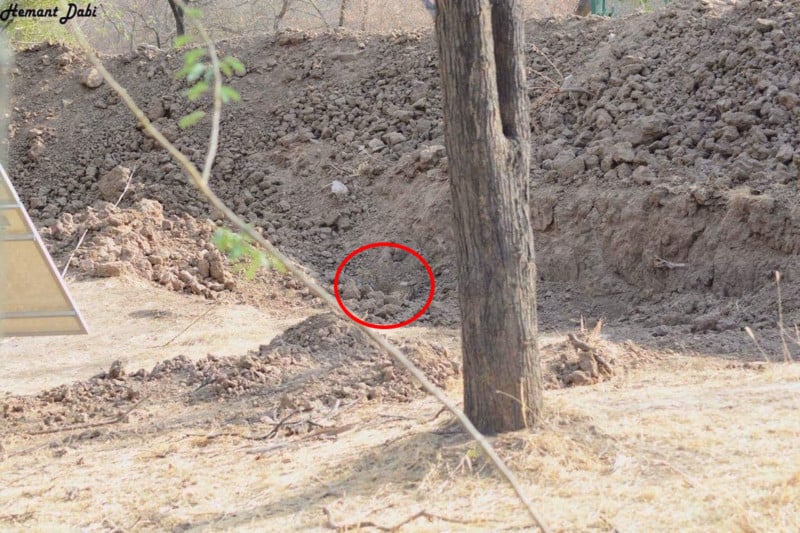 The big cat is in the middle of the frame hiding to the left of the tree sitting at the bottom of the mound of dirt.
A Leopard Can't Change its Spots
In 2021, photographer Ismail Shariff shared photos of snow leopards hidden against a rockface, also in India.
Snow leopards are notoriously elusive, far more so than their more common namesakes.
Shariff's photos, taken in Hemis National Park, a high-altitude national park in Ladakh, India, showed just how well snow leopards' camouflage allows the cats to blend into their surroundings, he collected a series of five photos to challenge viewers.
More of Dabi's work can be found on his website and Instagram.
---
Image credits: All photos by Hemant Dabi.