Vertigo-Inducing Photos of a Record-Setting 1.4-Mile Highline Walk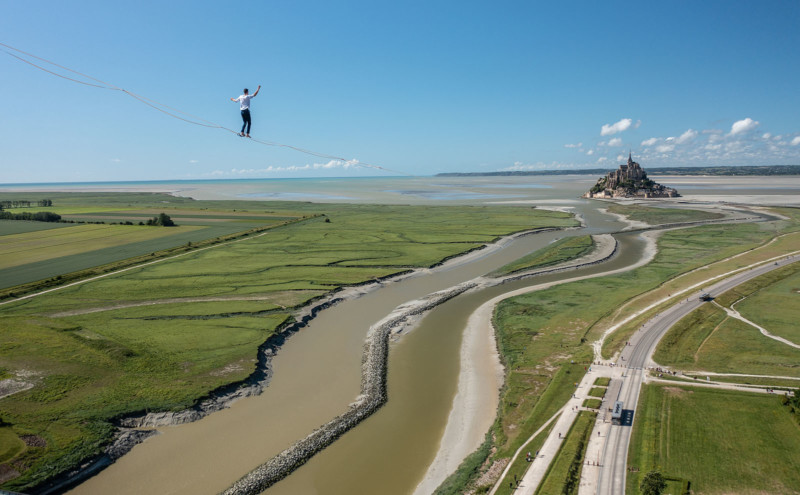 This past May, Nathan Paulin set a world record for the longest highline: a 2,200 meter long (nearly 1.4 miles) walk over 100 meters (about 328 feet) in the air at Mont-Saint Michel, a UNESCO world heritage site in France.
Paulin has been highlining, also called slacklining, since 2011. His most notable performance is perhaps his highline from the Eiffel Tower that he did for charity. On his website, Paulin says that he holds about ten world records and his previous longest highline crossing was 1,662 meters at a height of 300 meters in the Cirque de Navacelles on June 9, 2017. His latest feat is nearly 600 meters longer.
In a video produced by Insta360, Paulin describes the experience as incomparable.
"The feeling when I'm on the line… it's almost impossible to describe it," he says. "Sometimes I feel really powerful when I do that, but sometimes I also feel really small and I feel like I'm nothing. Being able to do that makes me feel free."
The choice of Mont-Saint-Michel, a medieval Christian abbey set on a tidal island off the coast of Normandy in France, was picked due to its grand location. As a UNECSCO world heritage site, it provided a stunningly picturesque backdrop for Paulin's feat.
Paulin regards highlining as something akin to meditation, always having to focus on the present form. One misstep could be deadly, so he says it is important to stay focused and "grounded," despite the fact he stands suspended hundreds of feet in the air.
"It's between two points, no stabilization. Every motion that you put in… is going in the line and coming back to you. The only thing you face is yourself."
Paulin carried an Insta360 X3 camera with him on his feat, which allowed for viewers to walk with him in the skies above the abbey. After the successful highline walk, Paulin says it wasn't just his skill that made it possible, but also his crew.
"My team is a big family. I bring many guys to help me. I can't do it alone, it's impossible… walking on the line is just the last step of the process… I share that with many people," he says.
---
Image credits: Insta360