Samsung's New S80TB 4K Monitor Promises 'Stunning' Color Accuracy
Samsung has announced the new S80TB ViewFinity UHD 27-inch monitor that promises "stunning" color accuracy and detail with support for a billion colors and comes with two Thunderbolt 4 ports, turning it into a hub as well as a display.
The ViewFinity display is categorized under Samsung's business monitors, but the promised feature set is in line with what many creative professionals are looking for, especially in the sub-$1,000 price range; the S80TB ViewFinity is a rather reasonable $650. For starters, the 27-inch display boasts 4K resolution with support for a billion colors (likely through FRC, but Samsung did not specify) and HDR10.
The IPS display has a minimum brightness rating of 280 nits but a "typical" level of 350 nits with a response time of five milliseconds (gray to gray).
The S80TB is designed to be both a monitor and a hub thanks to the inclusion of an Ethernet port and two Thunderbolt 4 ports. Each of those Thunderbolt ports is able to offer up to 90W charging, giving creators a one-cable option to plug in with a laptop while the other port can be used to connect to daisy-chained peripherals. The Ethernet port also allows for wired internet to be transmitted to a connected computer which further simplifies a desktop arrangement, giving power, networking, data transfer, and display signal all through one cable. When connected, video and data is transmitted at up to 40Gbps speeds.
In addition, the display features DisplayPort 1.2 and HDMI 2.0 inputs as well as three USB ports.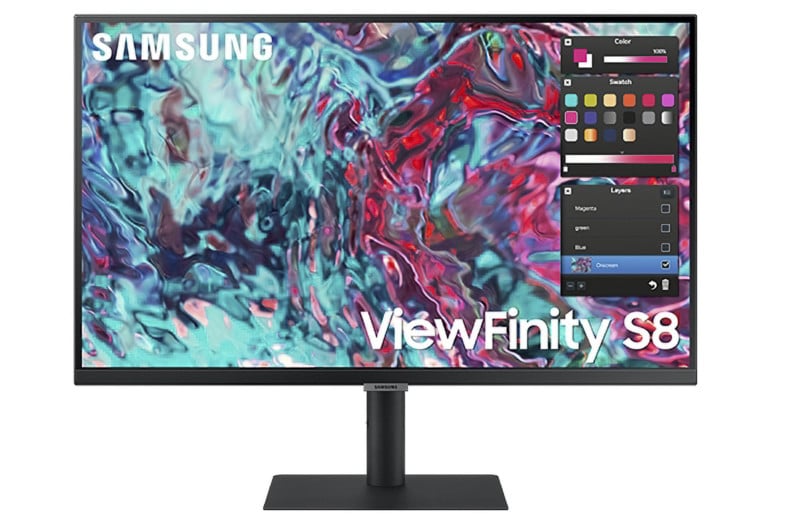 The display is designed to work with both Macs and PCs and Samsung says expanding to a two-monitor setup is easy thanks to the dual Thunderbolt 4 ports. The display will also adjust automatically to optimize brightness depending on the ambient light, and it is TUV-certified to protect eyes against excessive blue light with an "eye saver" mode and a "flicker free" feature.
The monitor comes with a built-in sound system that Samsung touts as good enough to replace the need for dedicated speakers. It also supports input from two simultaneous sources at native resolution which Samsung says allows users to review two projects or run two programs at the same time. The picture-in-picture feature allows the second source to be resized to up to 25% of the screen, which it says allows users to monitor one task while working on another.
The display's included metal stand offers height adjustment, tilt, swivel, and pivot options that Samsung says allows users to maximize comfort and adapt it to any desktop setup.
Samsung also did not specify the coverage of sRGB, DCI-P3, or Adobe RGB color gamuts, but does promise that the new monitor has "stunning" color accuracy. The monitor bears striking resemblance to the Viewfinity S8 that the company announced last June, but has significantly more utility thanks to the inclusion of Thunderbolt 4 over standard USB-C. If it uses the same panel, expect the S80TB to bring 98% coverage of the DCI-P3 color gamut.
The Samsung S80TB ViewFinity UHD 27-inch 4K monitor is available immediately for $650.