The Negative Supply Pro Film Carrier 35 is a New Compact Film Scanner
Negative Supply has announced the successor to the Film Carrier MK1, the Pro Film Carrier 35. It is billed as an affordable and professional tool capable of scanning all 35-millimeter film formats (including half frame, full frame, and panoramic sizes) in a single capture while maximizing film flatness.
According to the company, the new 35mm film scanner features smooth-running bearings, solid CNC machined construction, and a suite of insightful and modular accessories, making the Pro Film Carrier 35 "the ultimate tool for 35mm film scanning." Negative Supply also says the Pro Film Carrier 35 represents the next generation of 35mm film carriers for film scanning with a digital camera because the pro-tier carrier is full of upgrades over the Film Carrier MK1 and is built to last.
Negative Supply says this product has gone through the most extensive research and development process in its history.
"Building off the design ethos and concept of the MK1, the Pro Film Carrier 35 represents film scanning reimagined. Chief among our goals was to include support for half frame and panoramic 35mm formats (alongside standard 35mm) all in one device. This is included as a standard feature in every unit we produce," the company says.
"We listened to existing users when they asked for certain toher features. A common request was adjustable tensioners in the scanning guides so that your film doesn't "drift" when you're advancing film through the carrier. These are pre-set at the factory during assembly and calibration. This makes auto adjustments in post processing much faster and provide pro-level constancy frame to frame, something commercial labs and institutions will rejoice in."
The updated pro film scanner is built with a modular design that includes a replaceable internal cassette for future updates and accessories. It is capable of scanning 35mm half frame all the way up to panoramics in a single capture using one of three custom masks for each format. At launch, it will include a full border scanning cassette with matching full border masks. The frame itself is solid machined aluminum and is compatible with the Pro Mount MK2 (with an updated adapter plate) as well as the 4×5 Light Source Basic (with custom adapter plate).
The company also says the new Pro Film Carrier 35 features a tighter, flatter, and smoother film advancement with an updated transport mechanism utilizing more efficient rollers and a refined smooth-running bearing. The entire system is preset at the factory to accommodate for film drift from frame to frame, ensuring users achieve consistent lines and framing across an entire roll of 35mm film.
With its launch, Negative Supply is releasing a set of 100 individually numbered limited edition Pro Film Carrier 35 models that feature brass touch points as well as a variety of accessories.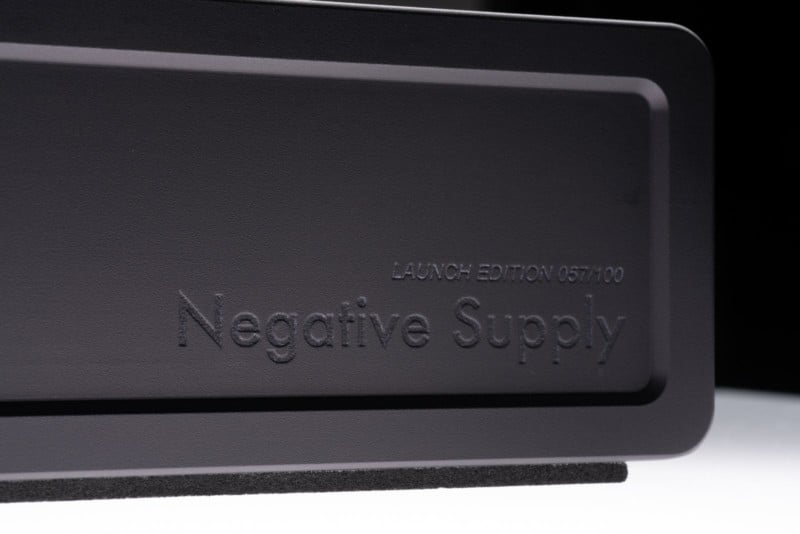 The Pro Film carrier 35 is available starting at $399 for the standard edition and guide and up to $499 for the Launch Edition with Guide and Full Border Cassette. A list of all options and accessories can be found on the company's website.