Sony's New FR7 is the World's First Full-Frame ILC Robotic Camera
Sony's new addition to its cinema line is the FR7. It takes its current imaging technology and combines it with remote-controlled robotics, creating the world's first full-frame interchangeable lens (ILC) PTZ camera.
Sony says that the new camera inherits the look of the cinema line and provides a "new world" of remote shooting with accurate and smooth pan/tilt/zoom (PTZ) robotics, making it the first camera to combine lens interchangeability, a full-frame sensor, and the PTZ functionality.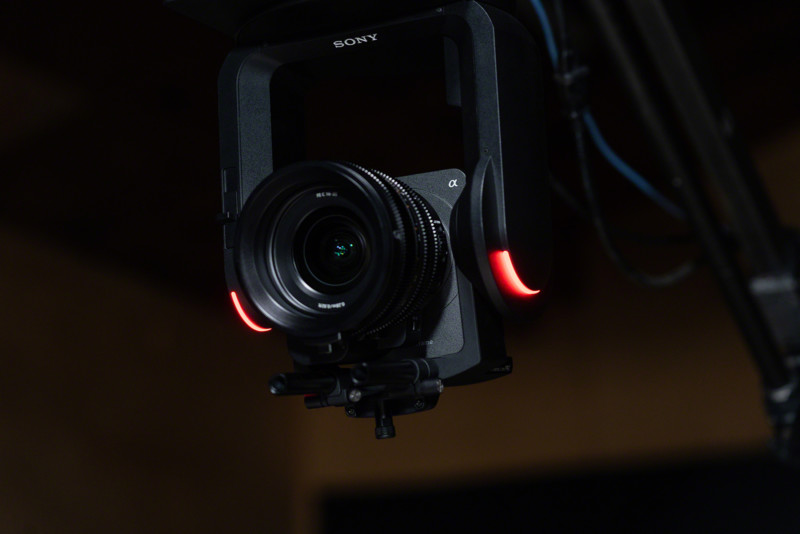 The company says that it is primarily targeted for use in reality shows, episodic drama, talk shows, cooking shows, and music videos (for example, in cooking shows it would make it easier to move a camera around a chef without getting in the way).
Additionally, the camera could be deployed in more traditional use cases for PTZ cameras, such as fixed event spaces, houses of worship, streaming events, concerts, wedding venues, fashion shows, and theaters.
Sony says that the camera is built on three tenants: look, operability, and workflow.
The "look" is the camera, which is identical to the FX6 camera and features a backside-illuminated full-frame 10.3-megapixel sensor with 15+ stops of dynamic range and ISO performance from ISO 800 and expandable up to 409,600, which Sony says makes it ideal for placement where lighting cannot always be controlled. It supports a wide range of formats including up to 120p at 4K and high-quality 4K 60p 4:2:2 10-bit out via HDMI and SDI.
It also features Sony's autofocus technology such as real-time eye-AF and Real-time Tracking to keep subjects in focus.
One difference between the FR7 and the FX6 is is that it has no audio capture capability, although it can accept microphones via XLR.
While it works with 70 E-mount lenses, the control of the "Z" in PTZ relies on lenses with built-in motors, and Sony says it is one of the only companies that currently produce lenses with built-in servo zooms which are essential for this line. The 28-135mm f/4 is considered to be the best choice and will be offered as a kit option.
As for "operability," the camera has a smooth pan tilt zoom operation that can be as as slow as 0.02 degrees per second or as rapid as about 60 degrees per second. Presets can be set for smooth or fast pan and tilt, or rapid repositioning. The pan angle range is from -170 degrees to 170 degrees and the tilt angle range is between -30 and + 195 degrees in normal upright orientation, and -210 to 15+ degrees suspended from a ceiling mount.
At this time, it doesn't track using the PTZ function to follow subjects, only the autofocus currently works for that. To pan and tilt, it must be done manually or through pre-programmed functions.
As for workflow, the camera uses a web app for totally new camera control as well as the RM-IP500 Pro multi-camera remote controller. The web app interface is accessible from a tablet or PC and uses a smart screen design and intuitive operation by touch AF control. The camera features easy connection that is obtained by scanning a QR code unique to it that is on the camera itself and can be scanned with a tablet. It can be used over Wi-Fi or ethernet.
The camera itself can record media in a couple of different ways, including CFexpress Type A and SDXC memory cards support that are built into the base of the model, not the camera module. It has SDI out, optical out, HDMI type A output, Audio in (XLR type 5-pin) connector and can be powered over LAN or DC IN.
The camera will be available at the end of November for $9,699 body-only, while the camera kit is $12,199 which includes the 28-135mm f/4 PTZ lens.