How Stephen Wilkes Shot Gorgeous 'Day-to-Night' Photos for Nat Geo
Photographer Stephen Wilkes is perhaps best known for his "day-to-night" composite photos that show the passage of time in a single still image. His latest series is paired with National Geographic's story America the Beautiful, and took him to some incredible locations.
Wilkes's photos accompany a story that argues that parks and refuges aren't enough to preserve America's environment, and argues that the land, water, and wildlife of the country needs to be protected everywhere.
Wilkes's process for creating his day-to-night photos is complicated and difficult, but this assignment put even more strain on him and his team because of how he wanted his final images to coalesce with the theme of the shoot. To this end, Wilkes and his team spent months in pre-production and planning stages to locate a group of uniquely American locations that represented the various topographical regions of the country.
"We were speaking to a specific story idea here, but when I do a day-to-night, it needs a different set of criteria," Wilkes tells PetaPixel. "It needs a landscape that is dynamic, where I can get an elevated viewpoint, and hopefully one that has enough depth and foreground that there is some kind of narrative going on in the photo. So all those things really had to be intersected to make this story the most powerful it could be."
Bear's Ears National Monument
One location that his team identified became the subject of the cover photo for National Geographic's September issue above: Bear's Ears National Monument in Utah.
"Once we had our location, we planned a trip around when we would do it. At the end of the month in April, the moon rises on the right side and the sun rises on the left side. I knew that was when I wanted to be there because of that spectacular contrast," Wilkes explains.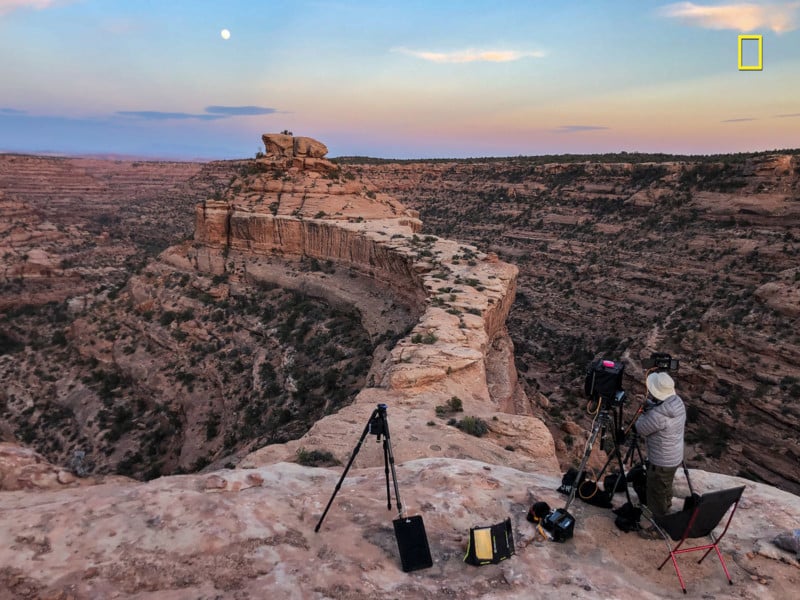 He says that in his planning, he needed to take into consideration not only the moon phase, but where the light orientation would be and also if during the 24 hours he would stay in position there would be any people there.
"I wanted to make sure that there were people hiking in this area at that time of year. It turns out it is a popular time, so all of those things coalesce for us in making a decision on when and where."
With the location and timing decided, additional challenges appeared. The spot where Wilkes wanted to take his photos for the composite image wasn't simple to get to.
"It was not an easy hike, especially when you're carrying 75-pound backpacks," he says. "It's a one-hour path that takes you in and to get to the actual spot I shot from, it required we hike on pretty treacherous rock locations when we finally established a foothold on a dramatic overlook."
Once he was in position, Wilkes says the view was akin to being on a crane, a tool he has been known to employ for some of his other photos, such as the one he took for National Geographic last year.
Wilkes says that the timing of the photo was particularly fortuitous, as it took place on Easter Sunday, which happened to coincide with Ramadan and Passover — a combination that takes place only once every 33 years. It also happened to be during a time when a planetary alignment was visible at night.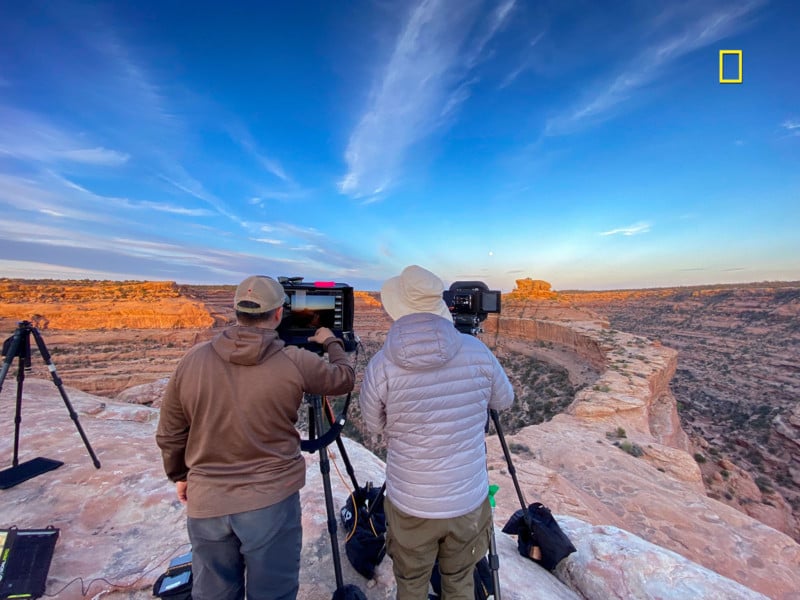 "So in many ways, it was a cosmic, spiritual experience to sort of look up at the stars and see the sky from this magnificent physical environment we were in. It's very much like an amphitheater in there. The walls of this canyon wrap and envelop you almost. When you look at the citadel itself, it's like a spine that runs through the center of this amphitheater. When you're on the citadel itself, you can see 360 degrees around you."
While it was an incredible experience, especially when he reflected on these events all coming together at once, it was not a calm, soothing shooting environment.
"While we were having this sort of magical experience witnessing this celestial alignment, we were also battling 50-mile-per-hour winds for extended periods of time," he says.
"It made it really challenging to just stand there for hours at a time, especially when dealing with camera equipment. You realize what made that amphitheater, what carves it, is wind. We had a high wind advisory during our shoot and it was so intense that even with 80 pounds of sandbags on my gear, I was still having to hold down my tripod."
Wilkes says that it is the feeling of overcoming struggles that makes finishing a photo like this one particularly rewarding.
"One of the great feelings for me was knowing that we pushed the boundaries and that everyone who participated in making the shot went to great extremes to make sure we were able to stay out there and get it done. It's a wonderful feeling when you look at it and you realize what we went through to capture that image," he says.
Pushing boundaries was the theme of these photos, and one other shot he captured for this series greatly pushed him and his team to their limits.
Shi Shi Beach
Wilkes and his team selected Shi Shi Beach for their west coast-themed image.
"We picked this spot because Shi Shi is partially controlled by the Olympic National Park but it is also shared with the Makah tribe. There is the threat of it being potentially developed, and that would change the entire landscape there and the whole experience," he says.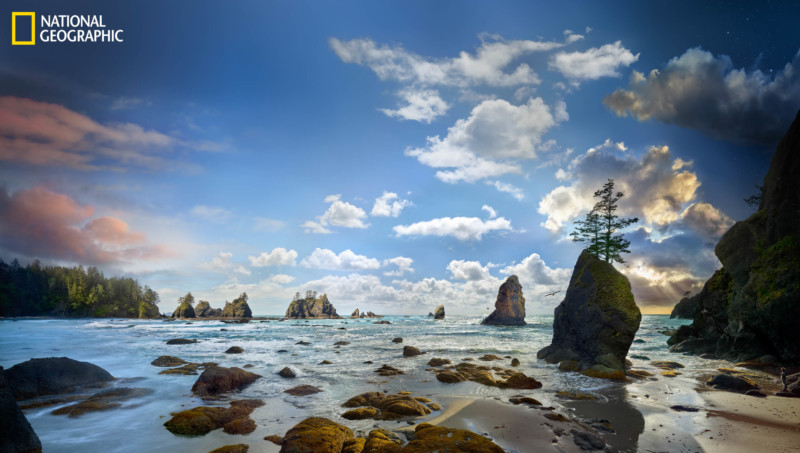 "It is one of those beaches, when you get out onto it and the scale of it, and you come upon these sea stacks with trees growing out of them, they almost have a spiritual quality to them. It is a very important area to the Makah tribe and has a tremendous history. That's why we wanted to capture it."
The remote beach is located in Clallam County, Washington and is famously difficult to get to during certain seasons as the trail can become extremely muddy.
"This photo was challenging for a lot of different reasons. One, it is one of the most remote beaches in the U.S. to physically get to," Wilkes explains.
"It's about a four-hour hike to get to the arches where I photographed and you have to go through a tropical rainforest that has many areas that can be heavily laden with mud — so it's not your typical hike. Once you get in, you get down to the bottom of the beach you're looking at least an hour and a half hike and if you don't time it right, you can get out halfway and the tide can come in and you can get stuck."
Compounding these issues, Wilkes says the weather did not want to cooperate and was an issue throughout the shoot.
"We tried to make this photo two other times, but we were deeply concerned about the weather — even on the third shot. Prior to the shoot day, we had 17-foot swells and 50-mile-per-hour winds and rain, so you can imagine trying to get gear and equipment out in those conditions," he says.
"Again, my team was remarkable to withstand that. We got a window of weather where the wind wasn't just beating us up and I witnessed this extraordinary change in tide and light."
Wilkes says that even if the weather had been ideal, the location that he and his team chose that provided the right vantage point for his final photo was a precarious point on an uneven rock.
"When you stand like I do for 18 to 36 hours, it's very challenging physically on your body," he says. "I'm 20 feet in the air on this rock but my feet are not flat. I'm notched into these impressions on the rock surface, and the rock itself is very sharp."
Every time he had to make an adjustment on his camera, Wilkes says he had to stand up very slowly and methodically because if he rose too quickly, he could lose his balance and fall those 20 feet to the ground.
"I think that the physical torture I went through is quite profound," he says. "It was challenging but rewarding. There is a reason it is a tough place to photograph and why people don't go out there: it's really difficult to get there and to capture."
The area around Shi Shi is still very wild, and nothing quite embodies that idea like an experience his crew had while on their way out.
"Shi Shi was so extreme, to get out there was huge. We had a tremendous amount of gear. My key grip Jon LaFollette actually hiked out ahead of us and spent the night by his truck. As we hiked out that morning, we got through the forest and the wetlands and when we got to his truck, all around it we saw the footprints of a cougar that had been tracking us through the wetlands," he says.
"I'll tell you what, there is nothing like walking through a trail of thick mud and considering a cougar thought it would be a great place to hunt."
Creating his Images
While Wilkes has a certain level of secrecy around his actual post-production methods, he shared some of his thought processes with PetaPixel.
"I spend several weeks editing, which entails creating what I call the 'master plates' which determine where the day begins and ends. I take specific photos of those moments, which consist of very few elements in terms of people or wildlife. I try and keep it naked, in a way.
"That enables me to go back in and once I edit in those moments, they can be blended into a single photo. The process is like a distillation. We have to establish the scene, then once I've done that, then it becomes the actual story I'm telling," he says.
"The harmony of day to night is the most difficult part of what I do. I am thinking about how your eye moves through a scene, I think about how I take you into and through a place. I look at narrative not just in the physical sense of what a person or animal is doing, but I look at it in terms of a graphic narrative. I'm going to take your eye on a journey. If I've done my job right, every time you look at my photograph you discover something new about it," he continues.
"That's the kind of art I love. I try and layer stories into these pictures. If you take the time to look, I'm going to reward you."
To see the rest of Wilkes's photos and to read more on this story, visit National Geographic's website.
---
Image Credits: Stephen Wilkes/National Geographic