Instagram is Giving Some Creators and Photographers a 'Holiday Bonus'
Instagram is testing a "holiday bonus" concept that will reward creators based on the performance of their Reels and photos.
Today, Instagram announced several updates on tools to help creators earn on its platform, including the test new way for them to make money.
The holiday bonus is an invite-only test that rewards creators for "sharing their creativity" through Reels and photos — including both single-image posts and carousels.
Select creators in the U.S., Japan, and South Korea will be invited to test this new bonus until the end of the year and those who receive an invitation can activate the holiday bonus to begin monetizing.
Creators will earn rewards based on the number of Reels plays and photo views they receive during the bonus holiday period, as long as the content passes Content Monetization Policies.
Meta believes that the new holiday bonus scheme could make sense for Instagram as a business and will look to expand it next year if it does.
For creators in South Korea and Japan, the scheme will be called the "year-end bonus" rather than a holiday bonus.
Instagram Now Has Over One Million Subscriptions
Meta also announced that it is introducing new promotional tools to creators with active subscriptions on Instagram. These include surfacing the Subscribe button when their followers see their content in Feed, and making it easier for creators to welcome new subscribers via DMs and Stories.
Subscriptions, originally launched in the U.S. in July 2022, allows creators to lock photos and Reels behind a paywall and makes them only available to those who pay a subscription fee.
According to Meta, there are now more than one million active subscriptions to creators through Instagram subscriptions. Most recently, Instagram launched subscriptions for creators in an additional 35 countries.
Instagram Gifts is Becoming Available to More Creators
Instagram has also announced that it is making Instagram gifts — which was previously described as a way to more easily earn money from an audience — available to more creators around the world.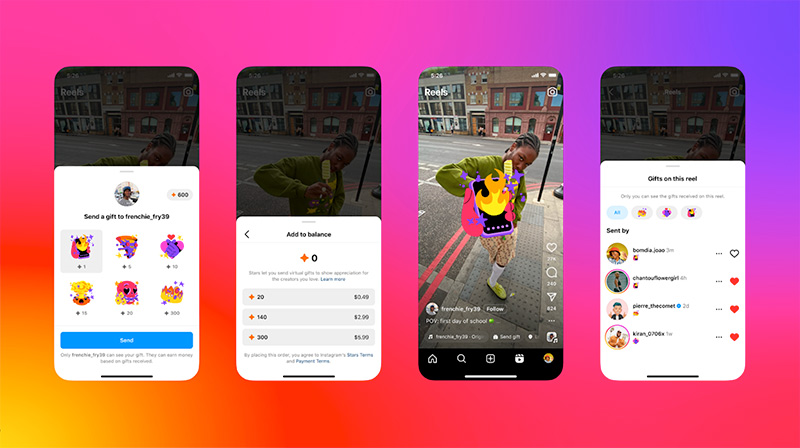 People can purchase "Stars" and share virtual gifts directly in the Instagram and Facebook apps to show appreciation for Reels they love. To be eligible for gifts, creators must have a professional account, be over 18 years old, meet partner monetization policies, and have at least 5,000 followers.
---
Image credits: All photos via Meta.