What it's Like Shooting 50 Portraits on 32 Sets in Just a Few Hours
Photographer and filmmaker Clay Cook and his team were given a challenging task: shooting visuals for the successful businessman and former CEO of YUM! Brands David Charles Novak and the launch of his latest book, website, and podcast in just a few short hours.
Fresh Set of Photos for a Renowned Businessman
Novak, from Texas, helped co-found YUM! Brands that operate popular fast-food brands like KFC, Pizza Hut, Taco Bell, and others. He also worked at Pepsi-Cola Company on a senior level, among other business accolades. Today, Novak focuses on running the non-profit David Novak Leadership foundation and How Leaders Lead organization with resources for future leaders.
It was the latter that Novak's team wanted to overhaul with new imagery, in addition to Novak's book and podcast. A Kentucky-based production group, 180 Degrees, got in touch with Cook, looking for his expertise to help execute this project. Overall, with the help of around 30 people from 180 Degrees, How Leaders Lead, and Cook's crew, "it was a village of people that brought it all to life and made it happen."
The project was gigantic — the team at How Leaders Lead needed roughly 32 different sets of photos for the final delivery of 50 images. Cook needed to photograph Novak on all four colored backgrounds with different wardrobes for each.
The production included individual portraits of Novak and group photos with talent, each with distinct color backgrounds and lighting to match the website's branding. Cook's team received four different hex colors for the backgrounds and four different gradients to re-create with lighting — purple to orange, purple to orange to teal, teal to yellow, and pink to purple to blue.
Then, Cook and his team had to shoot these variations not just with Novak individually but also with the talents, using different props and wardrobes. The client also asked for an environmental lifestyle set up in the studio offices.
All these shoot variations had to be squeezed into less than two hours Cook's team had with Novak and four hours with the talents for group photos. This meant intricate planning, down to every minute.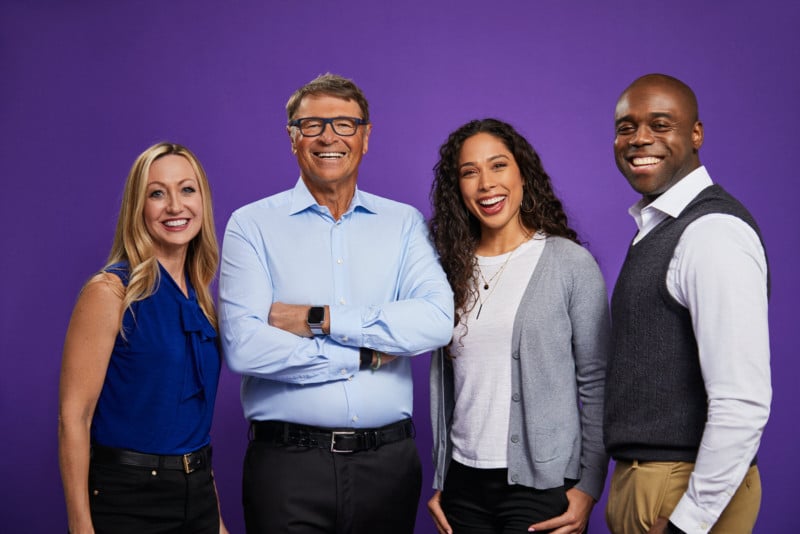 "We had roughly six minutes per set, with a two-minute grace/transition period," Cook tells PetaPixel. "Yes, my assistant literally had a stopwatch. We had a production book that lined out specifically what was needed and the allotted time to do it."
Days of Planning, a Few Hours of Shooting
The biggest challenge was trying to get every shot the client needed within the short space of allocated time. For Cook, this would normally be at least a two-day shoot, but with Novak's limited time and schedule, they only had a few hours.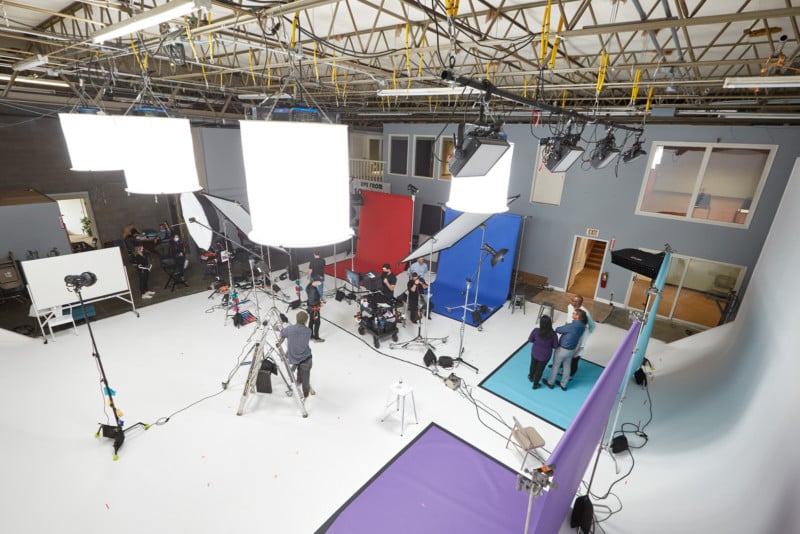 The colored lighting set was just as challenging — the team spent several days working out how to lock in the colored gels and the gradient backgrounds. They had to light the talent with the specific colors that matched the gradient background, so they tracked down the actual hex codes and named and labeled them to quickly swap out gels when they had the transition time between the shots.
"As far as the gradient backgrounds, first, we tried to create the gradient with strobe lighting and RGB constant lighting," Cook says. "Second, we tried to print our own gels. Third, we tried to project the gradient background with a projector."
"All of those ideas failed," he continues. "In the end, we relied on post-processing to add in the exact gradient background needed."
Cook's military-like approach helped the team get to the finishing line, and planning the shoot was key to preventing frustration and chaos on set. Even though it means spending a lot of time upfront, it helps the shoot flow with ease.
It was necessary to optimize time, organize the set, and plan the schedule of the shoot for the team to achieve the best results, Cook explains. Although it was a stressful time and he had planned a 16-day trip to Tanzania, Africa, the next day, the careful planning helped ease the logistical burdens of the day.
"When photographing people, mood and morale really matter," he adds. "It can completely affect the look of the product if those attributes aren't up to par. So, it's extremely vital that the day of the shoot is smooth, calm, and enjoyable to everyone involved."
To help prepare for any problems on the day — which will arise when least expected — Cook likes to have a small plan of action in place for things that may go wrong.
"Predict that change of course and have a backup strategy for every action," he explains. "Know what you want and proceed with confidence."
"At the end of the day, we as commercial photographers provide a service that encompasses not only our photography talent, creativity, and communication skill, but customer service for our client."
More of Cook's work can be found on his website and Instagram.
---
Image credits: Photos by Clay Cook.