Ricoh Will Sell the GR IIIx Urban Edition Camera Outside of a Kit
Ricoh has announced that the limited edition GR IIIx Urban Edition, which was initially only available as part of a kit, is being made available on its own.
Ricoh initially launched the GR IIIx Urban Edition Special Limited Camera back in March. The camera features a different metallic gray finish and navy-blue ring around the lens barrel, had a few software differences, and shipped with a set of exclusive accessories: a leather hand strap and a metallic hot shoe cover.
At the time, the camera was only being made available as part of that kit for $1,100. But for reasons the company has not disclosed, Ricoh is making the camera available on its own and outside the kit. The RICOH GR IIIx Urban Edition camera body will be available in late July for just a bit less than the kit: $1,050.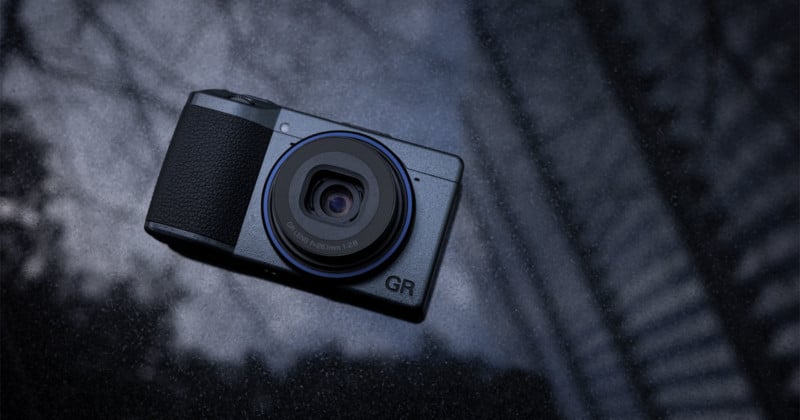 Mostly Cosmetic Differences
The GR IIIx Urban Edition Special Limited Camera differentiates itself from the baseline GR IIIx in a few ways that are mostly cosmetic, but there are a couple of camera features that are unique to the limited edition.
The camera is accented by a navy-blue ring around the lens barrel, which the company says was selected to represent typical street shooter imagery such as deep blue skies reflected in a puddle following rainfall or "the bright neon signs of a never-sleeping city." When the camera is turned off, it displays a special shut-down screen featuring the product logo and a street-view image that Ricoh says symbolizes the package's urban-oriented concept.
In addition to these changes, the camera also debuted a set of new camera features that have also been made available for the standard RG IIIx models through a firmware update.
The camera also features a few functions that are available for the standard camera as well as a couple of special features unique to the limited edition model which include a Snap Distance Priority mode, an Auto Area AF focus mode, the ability to enable AF mode shutter-release capability, and a new setting inside of Snapshot mode. The details of these additions can be seen in PetaPixel's previous coverage.
Ricoh has made it clear that the camera's other specifications are identical to those of the standard GR IIIx model.