Shutterstock is Pulling its Over 30 Million Pond5 Assets from Adobe Stock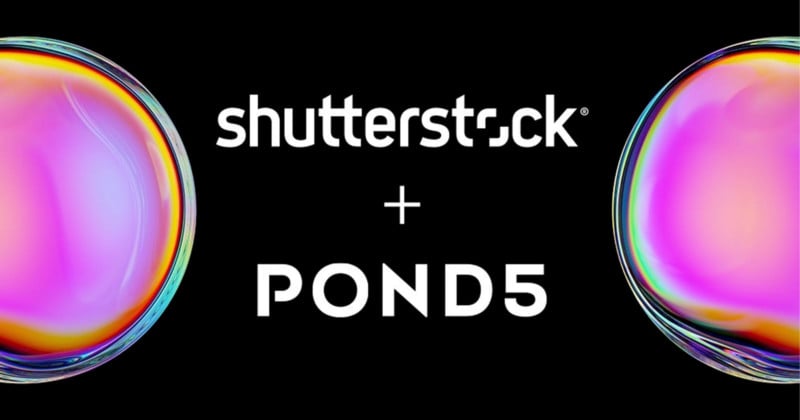 In May, Shutterstock acquired the world's largest video-centric stock agency Pond5 for $210 million. While greatly bolstering its own library, the acquisition also gave it the benefit of taking that footage away from rival Adobe Stock.
Pond5 was originally founded in 2006 and over the course of the next 15 years, it amassed a network of artists of over 115,000 active contributors in 180 countries who uploaded over 2.5 million assets monthly. Those impressive numbers made it the world's leading video-centric stock agency.
When Shutterstock acquired it for $210 million, it gained access to more than 30 million licensable video clips, 1.6 million music tracks, and 1.7 million sound effects assets. That makes Shutterstock the top choice for a sheer volume and variety of stock assets ranging from editorial photography to sound effects and video clips.
But in addition to bolstering its own first-party library, Shutterstock also appears to have taken access to these clips from rival Adobe Stock. In an email to customers today, Adobe announced that Pond5 footage was being removed from its library by the end of July and any who had licenced clips would no longer be able to download them from Adobe after that point even if they were already paid for.
The email to Adobe Stock subscribers reads as follows:
We are reaching out to you to inform you that Pond5 is no longer an Adobe Stock contributor, and therefore the Pond5 footage collection will be removed from Adobe Stock in 30 days (July 29, 2022).

If you currently have Pond5 video clips in your license history, please re‑download them by July 29, 2022, after which you will not be able to access any Pond5 video clips on Adobe Stock.
Adobe losing access to 30 million video clips which now can only be found through one of its biggest competitors is a major blow and will significantly impact the value of Adobe's stock licensing subscriptions compared to Shutterstock's.
Shutterstock now owns Pond5, PicMonkey, Offset, PremiumBeat, AmperMusic, and 3D-render stock agency Turbosquid in addition to its own significant library of assets. Its influence over the industry cannot be understated, as it currently boasts over two million contributors with more than 405 million images and, thanks to the addition of Pond5, 55 million video clips available in its licensable library.
---

Update 7/11: An Adobe representative reached out to say that Shutterstock was not involved in the decision to end the partnership between Pond5 and Adobe Stock, but did not elaborate. Additionally, Adobe says that after the end of this partnership, Adobe Stock still offers over 22 million videos to license on the platform.