Haida's New 2-in-1 Filter is Both a Circular Polarizer and a Variable ND
Haida has announced a new 2-in-1 filter that provides both a variable circular polarizer and a variable neutral density filter in a single device that allows each to be controlled independently.
The Haida PROII CPL-VND 2-in-1 Filter is positioned as an ideal companion for videographers and photographers. It promises to not only reduce the light entering the lens but also darken skies and manage reflections at the same time with independent control over each.
The 2-in-1 filter combines a standard CPL filter, with a three to seven-stop variable neutral density filter to produce a total of five stops of light control. There is a small lever, which the photographer can use to shift from stop to stop and move from ND3.0 to ND7.0.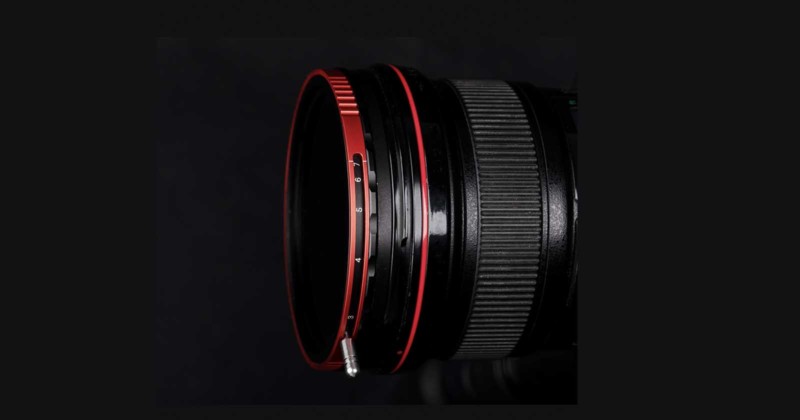 The conventional wisdom is that a variable neutral density filter (VND) is essentially its own polarizer, in that two different filters are stacked on top of each other at relative angles to control the amount of light passing through.
While this is technically cross-polarization, adding a circular polarizer to the mix enables the photographer to control where that polarization is placed within the image by rotating it. This way, the sky can become darker and more dramatic, while the rest of the image is a bit lighter to so that it "pops" in the frame.
The Haida PROII CPL-VND 2-in-1 Filter enables content creators to have one single filter to do both jobs, thereby saving time and effort fitting on multiple filters and dialing them in to work together.
The design was created with vloggers and filmmakers in mind and should be quite popular with social media influencers looking to add just a bit more production value to their image.
The two filter systems can be operated independently of one another without affecting each other. Haida has engineered the 2-in-1 filter to avoid the range area which can create the X problem that is known to happen with VND filters at the extreme limits of rotation and creating artifacts.
The best practice here when using both features is to adjust the ND filter first to get the amount of light desired, and then to adjust the circular polarizer to dial in the exact amount of emphasis where wanted.
The filter is extremely light at only 48 grams, which Haida says is even lighter than an egg. It is available in 67mm, 77mm, and 82mm sizes.
There's no word on pricing or availability just yet, though Haida indicates it should become available from global dealers soon.
---
Image credits: All photos by Haida.