Ukrainian Students Pose for Grad Photos in the Rubble of Their School
Ukrainian photographer Stanislav Senyk has captured a series of haunting graduation photographs that show young Ukrainians posing among the ruins of their country.
Speaking to PetaPixel, Senyk explains how he feels about the photos that show students sitting inside the mangled ruins of a tank and posing in bombed-out buildings.
"These photos are history. People are understanding that all these bad things which happened are now in the past and now they show the world that this was happening," says Senyk.
"But these students especially become stronger. They're not sad but they're not very happy either. They have bad experiences and now they go and move on with their life."
Senyk felt it was important to document roughly 40 graduating seniors from schools in Chernihiv after witnessing first-hand the horrors of the war, now in its fourth month.
"I'm sure it was very important to capture that in the memory. And 10 to 15 years from now, when they have their own children, they can show those pictures to them," he tells Reuters.
"Seeing it in person is a special feeling that cannot be described. But I was dominated by a different feeling. I saw the children who were there and it was like some kind of surrealism going on."
One of the students, Olha Babynets, 17, says she enjoyed the photoshoot, even if it was "very difficult" for everyone involved.
"But we wanted to show that we live in such realities and it is like that for us. No, we wanted to show our pain, which is there and has never subsided. It was difficult emotionally, but we tried to hold on. And I think we managed to do that," she tells Reuters.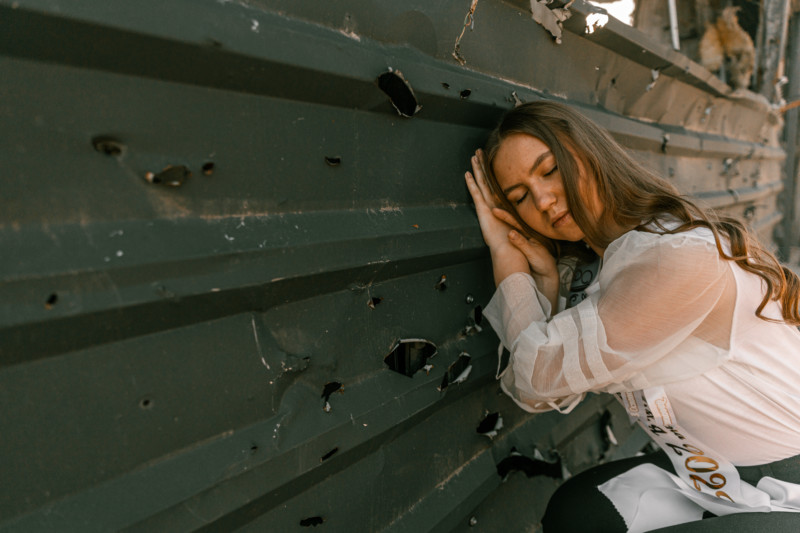 The photographs will now be compiled into a graduation album for the students. Senyk also wanted to find an exhibition space to showcase them and sell the photos to donate any money raised to Ukrainian troops.
The powerful photographs were taken in the city of Chernihiv, north of Kyiv and close to the Belarus border. The city was designated as a Hero City during the 2022 Russian Invasion of Ukraine
The Siege of Chernihiv was launched on February 24 by Russian Forces but the invaders failed to capture the city and instead opted to bypass the city through an alternative route to Kyiv.
More of of Senyk's work can be seen on his Twitter and Instagram.
---
Image credits: All photos by Stanislav Senyk.