Texas Student Does Graduation Photo Shoot with Giant Alligator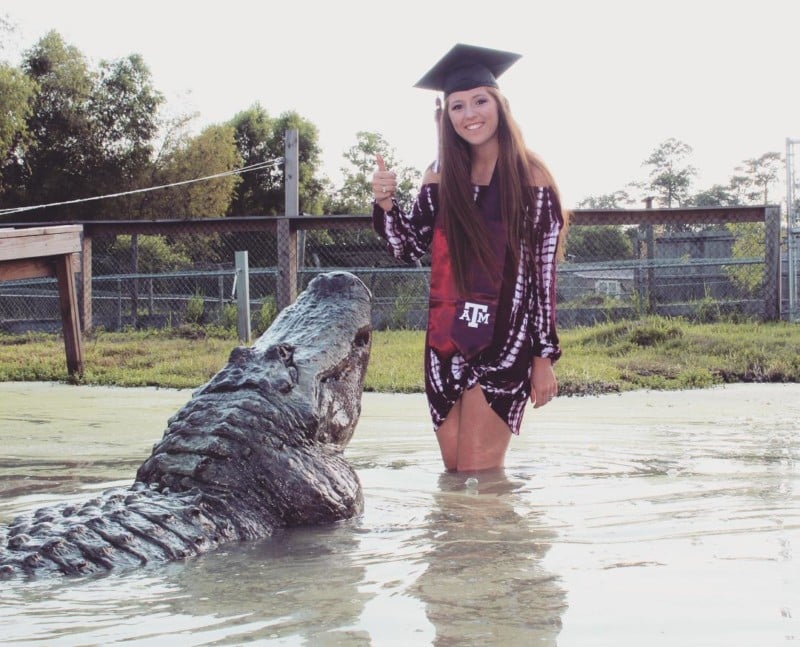 Texas A&M student Makenzie Noland is graduating from college soon, so she decided to pose for a graduation photo shoot with her cap, stole, and… a giant alligator.

The 21-year-old shared the photos on her Facebook page last Friday with the caption: "Not your typical graduation picture 🤷🏽‍♀️ @ Gator Country." The photos immediately went viral.
No, Noland didn't spot an alligator in a swamp and decide to jump into the water with it. She has spent the past three months interning at a wildlife sanctuary in Beaumont, Texas, which is home to 370 alligators. The largest of them all is Tex, a 13-foot, 8.5-inch (4.18m) gator that Noland has become familiar with during her time there.
Noland has spent a considerable amount of time with Tex under the watchful eye of the sanctuary's alligator experts. Tex has been trained to obey trainers' commands to receive treats.
"I first started we took baby steps that lasted about 2 weeks before Tex fully let me in the water and began to trust me," Noland tells PetaPixel, "so every day we have been working on that relationship […]
"I was not fearful for my life [since] I knew I was in safe hands with my boss watching me."
For one of her graduation photos with Tex, Noland placed her Texas A&M class ring on the alligator's snout.
"I wanted to do this because my entire life I have loved animals and I am a very proud aggie [the nickname of Texas A&M students] so incorporating the two is very special to me!," Noland says.
(via Makenzie Noland via Photoblog.hk)
---
Image credits: Photographs by Arlie Hammonds and courtesy Makenzie Noland