You Will Soon Be Able to Use an iPhone as a Webcam
Apple has revealed a handful of extremely useful features that further pair the iPad and iPhone with macOS devices, including the ability to turn an iPhone into a webcam for a Mac computer.
Continuity Camera
To start with, Apple has announced what it calls Continuity Camera, which will allow iPhone and macOS users to use an iPhone camera as a webcam. This concept isn't new as there have been third-party apps that have offered this idea for years, but almost all of them have been clunky and unreliable.
Only actual testing will show what quality Apply is going to be able to achieve with this type of wireless video transmission, but from the demonstration given during its Worldwide Developer Conference (WWDC), it looks promising.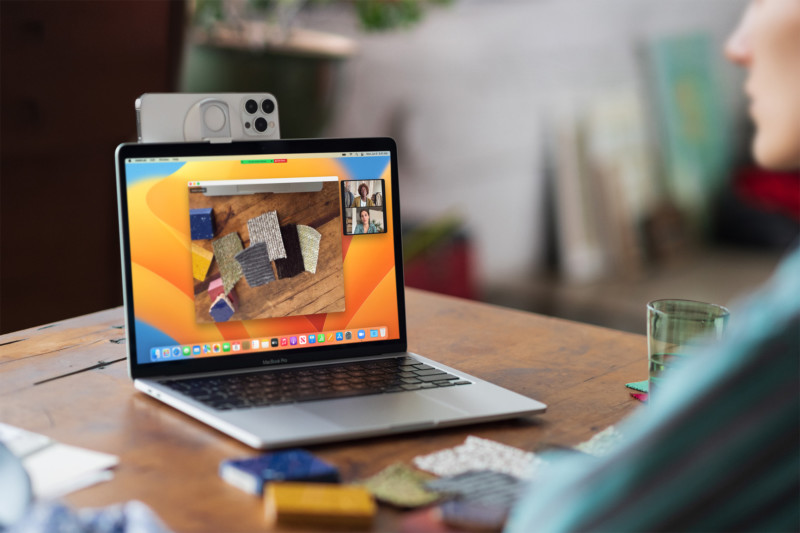 Continuity Camera allows a Mac to recognize when an iPhone is nearby and offers to use its rear camera system as a webcam without the need to wake or select it. Apple's Center Stage, Portrait mode, and new Studio Light feature — an effect that illuminates a user's face while dimming the background — are all supported with this connectivity.
Apple also revealed that it has partnered with accessory manufacturers like Belkin to produce several different options to mount an iPhone to a laptop or display.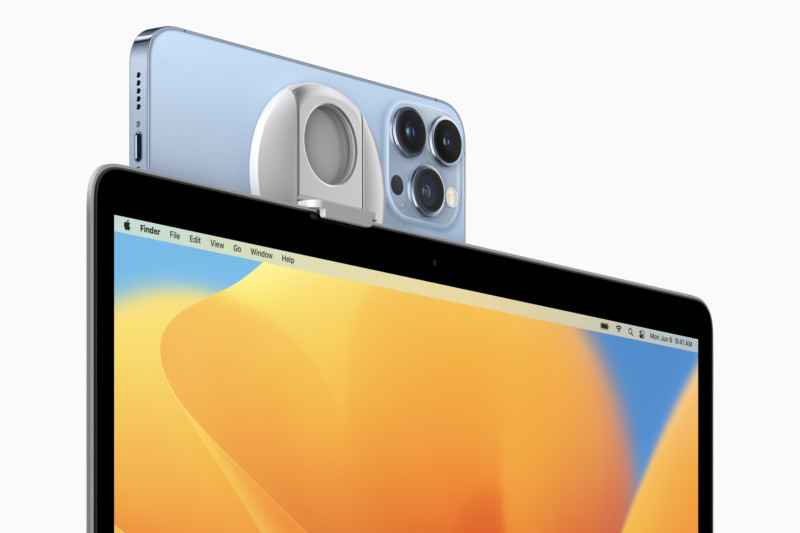 Continuity Camera taps into the Ultra Wide camera on iPhone to enable another feature called Desk View.
Desk View
Desk View is a feature within Continuity Camera that uses an iPhone's ultra-wide-angle camera to get a top-down-looking image of a user's desk. This feature is a bit of a computational marvel considering how little distortion was seen in Apple's keynote demo and mode would essentially negate the need for a second top-down camera during online presentations.
Apple's software also splits this view from the video call feed so that the user can present and switch between themselves and the top-down angle at will, or show both at the same time.
Handoff
The last related feature is called Handoff, which recognizes when an iPhone and Mac are near one another and allows the two to seamlessly pass off Facetime video calls to each other. For instance, if someone just come back from a walk while on a Facetime call via their iPhone but wanted to continue that call on their iMac, Handoff would allow the iMac to recognize that the iPhone is nearby and present a notification that will allow users to switch the call from the iPhone to the iMac instantly.
Apple says this feature works back and forth across all its iPhone, iPad, and Mac devices and will roll out with iOS 16 and macOS Ventura later this year.
---
Image credits: All photos by Apple.