HONOR Sets A New Bar For Mobile Imaging With the Magic4 Series
HONOR recently announced the successor to the Magic3 smartphone, the Magic4, which has achieved record-breaking photo and video capabilities according to DXOMark. Despite a quick turnaround between models, the Magic4 Ultimate smartphone is (on paper) jam-packed with flagship specifications and a camera system that has been rated the best of its class by DXOMark with a score of 146, and the Magic4 Pro version achieving the Gold Label ranking, showing the company has built a system specifically for photography professionals and enthusiasts alike.
Full Disclosure: This story is brought to you by HONOR.
According to HONOR, the new Magic4 series of smartphones was released with the intent of challenging the status quo by providing industry-leading mobile imaging technology and based on the test results from DXO, the company has achieved that goal by introducing one of the most powerful and versatile camera systems in an HONOR smartphone to date.
"We believe that mobile photography should be about image quality and resolution. That is why our devices are designed to produce high-definition images with true-to-life colors and stunning clarity. We can only develop different photography styles after consolidating the foundation of mobile imaging development," HONOR says.
Since becoming an independent company from Huawei in 2019, the company has expanded from catering to just the budget market and has entered into the high-end, flagship segment with the global launch of the Magic4. The company says even though it is upgrading its entire product portfolio and internal operation processes to offer products specifically designed for high-end users, it will still create devices that cater to all budgets and price ranges. The new Magic4 series smartphones are set to deliver incredible photos and video leveraging the HONOR Image Engine.
"Our premium HONOR Magic Series is a real showcase of our best in class, innovative technology and is testament to our can-do attitude to constantly challenge industry benchmarks," HONOR's CEO, George Zhao says.
"Redefining excellence across design, camera, performance, and security, the all-new HONOR Magic4 Series is packed full of pioneering new technologies and compelling features, which make it better than the best smartphones on the market today." 
Using the proprietary algorithm for computational photography, the new Image Engine can significantly improve the quality of any captured content by increasing the detail and sharpness of the image. According to the developers of the technology, this is achieved by allowing images taken on different camera modules to complement each other, thus improving the overall picture quality once transmitted to the frame. An example the developers give is combining data from the main and monochrome sensors will result in an image with far greater accurate exposure and color reproductions of the first and details of the second.
The company says combining these images using the main and telephoto lenses with the Image Engine makes it possible to increase image sharpness and clarity by up to 180% while at the same time, using intelligent anti-aliasing algorithms to avoid artifacts after the images have been fused together using the different sensors. It is what's working in the background to enable the Ultra Fusion Computational Photography tech.
The new Magic4 series smartphones are powered by the latest Qualcomm Snapdragon 8 Gen 1 chipset and with a minimum of 8 Gigabytes (GB) of LPDDR5 RAM and 256GB of USF 3.1 internal storage. They also feature a 6.81-inch LTPO OLED Quad-Curved screen that supports refresh rates from 1Hz to 120Hz, max brightness of up to 1,000 nits, and support for HDR 10+ content. Additionally the HONOR Magic4 Pro features a 4,600 mAh battery that has a proprietary SuperCharge technology, which allows it to charge from zero to 100% in just 30 minutes when connected to its 100W Wired HONOR SuperCharge. The company says the battery can also get a 50% charge with a 100W Wireless HONOR SuperCharge in just 15 minutes.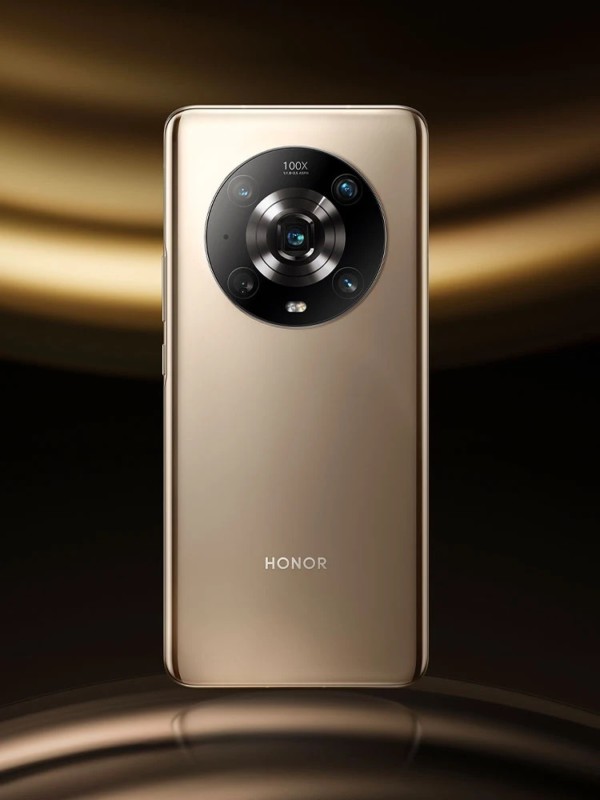 These are all great features, but what most photographers care about is the camera system. On the back of the Magic4 Ultimate lives a quad-camera system that includes a Primary 50 MP 1/1.12″ sensor, 1.4μm pixels, 23mm equivalent focal length, f/1.6-aperture lens, OIS, PDAF, & Laser-AF, an Ultra-wide 64MP 1/2.0″ sensor, 0.7μm pixels, 11mm equivalent focal length, f/2.2-aperture lens, PDAF, and a Telephoto 64MP 1/2.0″ sensor, 0.7μm pixels, 90mm equivalent focal length, f/3.5-aperture lens, OIS, PDAF that supports up to 3.5x optical zoom and 100x digital zoom.
The camera system features multiple sensors. The primary sensor is one of the largest image sensors ever on an HONOR smartphone, and it also features a flicker sensor, and an 8×8 dTOF laser focusing sensor. All of these support HONOR's Ultra-Fusion Computational Photography technology that allows the Magic4 to capture and produce high-definition images with impressive clarity and color accuracy, even when shot from extreme distances and in low-light.
The new custom-made image processor supports faster and more efficient AI computations to take Ultra Fusion Photography to even greater heights, enabling the industry's strongest 4K Night Mode video capture and real-time preview, making sure that shooting very bright, clear, and vibrant videos in extreme darkness is possible. These advances in smartphone technology have even DSLR and Mirrorless camera makers saying they believe smartphone cameras will exceed the quality of "professional" single-lens reflex cameras within the next few years thanks to the quality of photos that can be captured by combining its sensors, larger apertures, and computational photography technology. This includes a jump in high-speed video performance, better autofocus, and significantly higher megapixel images.
When you consider the advances of time-of-flight sensors, LiDAR focusing, and even in AI's ability to create photorealistic images simply by typing in a description, smartphones like the HONOR Magic4 series have an extreme leg-up on their DSLR and Mirrorless siblings with their ability to capture incredibly high-quality images and publish them in real-time. Given that nearly everyone you meet now has a smartphone of some kind, it makes sense that companies have invested heavily in the advancement of the technology they leverage, making it easier to take better and better quality images so the old saying "the best camera is the one that's with you" ring truer and truer.
Below are a few sample photos that showcase what the camera can do.
"The HONOR Magic4 Ultimate achieved the new Top score in the DXOMARK Smartphone Camera ranking, delivering an outstanding experience, particularly in photo and zoom, while being among the first in video," DXO's Image Quality Director, Hervé Macudzinski, says.
"With respect to the Ultra-premium segment, the HONOR Magic4 Ultimate provides the best performance for almost all criteria (Overall, Photo, Zoom) and is very close to the top for Video performance," DXOMark's Lab writes.
The new customized 8P Lens comes with a 37% improvement in center sharpness and a 30% improvement in edge sharpness, producing photos and videos that look detailed even when zoomed in.
According to HONOR, the research and development (R&D) team (which includes over 55% of the 12,000 employees) has been working non-stop with various partners within the industry to ensure their new flagship product is "truly one of a kind" and to demonstrate the brand's commitment to excellence. Early reviews of the new product line seem to validate this claim with most reviewers saying the new devices just need a little extra "polish around the edges" to make them perfect.
The company seems quite receptive to this feedback and is continuously investing in both hardware and software improvements for its users. An example of this is the HDR and Low light improvements where the new Magic-Log2 video format was custom-developed based on the new camera modules to enable capture of 15% higher dynamic range for recording video footage.
HONOR has also been invited to an upcoming Counterpoint webinar titled Smartphone Imaging Trends: New Directions Capturing Magic Moments. Moderated by Counterpoint with speakers from HONOR, DXOMARK and Qualcomm, as well as the internationally renowned photographer, film director and HONOR Magic Moments judge Eugenio Recuenco, the webinar will cover prevailing trends in the development of smartphone cameras and how they relate to the end-user experience.
The webinar will be live-streamed on HONOR and Counterpoint's social media channels on June 8. Interested readers may RSVP via the following link: https://www.counterpointresearch.com/webinar-smartphone-imaging-trends/
Looking at the photos, it's clear HONOR is not messing around when it comes to its camera technology, and now it has the Gold Label ranking from DXO that really hammers home the image quality. The HONOR Magic4 Pro is currently available in Asia and the Middle East and will be available to the rest of the global market later this summer starting at approximately $1,160.
---
Full Disclosure: This story is brought to you by HONOR.