Photographer Turns Smartphone into a Film Camera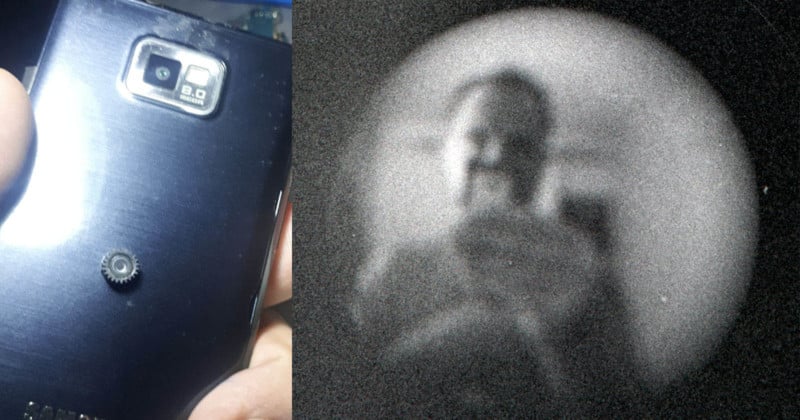 A photographer has repurposed an old and broken Sony Ericsson smartphone lens into a camera that shoots film and integrated it into his Samsung Galaxy S2.
Alireza Rostami had an old Sony Ericsson k700i that was broken and unable to be repaired. But instead of throwing it away, Rostami decided to repurpose it by taking the camera out and adding it to the back of his Samsung Galaxy S2 in a way that would allow him to shoot to film. Speaking to PetaPixel he explains why.
"In the past, there was just a single lens for photography on the back of a mobile phone. But now we see that there are a lot of lenses on the back of a mobile phone. I thought to myself; Why not create one for analog photography?"
Frankenstein's Camera
Rostami, who is from Iran, removed the lens from his Sony Ericsson camera and added a separate lens from another phone. He then removed the battery from the Samsung Galaxy S2 and pierced a lens-sized hole in the battery cover.
To capture an image, he puts the camera and film negative in a light-proof envelope and then places it carefully inside the Galaxy S2 with a lens cap on. Rostami then removes the lens cap to allow light onto the film.
The resulting images are admittedly grainy and blurry, but they also may be the first-ever film images that were taken on a mobile phone.
Future Projects
"I want to invent other devices with the rest of the old mobile parts. I do not know if I can or not, but I will try. If I succeed in making these ideas work, I will definitely publish them," says Rostami.
The photographer says he also wants to build a camera that can make phone calls, play music, and receive radio waves. However, he says his ultimate dream is to give a camera artificial intelligence, like a more powerful version of Siri.
Rostami has previously turned a broken camera into a watch that takes pictures on film and has also turned his old computer into a working camera. Last year he made a wrist camera, and 35mm film is fed through the strap.
Rostami prides himself on recycling electronic waste, a growing problem in the world. Last month PetaPixel covered a studio making art pieces out of discarded smartphones which has a similar mission.
You can see more of Rostami's work on his Instagram.